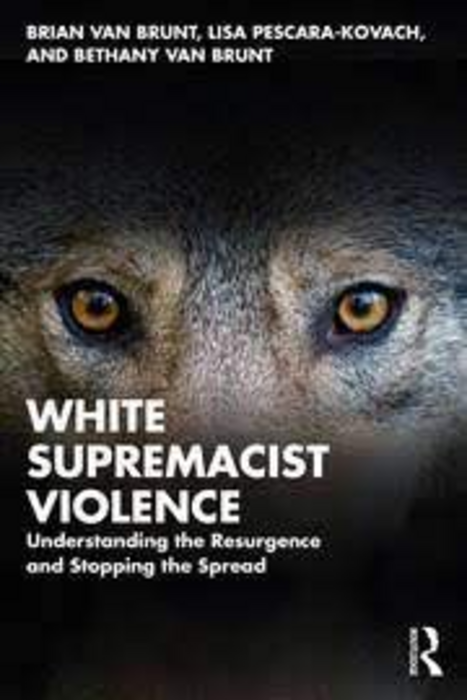 An educational psychologist at The University of Toledo who has dedicated her life to protecting school children and exploring the driving forces of mass violence has co-authored a book about the resurgence of white supremacist violence to help stop the spread of the hate movement and domestic terrorism.
"We've seen an increase in recent years in antisemitic and racist attacks," said Dr. Lisa Pescara-Kovach, professor of educational psychology and director of the Center for Education in Mass Violence and Suicide at UToledo. "I felt it was time to share what we know toward preventing attacks not only in schools and campuses, but around the world."
Kovach trains school and college employees across the U.S. in ways to identify and thwart targeted violence and suicide. In Ohio, she is one of a handful of trainers approved by the state to ensure compliance with a law passed last year called the SAVE Students Act.
She expanded the scope of her work due to the similarities between people who commit acts of targeted violence in school and campus shootings, for example, and those who perpetrate domestic terror attacks.
She and Dr. Brian Van Brunt, the creative director for D-Prep, wrote a book, "White Supremacist Violence: Understanding the Resurgence and Stopping the Spread," recently published by Routledge.
"We wrote the book to get the information into the right hands and to provide stakeholders, even concerned parents, with actual tools to assess the likelihood of an individual being recruited into domestic terrorism," Kovach said.
Van Brunt and Kovach have worked together for years in the fight against mass violence. Van Brunt is the founder of the International Alliance for Care and Threat Teams (InterACTT), where Kovach serves as an advisory team member and content expert.
"Extremist philosophies like the Great Replacement are gaining momentum, and those youth vulnerable to terrorist recruitment share a similar mindset to others who commit mass shootings," Kovach said. "Domestic terrorism is the greatest threat to the safety of our nation. People are dying. And we have developed a guide and assessment tool to help slow the progress of the fast-growing hate movement in the United States."
The book gives readers useful perspectives and insights into the white supremacy movement while offering mental health clinicians, law enforcement, threat-assessment professionals and K-12 and university educators and administrators practical guidance on treatment and prevention efforts.
Chapters immerse the reader in a hybrid of research, historical reviews, current events, social media and online content, case studies and personal experiences.
The first half of the book explores the ways in which individuals become increasingly indoctrinated through the exploitation of cognitive openings, perceptions of real or imagined marginalization, and exposure to political rhetoric and manipulation, as well as an examination of social media and commerce sites that create a climate ripe for recruitment.
The second half of the book walks the reader through three case studies and offers treatment considerations to assist mental-health professionals and those developing education and prevention-based programming.
"Those vulnerable to recruitment are often looking for 'something bigger,'" Kovach said. "They have collected perceived injustices through the years, just as do school shooters, and decide to make a statement with violence — whether it's a statement in school against those they deemed 'wronged' them, or it's a statement outside of school against a particular sex, nationality, race or religion."
"It was an honor to pair up with Dr. Kovach and Bethany Van Brunt on this important work. Understanding how people move further down this pathway of violence to indoctrination to extremist ideology is key to prevention of future violence," Van Brunt said.
Bethany Van Brunt, who authored the detailed case list and the White Supremacist Indoctrination Rubric (WISR), said, "As we see a rise in this type of rhetoric and violence, it is critical we study how these movements have grown in the past in order to prevent that spread in the future."
Visit the Routledge website or Amazon to buy a copy of the book.
---