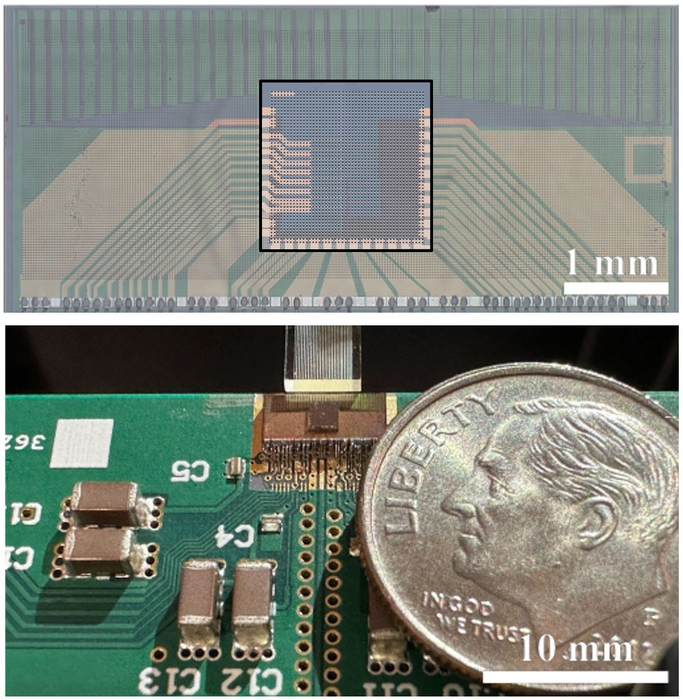 New York, NY—January 5, 2023—Columbia Engineering has won a $35 million five-year grant to establish the Center for Ubiquitous Connectivity (CUbiC) and advance energy-efficient communications technologies for addressing the vastly growing connectivity bottlenecks between data-hungry wireless devices and deluged data centers. Over the next five years, CUbiC will strive to flatten the computation-communication gap, delivering seamless Edge-to-Cloud connectivity with transformational reductions in the global system energy consumption.
The grant has been awarded under the Joint University Microelectronics Program 2.0 (JUMP 2.0) initiative, an SRC-led public-private partnership in cooperation with DARPA, co-sponsored by the Semiconductor Research Corporation (SRC), DARPA, the commercial semiconductor industry, and the defense industrial base. SRC is a non-profit consortium that works with industry, government, and academic partners to define, fund, and manage university research on behalf of its member companies. The JUMP 2.0 encompasses 15 commercial and defense electronics industry members, including Intel, Samsung, Global Foundries, Micron, IBM, HRL labs, EMD Electronics, Boeing, Arm, TSMC, Analog Devices, Qorvo, SK Hynix, MediaTek, and Raytheon.
CUbiC's goal
Data movement and its growing energy consumption is the crucial bottleneck to our information infrastructure. From the myriad of Edge devices interacting with the physical world to high-performance Cloud data centers, the problem is most severe at the two extremes of the Edge and the Cloud where explosive growth in data generation rates far exceed the communication capacities. CUbiC will create new ultra-energy efficient technologies and system architectures that enable over two orders of magnitude performance gains and transformational reductions in energy consumption across massive wireless and data center systems.
Led by Columbia Engineering Professor Keren Bergman, the CUbiC team includes researchers from 12 universities with expertise that spans the full systems-to-devices "stack" in communications and connectivity. The assistant director, Ali Niknejad, is a professor of electrical engineering and computer science at the University of California, Berkeley. Other Columbia Engineering principal investigators include Harish Krishnaswamy, professor of electrical engineering, an expert in integrated circuits and systems; and Michal Lipson, Higgins Professor of Electrical Engineering and professor of applied physics, a pioneer in silicon photonics.
Rethinking the boundaries between communication and computation
The pandemic has made exceptionally clear our societal dependence on continuous connectivity. Today's systems are overwhelmed by the massive data generation rates at the wireless Edge and within the data centers' Cloud. "We need a rethinking of the boundaries between communication and computation and to fundamentally reinvent how data moves across systems with minimal energy consumption," said Bergman, Charles Batchelor Professor of Electrical Engineering; Scientific Director, Columbia Nano Initiative; and a leading researcher in photonic interconnected computing systems. "The Center for Ubiquitous Connectivity will bring photonics onto chips, work across systems, and create new architectures, circuits, and devices that vastly expand wireless capacity. This is a new communication paradigm. Future systems will be much more energy-efficient, adaptable, secure, and robust, while delivering orders of magnitude more bandwidth than we currently have."
CUbiC Partners
In addition to Columbia University and the University of California, Berkeley, other participants include the University of California, Santa Barbara; University of Illinois, Urbana-Champaign; Massachusetts Institute of Technology; University of Michigan; Cornell University; Duke University; Princeton University; Stanford University; Oregon State University; University of California, San Diego; and University of Southern California.

"CUbiC has brought together an outstanding team of faculty with deep knowledge in both wireless and photonics, spanning systems, architectures, circuits, and devices. These extraordinary researchers--more than 25% female-- bring with them unsurpassed intellectual capital, national technical leadership, as well as their specific areas of expertise," said Columbia Engineering Dean Shih-Fu Chang. "We are very excited to be leading this extraordinary initiative which we expect will deliver a seamless Edge-to-Cloud connectivity that will, through its reductions in global energy consumption, transform our world."
###
---