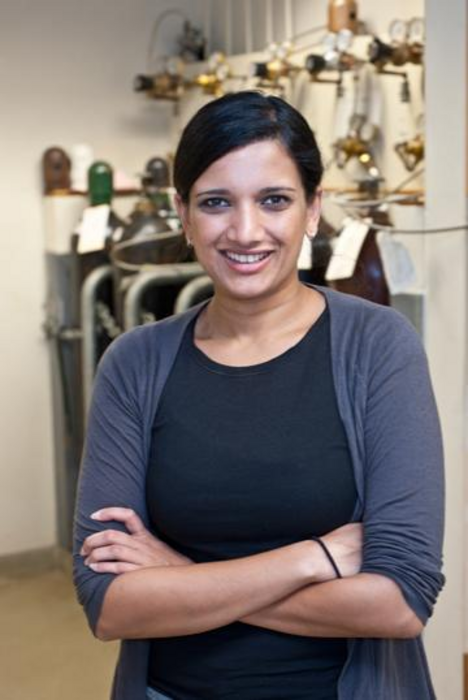 Boston College chemists Eranthie Weerapana and Abhishek Chatterjee have been named 2022 Paul G. Allen Frontiers Group Distinguished Investigators, an honor accompanied by $1.2 million to support their work to develop a technique to study protein lifespan in a cell crucial to the body's immune system.
The pair are among 16 new Allen Distinguished Investigators in eight teams who are developing technologies and designing approaches to answer crucial questions in biology, according to Allen Frontiers Group, part of the broad set of research and innovation initiatives developed during the past four decades by the late philanthropist and Microsoft co-founder Paul G. Allen.
"We are excited to receive the Allen Distinguished Investigator award from The Paul G. Allen Frontiers Group," said Chatterjee. "The research support from this award will help us develop an exciting early-stage technology with tremendous potential."
While techniques exist to capture the entire suite of proteins in an individual cell — also known as a proteome — it's still difficult to capture the dynamics of protein synthesis and degradation on a large scale, according to the researchers. To understand the variation of protein lifespan in the context of the entire proteome, Chatterjee and Weerapana are developing new technologies to tag and measure newly created proteins at specific timepoints. They'll use this technique to study protein lifespan in a type of immune cell known as a T cell.
"Techniques are now available to analyze the entire body of proteins present in a cell - also known as its proteome - with increasing sophistication," the researchers said. "However, it remains challenging to ascertain when and where different groups of proteins are synthesized and degraded in living cells, even though such dynamic processes underlie nearly all aspects of biology. With this support, we will address this knowledge gap by developing technology for tagging the specific subset of proteins synthesized in a specific location and/or time frame in a cell, such that these can be selectively isolated and characterized."
"We are thrilled and proud that Eranthie and Abhishek's research is recognized by this prestigious award," said Professor of Chemistry and Margaret & Thomas Vanderslice Chair Dunwei Wang. "The financial support that comes with it will help advance their program. This is well deserved."
Founded in 2016, the Paul G. Allen Frontiers Group, a division of the Allen Institute, is dedicated to exploring the landscape of bioscience to identify and foster ideas that will change the world. The Frontiers Group recommends funding to the Paul G. Allen Family Foundation, which then invests through award mechanisms to accelerate our understanding of biology, including: Allen Discovery Centers at partner institutions for leadership-driven, compass-guided research; and Allen Distinguished Investigators for frontier explorations with exceptional creativity and potential impact. For more information, visit www.allenfrontiersgroup.org.
---