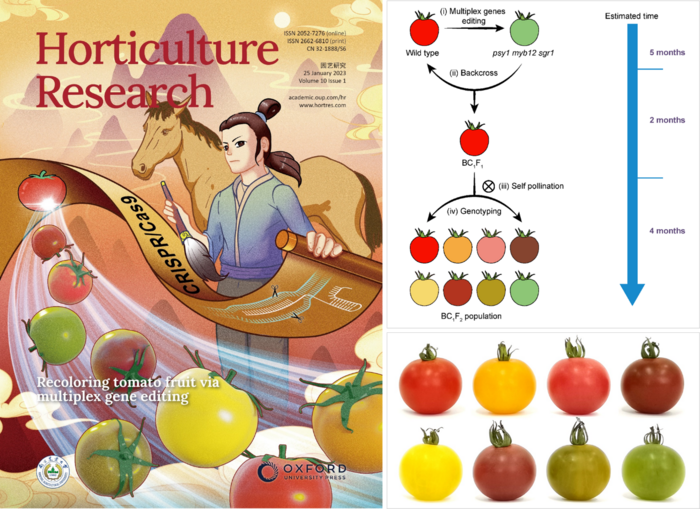 A recent study delivered by Prof. Chuanyou Li's group at the Institute of Genetics and Developmental Biology (IGDB) of the Chinese Academy of Sciences (CAS) developed a rapid breeding strategy to generate tomato lines with different colored fruits from red-fruited materials by CRISPR/Cas9-mediated multiplex gene editing. First, a green-fruited triple mutant was created from red-fruited cultivar through simultaneous knockout mutations of PSY1, MYB12, and SGR1. Next, the triple mutant was backcrossed with the wild-type red-fruited plants. Then, the resulting BC1F1 lines were self-pollinated to generate a BC1F2 population segregating the psy1, sgr1, and myb12 mutant alleles. Finally, a series of tomato genotypes with different fruit colors, including red, yellow, pink, brown, light-yellow, pink-brown, yellow-green, and light green, were identified in the BC1F2 population.
Compared to traditional cross-breeding, this strategy requires less time and can obtain transgene-free plants with different fruit colors within a year. Most importantly, it retains the advantages of original cultivar and does not affect other important agronomic traits. This strategy provides a reference for improving multigene-controlled traits by multiplex gene editing, and can be easily extended to other horticultural crops such as fruits, vegetables and flowers.
This work entitled "Recoloring tomato fruit by CRISPR/Cas9-mediated multiplex gene editing" was published in Horticulture Research on January 1, 2023 (DOI: 10.1093/hr/uhac214). Dr. Tianxia Yang, Dr. Muhammad Ali and Dr. Lihao Lin are the first authors. Prof. Chuanyou Li and Dr. Lei Deng are the corresponding authors. This study was supported by grants from the Ministry of Science and Technology of China, the National Natural Science Foundation of China and the Chinese Academy of Sciences.
###
Reference
Authors
Tianxia Yang1,2,†, Muhammad Ali1,2,†, Lihao Lin1,2,†, Ping Li3, Hongju He4, Qiang Zhu1,2, Chuanlong Sun1,2, Ning Wu1,2, Xiaofei Zhang1,2, Tingting Huang3, Chang-Bao Li5, Chuanyou Li1,2,*, Lei Deng1,2,*
Affiliations
1State Key Laboratory of Plant Genomics, National Center for Plant Gene Research (Beijing), Institute of Genetics and Developmental Biology, Innovation Academy for Seed Design, Chinese Academy of Sciences, Beijing 100101, China
2CAS Center for Excellence in Biotic Interactions, University of Chinese Academy of Sciences, Beijing 100049, China
3Institute of Vegetable, Qingdao Academy of Agricultural Sciences, Qingdao, Shandong Province 266100, China
4Institute of Agri-food Processing and Nutrition, Beijing Academy of Agriculture and Forestry Sciences, Beijing 100097, China
5Key Laboratory of Biology and Genetic Improvement of Horticultural Crops (North China), Ministry of Agriculture, Beijing Vegetable Research Center, Beijing Academy of Agriculture and Forestry Sciences, Beijing 100097, China
About Prof. Chuanyou Li and Associate Prof. Lei Deng
Prof. Chuanyou Li , Institute of Genetics and Developmental Biology, Chinese Academy of Sciences, China
Email: cyli@genetics.ac.cn
Associate Prof. Lei Deng, Institute of Genetics and Developmental Biology, Chinese Academy of Sciences, China
Email: ldeng@genetics.ac.cn
---
Journal
Horticulture Research
Subject of Research
Not applicable
Article Title
Recoloring tomato fruit by CRISPR/Cas9-mediated multiplex gene editing
Article Publication Date
1-Jan-2023