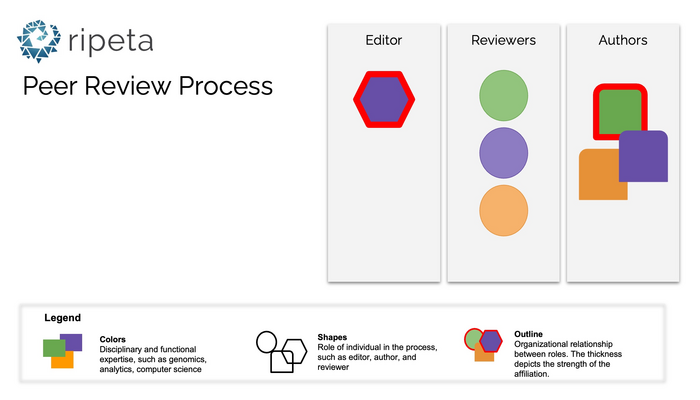 An anti-abortion paper retracted by a Frontiers journal the day after Christmas contained undisclosed conflicts of interest among its guest editors and peer reviewers, according to an analysis by Digital Science company Ripeta.
Ripeta – a technology company dedicated to supporting and building trust in science – has today shared some of its findings, including a conceptual model demonstrating how independent peer review should look and what the conflicts of interest are in this case.
The paper in question, published last year in Frontiers in Psychology, is "The Turnaway Study: A Case of Self-Correction in Science Upended by Political Motivation and Unvetted Findings" (Priscilla Coleman, 2022). This paper sought to criticise The Turnaway Study, a landmark study describing "the mental health, physical health, and socioeconomic consequences of receiving an abortion compared to carrying an unwanted pregnancy to term".
Coleman's paper was retracted by Frontiers on December 26, 2022; its retraction was reported in Retraction Watch.
Ripeta CEO and Co-Founder Dr Leslie McIntosh says Coleman's article first came to the company's attention last year through algorithms that showed irregularities in the paper's "trust markers", and then through social media.
"The alert we received indicated we should look closer at the trust markers within the article to ensure due diligence of scientific processes was followed," Dr McIntosh says.
Dr McIntosh says "the peer review process is of clear interest in research conduct and integrity".
"Because Frontiers published the names of reviewers and their declared affiliations, this transparency allows researchers like us to review their affiliations in the context of the peer review process and assess the potential for insularity," she says.
Coleman's article was part of a "research topic" (similar to a special issue), which was led by three guest editors. The article itself had four peer reviewers. However, while all four peer reviewers state different affiliations, Ripeta has found that three of them are directly and one indirectly affiliated with the anti-abortion Charlotte Lozier Institute (CLI), which describes itself as "the preeminent organization for science-based pro-life information and research". In addition, the editor charged with reviewing the article is also affiliated with CLI. Most of these associations were not disclosed. (see the conceptual model)
"This example highlights the potential for institutes, peer reviewers, or authors to translate aligned political interests into scientific influence," Dr McIntosh says.
"As access to abortion is a political issue; as Coleman's article is distinctly anti-abortion; and as all of the editors and peer reviewers responsible for checking Coleman's article are members of organisations and institutions that are anti-abortion on moral terms, there appear to be non-independences among all of the actors. Hence, there appears to be significant confirmation bias and conflict of interest within the scientific process in this case."
Dr McIntosh says the Committee on Publication Ethics (COPE) definition of "systematic manipulation of the publication process" appears to have been met.
"Whatever the quality of Coleman's article, political conflicts of interest have undermined the peer review process by causing the 'independent assessment' criterion of peer review to fail," she says.
"The author, editors and peer reviewers should have included reviewers outside of their politically-aligned affiliations, which raised concerns regarding the peer review process being contaminated with potential bias."
Dr McIntosh says that, based on the multiple levels of conflict of interest in peer review, the paper "should never have been included in the scholarly literature".
"It is our hope that publishers will learn from this experience and take action," she says.
Ripeta's initial findings can be found on the Digital Science website: https://www.digital-science.com/blog/2023/01/a-conflict-of-interests/
Note: Part of this analysis was presented at the eResearch Australasia conference in Brisbane, Australia, October 2022.

About Ripeta
Ripeta (the Italian word for "repeat") is a company formed to improve scientific research quality and reproducibility. Part of Digital Science, Ripeta leads efforts in automating quality checks of research manuscripts. For more information, visit ripeta.com or follow @RipetaReview on Twitter.
About Digital Science
Digital Science is a technology company working to make research more efficient. We invest in, nurture and support innovative businesses and technologies that make all parts of the research process more open and effective. Our portfolio includes admired brands including Altmetric, Dimensions, Figshare, ReadCube, Symplectic, IFI CLAIMS, Overleaf, Ripeta, and Writefull. We believe that together, we can help researchers make a difference. Visit www.digital-science.com and follow @digitalsci on Twitter or on LinkedIn.

Media contacts
David Ellis, Press, PR & Social Manager, Digital Science, Mobile +61 447 783 023: d.ellis@digital-science.com
Simon Linacre, Head of Content, Brand & Press, Digital Science: Mobile: +44 7484 381477, s.linacre@digital-science.com
---