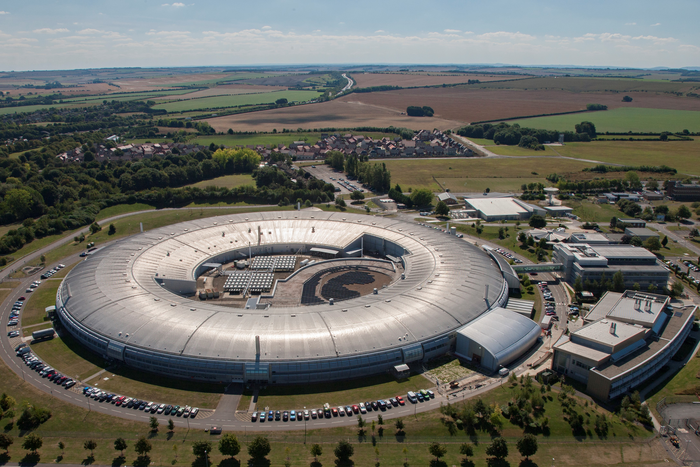 A new Memorandum of Understanding (MoU) to facilitate collaboration in the field of pandemic preparedness and to promote further cooperation between the University of Oxford and Diamond Light Source, the UK's national synchrotron, was announced today (12 January).
Oxford and Diamond already have many strong links but now intend to develop their collaborative work to address multiple aspects of anti-viral drug discovery in particular structure-based drug discovery, development of immuno-therapeutics and vaccine design.
Richard Cornall, Nuffield Professor of Clinical Medicine and Head of Department of the Nuffield Department of Medicine (NDM) at the University of Oxford said: "Over the years we have had many research collaborations with Diamond including its Electron Bio-Imaging Centre (eBIC). This has been reinforced by a number of high-level joint appointments and secondments of principal investigators between Diamond and NDM. This agreement recognises that our strengths continue to be highly complementary and that by working together we will have the best chance of developing life-saving ways to prevent and treat our most significant pandemic threats ."
Prof Sir Dave Stuart, Life Sciences Director at Diamond and Joint Head of Structural Biology at University of Oxford adds: "This new agreement will enable us to identify collaborative research opportunities for joint research and development both of mutual or individual interest and to coherently address multiple aspects of therapy development from anti-viral drug discovery to vaccine design."
Oxford and Diamond intend to develop their collaborative work in the following project areas:
Structure-based drug discovery and development of immuno-therapeutics. Both facilities will look for ways to bring their assets and partnerships to bear on a joint cross disciplinary platform to develop novel class-specific anti-viral drugs and immuno therapeutics. One major shared goal is rapid generation of small molecule and protein hits, refinement to potent leads and in vitro assessment. They may also identify ways to use their shared resources to create a pipeline comprising structure-based drug discovery, in vitro and in vivo assay development, innovative and automated approaches to drug design, advanced enzymology/protein science synthesis and development.
A second shared aim is focused on structural characterisation of the mode of action of neutralising antibodies or nanobodies and the use of such information in the development of new immuno-therapeutic entities.
Vaccine design. The facilities will look to identify ways to bring their assets and partnerships to bear on the generation of high-resolution structural data, and appropriate cellular imaging data, to feed into the design of novel vaccines and the refinement and optimisation of vaccination strategies.
In 2021, Oxford established the Pandemic Sciences Institute, hosted by NDM, as a multi-disciplinary, university-wide initiative to build upon the model of innovation, collaboration and agility that yielded critical breakthroughs for COVID-19, and to identify and counter future pandemic threats.
Diamond, the UK's national synchrotron, co-founded the COVID Moonshot , a spontaneous global collaboration that started in March 2020, triggered by data from Diamond's XChem platform for fragment screening, and rapidly identified potent antivirals targeting the main protease of the SARS-CoV-2 virus. These antivirals are now undergoing a preclinical programme funded by the Wellcome Trust; and data openly shared by Moonshot additionally enabled the identification of another promising COVID-19 drug developed by the Japanese pharmaceutical company Shionogi that is now in late-stage clinical trials.
ENDS
For further information: please contact Diamond Communications: Lorna Campbell +44 7836 625999 or Isabelle Boscaro-Clarke +44 1235 778130
Diamond Light Source: www.diamond.ac.uk Twitter: @DiamondLightSou
Notes to Editors
University of Oxford, Nuffield Department of Medicine
The Nuffield Department of Medicine (NDM) at the University of Oxford has a global reach and significant breadth in terms of capabilities and capacity. Its research and innovations have had many positive impacts on human health, including in infectious diseases, cancer, immunology, gastroenterology, respiratory and renal medicine, vaccinology, pathology and general medicine. Over the last fifty years, NDM has pioneered the use of genetics, structural and cellular biology to understand susceptibility to human disease, while maintaining a focus on clinical medicine. NDM has over 1,200 staff in the UK and 2,000 overseas, with over 20 major research institutes, centres and units in Oxford as well as Kenya, Thailand, Vietnam and several other countries. For more information, visit https://www.ndm.ox.ac.uk/
Diamond Light Source: works like a giant microscope, harnessing the power of electrons to produce bright light that scientists can use to study anything from fossils to jet engines to viruses and vaccines. The machine accelerates electrons to near light speeds so that they give off light 10 billion times brighter than the sun. These bright beams are then directed off into laboratories known as 'beamlines'. Here, scientists use the light to study a vast range of subject matter, from new medicines and treatments for disease to innovative engineering and cutting-edge technology. Whether it's fragments of ancient paintings or unknown virus structures, at the synchrotron, scientists can study their samples using a machine that is 10,000 times more powerful than a traditional microscope.
---