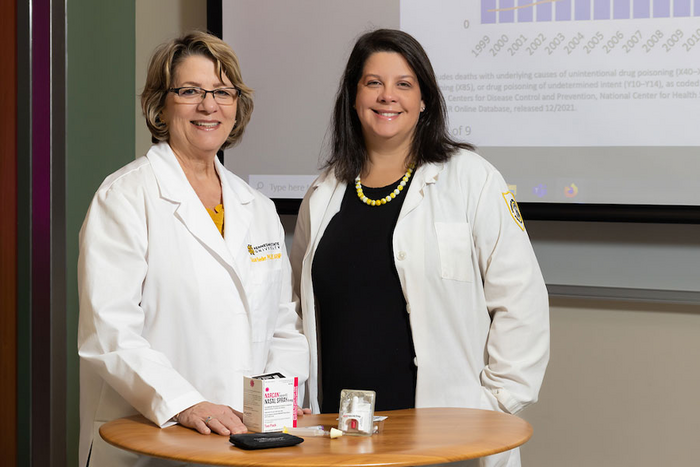 Kennesaw State University's Wellstar School of Nursing has received a federal grant to teach graduate students how to help patients break increasingly deadly opioid addictions.
Assistant professor of nursing Kathy Barnett and Wellstar School of Nursing Associate Director of Graduate Programs Susan Beidler teamed to earn the nearly $729,000 grant, which comes from the Substance Abuse and Mental Health Services Administration (SAMHSA), a subsidiary of the U.S. Department of Health and Human Services (HHS). Barnett and Beidler will implement curricular revisions in the KSU Masters of Science in Nursing programs that address decreasing stigma and increasing access to early interventions for substance use disorders.
"Opioid addiction is a growing problem in Georgia and across the United States and something Susan and I felt very strongly all our master's students needed more expertise in," said Barnett, who wrote her doctoral dissertation on substance use disorder. HHS has declared opioid addiction a public health emergency.
According to data from the Georgia Department of Public Health, drug overdose deaths increased by 61% from 2019 to 2021, and fentanyl-involved overdose deaths increased by 230%, illustrating the urgent need for more medical training in helping people with opioid addiction. Opioids include many prescription pain medicines, fentanyl and the illegal drug heroin.
KSU's grant-funded program will cover 30 hours of instruction and will add another tool to the kit of nursing graduates from KSU in all three of the master's degree tracks – education, administration and practice. Barnett said it shows the Wellstar School of Nursing's commitment to reducing the negative impact of opioid use disorders.
"We do that by training more nurse practitioners and other master's-prepared nurses in the treatment, assessment and referrals of those with opioid use disorders," she said. "We're hoping that in our community there will be many more treatment options and more people that are trained solely in how to treat those with the disorders."
The grant money will cover integration of the training components into the curricula, followed by evaluation via surveys of the impact of the program on students. Beidler, who joined the Wellstar School administration in 2021, after more than four decades teaching and practicing nursing, said KSU's position at the forefront of nursing education in the state and region places the University perfectly to address addiction through this program.
"We're not satisfied with the status quo. We're always looking for creative and innovative ways for our graduates to be cutting-edge in their practice abilities, and this grant will add another tool to their 'toolkit' to address a critical public health problem in our communities," Beidler said.
---