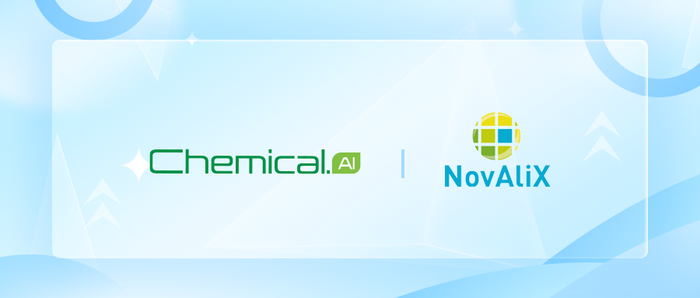 Shanghai, China—January 16, 2023—January 16, 2023, Chemcial.AI announces the collaboration with NovAliX -a world-leading Drug Discovery CRO company- has reached a milestone. On January 25, 2021, Chemical.AI announced a strategic cooperation with NovAliX in the field of AI-assisted drug discovery. Over the past two years, ChemAIRS, developed by Chemical.AI, has enabled NovAliX to achieve cost savings and efficiency improvement on its research projects, thus promoting the development of AI solutions in the pharmaceutical field, and creating optimal AI solutions for NovAliX's clients and partners.
Dr. Julien Marin, VP, Director Research Services of NovAliX, commented, "We are delighted to have partnered with Chemical.AI in 2021. Over the past two years, ChemAIRS functions (Retrosynthesis, SA Score, Forward Synthesis, Process Chemistry, etc.) have progressed impressively. ChemAIRS has been used by our chemists, enabling our customers' research programs to benefit from cutting-edge AI solutions in synthesis. In the future, we will continue to collaborate with Chemical.AI to further contribute to the development and promotion of AI solutions in drug discovery."
Recently, ChemAIRS has been able to design routes as good as, or even better, than those designed by chemists with 10 years of synthetic experiences, by combining big data with continuous-learning chemical rules and optimizing algorithms. ChemAIRS is capable of supporting the integration of millions of internal ELN data, with a 99% success rate of ELN-reaction retrieval; by dynamically configuring the access rights of different project groups, ChemAIRS guarantees the security of customer data and enables differentiated searches for different users within the enterprise. ChemAIRS can also reduce the total route steps by 20-70% by integrating tens of millions of enterprise BB (Building Block) data, thus helping chemists to find shorter and more valuable potential routes. In addition, for the function of SA Score (evaluation of synthesis accessibility), ChemAIRS is capable of calculating the SA scores for 100,000 molecules in 7 hours and 48 minutes (in approximately 0.28 seconds per molecule); an internal test of 1346 molecules showed that there are 86% of the molecules got similar synthesis scores from ChemAIRS and from chemists.
Dr. Ning Xia, Founder & CEO of Chemical.AI, commented, "we are pleased to help NovAliX to improve the efficiency of its chemical synthesis services and reduce the cost of drug discovery. In the collaboration with NovAliX, we are also constantly improving ChemAIRS algorithm, substantially increasing its viability on the route design. In the future, we will work more closely with NovAliX to provide optimal AI solutions for customers."
AI-Pharmaceutical technologies can help global pharma and CROs around the world to improve the efficiency of new drug R&D, shorten the development cycle and reduce costs, thereby increasing the success rate of drug development. As an AI-enabled chemical synthesis R&D technology company that has been deeply involved in AI pharmaceutical field for ten years, Chemical.AI has been committed to using AI to accelerate the efficiency of chemical synthesis and drive chemical synthesis toward a digital, automated and intelligent future. Since its establishment, Chemical.AI has successfully provided technical services to a number of well-known Big Pharma and CROs from Asia, Europe, North and South America, achieving in-depth cooperation in the areas of retrosynthesis, synthetic route design, evaluation of synthesis accessibility, virtual-molecule library generation by forward synthesis and process route optimization.
About NovAliX
Founded in 2002 and based in Strasbourg, France, NovAliX is a drug discovery-focused CRO supporting the drug discovery process from screening to optimized leads. With around 230 researchers, NovAliX provides computational & strong capabilities in medicinal chemistry combined with screening platforms such as FBDD, covalent fragment screening and DEL. Experts provide in vitro pharmacology services and a unique biophysical and structural platform encompassing MS, SPR, NMR, MST, DSF, HDX, X-ray crystallography & cryo-EM — including membrane proteins. NovAliX also offers support in synthetic chemistry and chemical process research including a flow chemistry platform.
Chemical.AI
Founded in 2018, Chemical.AI is one of the technology leading companies leveraging Artificial Intelligence (AI) and big data to transform research and development to shape the future of chemistry. ChemAIRS boosts success rates in synthesis route design and prediction with diverse synthesis strategies. In 2021, Chemical.AI also established an AIoT automation lab (ChemAILab) in Shanghai to bring the dry lab and wet lab together to provide more professional and efficient chemical synthesis services to the industry. In 2022, Chemical.AI was recognized as a "China High-Tech Enterprise".
For more information, please go to the website https://www.chemical.ai/ and register with a promotion code CF41MT to redeem your two-week free trial.
Contact bd@chemical.ai for immediate inquiries.
---