Feature Story | 10-Jan-2023
PolyU research: Transformation of waste glass to low-carbon construction materials
The Hong Kong Polytechnic University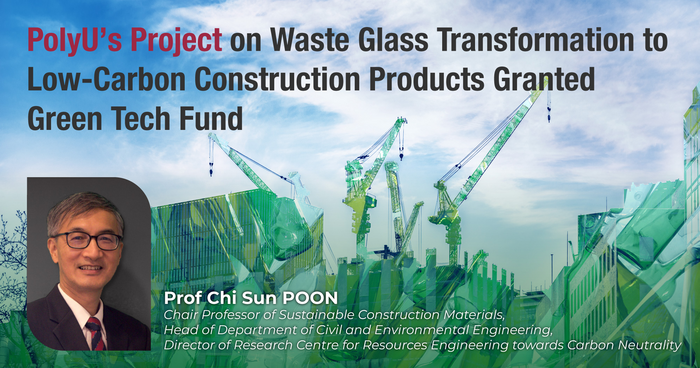 In Hong Kong, about 7% of CO2 emission comes from wastes, mainly from landfills. Glass waste is a key component of solid wastes, with about 200 tonnes of glass waste disposed in landfills every day. However, recovery rate of waste glass has stood consistently at lower than 20% in the past.
The Hong Kong Polytechnic University (PolyU) was awarded by the Government's Green Tech Fund for a research project on the transformation of waste glass to low-carbon construction materials. Glass powder and cullet derived from waste glass beverage bottles will be utilized for the production of several high-performance construction materials.
Waste reduction and recycling are important measures to alleviate over-reliance on landfills for municipal solid waste disposal. Transformation of waste glass to useful resources and high-value added products creates a substantial waste management framework in Hong Kong. This PolyU research project supports Hong Kong Government's policy in achieving carbon neutrality, and it also offers practical solutions to promote glass recycling.
Prof Chi Sun POON, Chair Professor of Sustainable Construction Materials, Head of Department of Civil and Environmental Engineering, Director of Research Centre for Resources Engineering towards Carbon Neutrality and Michael Anson Professor in Civil Engineering at PolyU leads the project to provide a critical waste management framework with recycling of glass waste to low-carbon construction materials.
In construction industry, production of concrete is the largest contributor to CO2 emission, accounting for about 8% of global anthropogenic CO2 emissions. The research project aims to develop novel glass-based concrete products for pilot-scale utilization in long-span structures, high-rise buildings and pavements.
Recycling of waste glass can reduce embodied carbon of construction materials and produce high performance low-carbon construction products including ultra high-performance concrete, durable self-levelling cement mortar and high strength pervious concrete. These low-carbon construction products made from waste glass are scientifically designed to optimize performance and minimize cost and environmental impacts. The completion of this project would provide a total solution to waste glass problem in Hong Kong.
Disclaimer: AAAS and EurekAlert! are not responsible for the accuracy of news releases posted to EurekAlert! by contributing institutions or for the use of any information through the EurekAlert system.