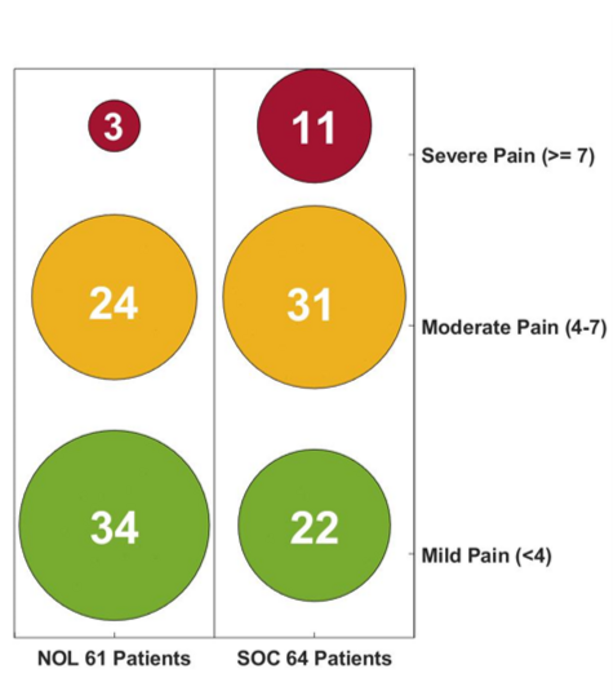 The odds of experiencing severe pain in the post-anesthesia care unit (PACU) is six times lower with Nociception Level (NOL) guided intraoperative analgesia compared to standard of care monitoring. A new study, which pooled data from two randomized clinical trials (Meijer et al 2020, Fuica et al 2022), found that intraoperative opioid dosing based on the NOL index reduced the proportion of patients reporting severe pain by 70% and improved PACU pain scores by a median of 1.5 NRS points at 90 minutes post surgery. Additionally, NOL guidance was the only significant factor explaining the difference in the number of patients experiencing severe pain (OR 5.98, p=0.02).
"The study shows that how NOL monitoring can help minimize the prevalence of severe pain after surgery and all of its negative repercussions," says Prof. Albert Dahan, who led the study. "This represents an important benefit of nociception monitoring to patients and clinicians alike".
Medasense's NOL technology uses machine learning algorithms to continuously monitor patients during surgery, providing real-time information on nociception levels, personalizing dosing of analgesics to the patients' actual requirements. Earlier studies have shown that the NOL index outperforms other indexes for monitoring of pain response to surgical stimuli and that NOL-guided analgesia resulted in reduced intraoperative opioid consumption, leading to fewer intraoperative hypotensive events.
The new study, just published in Frontiers of Pain Research1 pooled data from two published trials with a similar protocol, analysing data from 125 patients – 61 of which received NOL-guided fentanyl dosing and 64 standard care.2,3 The patients were randomly divided so that one group received NOL-guided analgesia dosing during the surgery and the control group received analgesics according to standard of care (based on hemodynamic monitoring). The study showed that while there was no difference in intraoperative fentanyl consumption between the groups, the patients in the NOL-guided group reported less pain in the first 90 minutes compared to the control arm.
"We are thrilled to see the results of this study and the positive impact our technology is having on patients" says Galit Zuckerman-Stark, CEO & Founder of Medasense, "Our goal is to improve the lives of patients by improving their pain management, and these findings demonstrate the potential of NOL to do just that".
.
About Medasense and NOL Technology
Medasense (www.medasense.com) offers a breakthrough technology that enables clinicians to optimize and personalize pain control and avoid overmedication. Medasense's flagship product, the PMD-200™ with its NOL® index, is a unique platform that objectively monitors and quantifies the patient's pain response by means of artificial intelligence and a proprietary non-invasive sensor platform.
The PMD-200 is used to optimize pain management in critical care and operating rooms settings, where patients are unable to communicate.
Clinical studies have demonstrated its impact on patient safety and outcomes, including opioid sparing.
The PMD-200 is distributed in Europe exclusively by Medtronic, is cleared for marketing also in Canada, Latin America, Israel and Australia, and enables connectivity with Philips and Mindray patient monitors.
Watch Medasense's 1-minute video
For further information please contact:
Rachel Weissbrod, VP Clinical, Regulatory & Quality
+972-54-5449115
---
1. van der Wal I, Meijer F, Fuica R, Silman Z, Boon M, Martini C, van Velzen M, Dahan A, Niesters M and Gozal Y Intraoperative use of the machine learning-derived nociception level monitor results in less pain in the first 90 min after surgery; (2023). Front. Pain Res. 3:1086862. doi: 10.3389/fpain.2022.1086862
2. Meijer, F., Honing, M., Roor, T., Toet, S., Calis, P., Olofsen, E., Martini, C., van Velzen, M., M., Dahan, A. (2020). Reduced postoperative pain using fentanyl dosing during sevoflurane anaesthesia: a randomized controlled trial. British Journal of Anaesthesia, 125(6):1070-1078.
3. Fuica, R., Krochek, C., Weissbrod, R. et al. Reduced postoperative pain in patients receiving nociception monitor guided analgesia during elective major abdominal surgery: a randomized, controlled trial. J Clin Monit Comput (2022). https://doi.org/10.1007/s10877-022-00906-1
---
Journal
Frontiers in Pain Research
Subject of Research
People
Article Title
Intraoperative use of the machine learning-derived nociception level monitor results in less pain in the first 90 min after surgery
Article Publication Date
9-Jan-2023
COI Statement
AD: received consultancy fees from Medasense Biometrics Ltd. (Ramat Gan, Israel). The remaining authors declare that the research was conducted in the absence of any commercial or financial relationships that could be construed as a potential conflict of interest.