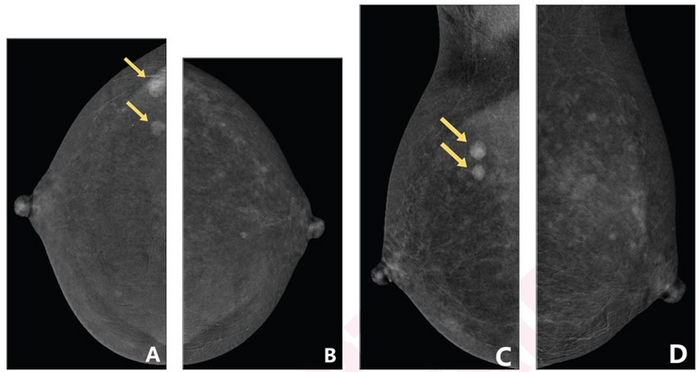 Leesburg, VA, January 25, 2023—According to an accepted manuscript published in ARRS' American Journal of Roentgenology (AJR), both menstrual status and menstrual cycle time are associated with the degree of early background parenchymal enhancement (BPE) on contrast-enhanced mammography (CEM), which could influence CEM interpretations.
"Clinical factors, including history of breast cancer or breast cancer treatment, breast density, menstrual status, and time of menstrual cycle, are associated with degree of early BPE on CEM," wrote corresponding author Yajia Gu from the department of radiology at Fudan University Shanghai Cancer Center in China. "In premenopausal patients, degree of BPE is lowest on days 8–14 of the menstrual cycle."
This AJR accepted manuscript included 207 patients (median age, 46 years) who underwent CEM between April 2020 and September 2021. Two radiologists independently assessed BPE degree on CEM (minimal, mild, moderate, or marked) based on two criteria: using the first of four obtained views; using the first two of four obtained views. Reviewing electronic medical records for clinical factors, the radiologist pair reached consensus for breast density via CEM.
Ultimately, degree of early BPE on CEM was negatively associated with age, history of breast cancer, chemotherapy or radiation therapy, as well as perimenopausal and postmenopausal status. Meanwhile, early BPE degree on this modality was positively associated with dense breasts and premenopausal status with irregular cycles.
Acknowledging their retrospective study's small sample size, given the potential impact of BPE on diagnostic performance, "the findings have implications for CEM scheduling and interpretation," the authors of this AJR accepted manuscript added.
---
North America's first radiological society, the American Roentgen Ray Society (ARRS) remains dedicated to the advancement of medicine through the profession of medical imaging and its allied sciences. An international forum for progress in radiology since the discovery of the x-ray, ARRS maintains its mission of improving health through a community committed to advancing knowledge and skills with the world's longest continuously published radiology journal—American Journal of Roentgenology—the ARRS Annual Meeting, InPractice magazine, topical symposia, myriad multimedia educational materials, as well as awarding scholarships via The Roentgen Fund®.
MEDIA CONTACT:
Logan K. Young, PIO
44211 Slatestone Court
Leesburg, VA 20176
---
Method of Research
Observational study
Subject of Research
People
Article Title
Association of Clinical Factors and Degree of Early Background Parenchymal Enhancement on Contrast-Enhanced Mammography
Article Publication Date
25-Jan-2023
COI Statement
One of the co-authors is an employee of General Electric (GE) Healthcare (Shanghai, China). No other potential conflict of interest relevant to this article has been reported.