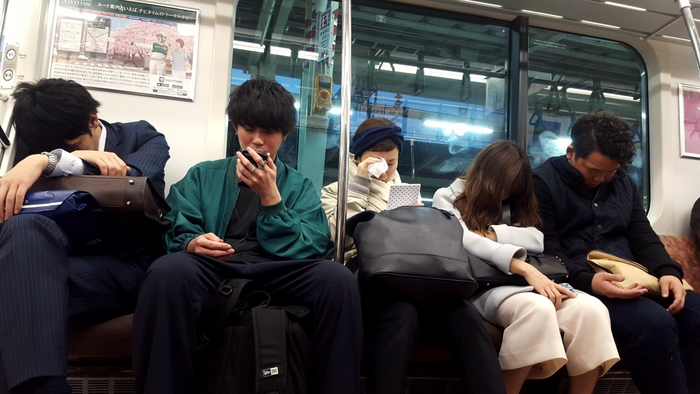 Ishikawa, Japan -- An adequate amount of good-quality sleep is essential for the physical and emotional well-being of humans. For instance, good-quality sleep helps improve the outcomes of various diseases, including cardiovascular and metabolic disorders, mental diseases, and dementia. On the other hand, sleep disorders such as insomnia, narcolepsy, and excessive sleepiness may lead to serious health issues and are quite prevalent the world over. In the USA, 50–70 million adults suffer from sleep disorders, primarily insomnia. Meanwhile, a meta-analysis of 17 studies suggested that in China, insomnia is present in 15% of the population. To better understand such ailments, it is important to study the factors that promote good-quality sleep. Previous studies have indicated that a proper lifestyle, including a healthy diet and regular physical activity, is beneficial for good sleep. However, a systematic comprehensive study is lacking in this area of research.
To this end, a team of researchers from Japan, Canada, and Taiwan—led by Associate Professor Javad Koohsari from the School of Knowledge Science at Japan Advanced Institute of Science and Technology (JAIST), who is also an adjunct researcher at the Faculty of Sport Sciences at Waseda University,—has probed the inter-relationship between sedentary behaviour, physical activity, and sleep quality in a sample of middle-aged Japanese population. The research group, comprising Professor Yukari Nagai, also from JAIST; Professor Akitomo Yasunaga from Bunka Gakuen University; Associate Professor Ai Shibata from University of Tsukuba; Professor Yung Liao from National Taiwan Normal University; Associate Professor Gavin R. McCormack from University of Calgary, and Professor Koichiro Oka and Professor Kaori Ishii from Waseda University, based their study on Japanese adults between 40 and 64 years of age—a crucial time window which often marks the onset of various health issues. Their work has been recently published in Scientific Reports.
The researchers used an isotemporal substitution approach, which estimates the effect of replacing one activity type with another for the same amount of time. Says Dr. Koohsari, "We replaced 60 minutes of sedentary behaviour or light-intensity physical activity with moderate-to-vigorous physical activity in the participants' schedules." An accelerometer monitored the participants' level of physical activity for seven consecutive days. A questionnaire was then used to assess the participants' quality of sleep and rest.
The replacement of sedentary behaviour with moderate-to-intense exercise indeed improved sleep quality. Interestingly, this association was seen to be gender-based, and was only found in women. This is in agreement with reports that have shed light on gender-based differences in sleep disorders. More studies are, however, required to understand why these gender-based dissimilarities occur.
In summary, this study contributes to the existing pool of studies that provide empirical evidence of the importance of physical activity in promoting good-quality sleep. Hopefully, these studies will serve as a useful platform for further research on the prevention of sleep-related disorders. Surely, we now have enough motivation for regularizing our workout schedules!
###
| | |
| --- | --- |
| Title of original paper: | Sedentary behaviour and sleep quality |
| Authors: | Mohammad Javad Koohsari*, Akitomo Yasunaga, Gavin R. McCormack, Ai Shibata, Kaori Ishii, Yung Liao, Yukari Nagai, Koichiro Oka |
| Journal: | Scientific Reports |
| DOI: | 10.1038/s41598-023-27882-z |
About Japan Advanced Institute of Science and Technology, Japan
Founded in 1990 in Ishikawa prefecture, the Japan Advanced Institute of Science and Technology (JAIST) was the first independent national graduate school in Japan. Now, after 30 years of steady progress, JAIST has become one of Japan's top-ranking universities. JAIST counts with multiple satellite campuses and strives to foster capable leaders with a state-of-the-art education system where diversity is key; about 40% of its alumni are international students. The university has a unique style of graduate education based on a carefully designed coursework-oriented curriculum to ensure that its students have a solid foundation on which to carry out cutting-edge research. JAIST also works closely both with local and overseas communities by promoting industry–academia collaborative research.
About Associate Professor Mohammad Javad Koohsari from Japan Advanced Institute of Science and Technology, Japan
Dr Koohsari is an Associate Professor at the School of Knowledge Science, Japan Advanced Institute of Science and Technology in Japan. Dr Koohsari's research focuses on how built (and virtual built) environment and geospatial science can contribute to health, especially in the context of super-aged societies. Dr Koohsari has a publication record with over 105 refereed journal articles (such as at Nature Reviews Cardiology). In 2020 and 2021, he was recognised in the top 2% of most influential researchers worldwide across all scientific disciplines (Stanford University & Elsevier). He is also included in the 'Top Scientists' list in the field of 'Social Science & Humanities' for the year 2022 (Research.com). Dr Koohsari is on the editorial board member of several major journals in the field, such as Landscape & Urban Planning and Humanities & Social Sciences Communications.
Funding information
Dr. Gavin R. McCormack is supported by a Canadian Institutes of Health Research Foundations Scheme Grant (FDN-154331).
Prof. Koichiro Oka is supported by a Grant-in-Aid for Scientific Research (No. 20H04113) from the Japan Society for the Promotion of Science.
---
Journal
Scientific Reports
Article Title
Sedentary behaviour and sleep quality
Article Publication Date
20-Jan-2023