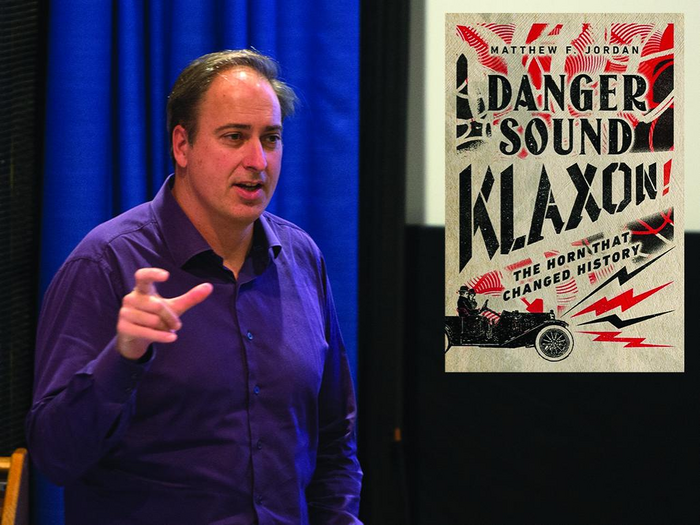 UNIVERSITY PARK, Pa. — A new book by Penn State faculty member Matt Jordan chronicles the rise and fall of the Klaxon automobile horn, one of the first great electrical consumer technologies of the 20th century. Jordan, associate professor and head of the Department of Film Production and Media Studies in the Donald P. Bellisario College of Communications, will discuss his research into the iconic horn's history at a book launch event at 5:30 p.m. Feb. 21 in the Foster Auditorium of Paterno Library.
Matt McAllister, professor of media studies, will moderate the event and a question-and-answer session with the author following Jordan's talk.
Jordan's book, "Danger Sound Klaxon! The Horn That Changed History," shares how the metallic shriek of the horn first shocked pedestrians, improving safety, and how savvy advertising strategies convinced consumers across the United States and western Europe to adopt the horn as the safest signaling technology available in the 1910s.
While the shrill-sounding horn improved early automobile safety and provided a positive impact for a communications technology, the book chronicles how the technology went awry because of world events.
Watch a YouTube video about the Klaxon at this link.
The widespread use of Klaxons in the trenches of World War I transformed how the public heard the car horn, according to Jordan, and its traumatic association with gas attacks ultimately doomed this once ubiquitous consumer technology.
By charting the meteoric rise and eventual fall of the Klaxon, "Danger Sound Klaxon!" highlights how perceptions of sound-producing technologies are guided by, manipulated and transformed through advertising strategies, public debate, consumer reactions and governmental regulations. Jordan's book demonstrates how consumers are led toward technological solutions for problems themselves created by technology.
Jordan is a critical media scholar who works on the role of media in everyday culture and its impact on society. He teaches courses in film studies and media studies. His writing engages with how different popular media forms and technologies change the way that people see themselves and the world. Along with various academic publications on sound, technology and the impact of media on democracy, he writes essays for the popular press on his research topics as they relate to news of the day.
Jordan is the executive producer of the Penn State Humanities Institute's Emmy-nominated documentary series "Humin Focus," which is broadcast on WPSU and on the web. He also leads Penn State's news Literacy Initiative, which includes hosting the "News Over Noise" radio/show podcast that is available on all podcast platforms and in most public radio markets across Pennsylvania.
---