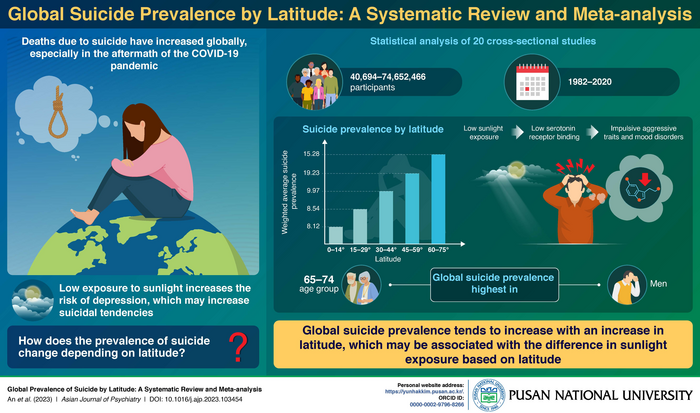 Over the years, deaths due to suicide have become prevalent across the globe, with estimates suggesting that almost 800,000 people take their own lives each year. Suicide and self-harm adversely affect individuals, families, and society at large. Other than causing mental distress, they also lead to productivity loss and soaring medical expenses. In 2019, losses associated with suicide reached $490 billion. Lately, there is a growing cause of concern regarding the increased risk of suicide due to the COVID-19 pandemic.
In this light, a research team led by Professor Yun Hak Kim from Pusan National University, South Korea, explored the role of sunlight exposure in the prevalence of suicide. Discussing the motivation underlying this work, Prof. Kim remarks, "As latitude increases, cumulative sunlight exposure decreases. It reduces serotonin neurotransmitter binding in blood platelets and the brain, which may promote impulsive aggression and mood disorders, including depression. This biological mechanism interlinks sun exposure to suicide. Therefore, investigating the relationship between latitude and suicide rates is crucial." Their work was made available online on January 7, 2023, and will be published in Volume 81 of the Asian Journal of Psychiatry in March 2023.
For this study, the team performed a systematic review and meta-analysis of 20 cross-sectional studies published from 1982 to 2020. Next, they calculated the suicide prevalence per 100,000 people and its trends based on factors such as latitude, gender, age, firearm regulation, and income. They found that the average worldwide suicide prevalence was 13.34. The prevalence increased with an increase in latitudes, with 8.12, 8.54, 9.97, 19.23, and 15.28 in the 0-14o, 15-29o, 30-44o, 45-59o, and 60-75o latitude ranges, respectively. According to the results of the regression analysis, the value increased by 0.255 with each additional degree. In fact, the latitude change explained nearly 27.3% of the suicide prevalence.
Additionally, while the suicide prevalence in men (25.91) was much higher than in women (5.66), women were likely to have suicidal tendencies at a higher frequency. This "gender paradox" is related to the differences in suicide method fatality, depression rates, alcohol abuse, and cultural taboos between the genders.
The researchers further highlighted that suicide prevalence increased with age, from 1.43 in the 0–14 age range to 15.97 in the 65–74 age range, which could be due to the increased risk of social isolation, economic poverty, and health problems that occur with age. They also noted that while gun-control and gun-permissive countries had similar suicide prevalence values of 16.46 and 15.40, suicide by firearm was more common in the latter.
So, what are the future implications of these findings? "This work is one of the first to establish a scientific basis for the association between exposure to sunlight and suicide. Moreover, it is expected to provide evidence for identifying suicide rates by geographic residence," concludes Prof. Kim.
We are confident that these findings will help develop suicide prevention strategies in countries that do not receive adequate sunlight exposure, and based on specific causative factors.
***
Reference
DOI: https://doi.org/10.1016/j.ajp.2023.103454
Authors: Seongjun Ana1, Sungju Lima1, Hyun-Woo Kim2, Hyung-Sik Kim3, Dongjun Lee4, Eunjeong Son5, Tae Woo Kim6, Tae Sik Goh7, Kihun Kim8, Yun Hak Kim9,10,
Affiliations:
1School of Medicine, Pusan National University
2Department of Neurology, Pusan National University Yangsan Hospital
3Department of Oral Biochemistry, Dental and Life Science Institute, School of Dentistry, Pusan National University
4Department of Convergence Medicine, School of Medicine, Pusan National University
5Division of Pulmonary, Allergy, and Critical Care Medicine, Department of Internal Medicine, Pusan National University Yangsan Hospital
6Department of Orthopaedic Surgery, Pusan National University Yangsan Hospital
7Department of Orthopaedic Surgery, Pusan National University
8Department of Occupational and Environmental Medicine, Kosin University Gospel Hospital
9Department of Biomedical Informatics, School of Medicine, Pusan National University
10Department of Anatomy, School of Medicine, Pusan National University
About Pusan National University
Pusan National University, located in Busan, South Korea, was founded in 1946, and is now the No. 1 national university of South Korea in research and educational competency. The multi-campus university also has other smaller campuses in Yangsan, Miryang, and Ami. The university prides itself on the principles of truth, freedom, and service, and has approximately 30,000 students, 1200 professors, and 750 faculty members. The university is composed of 14 colleges (schools) and one independent division, with 103 departments in all.
Website: https://www.pusan.ac.kr/eng/Main.do
About Professor Yun Hak Kim from Pusan National University
Dr. Yun Hak Kim is an Associate Professor at the Department of Anatomy and the Department of Biomedical Informatics at Pusan National University (PNU). In 2016, he received a Ph.D. from the Pharmacology Lab at PNU, following which he completed his postdoctoral training at the Department of Anatomy at PNU. Prof. Kim has published nearly 100 articles, which have been cited over 1,000 times. His research interests include bioinformatics, artificial intelligence, and genomics. His group is developing new biomarkers for several diseases using genomic big data.
Lab website: https://yunhakkim.pusan.ac.kr/
ORCID id: 0000-0002-9796-8266
Funding Information
This work was supported by the Medical Research Center program through the National Research Foundation of Korea and the Korea Health Technology R&D Project through the Korea Health Industry Development Institute.
---
Journal
Asian Journal of Psychiatry
Method of Research
Meta-analysis
Subject of Research
People
Article Title
Global prevalence of suicide by latitude: A systematic review and meta-analysis
Article Publication Date
7-Jan-2023
COI Statement
All authors have no conflict of interest to declare.