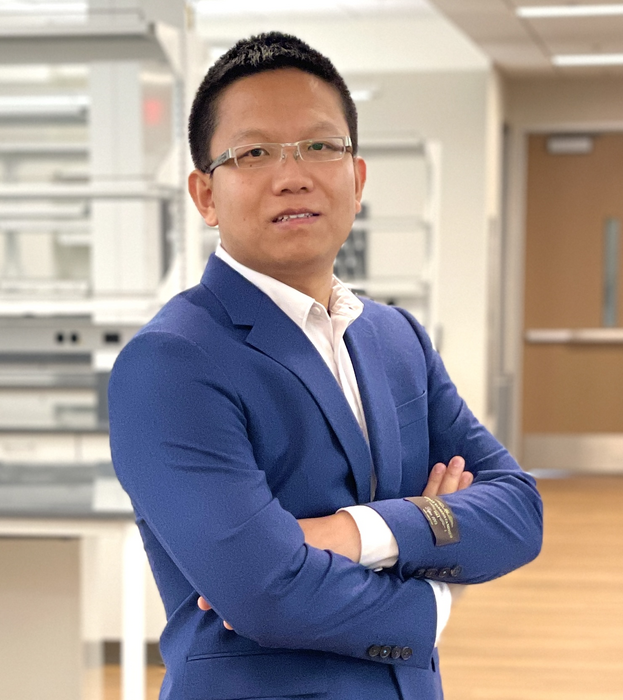 Qinggong Tang, Ph.D., assistant professor, Stephenson School of Biomedical Engineering in the Gallogly College of Engineering at the University of Oklahoma, has received a prestigious CAREER award through the Faculty Early Career Development Program of the National Science Foundation. The five-year project will develop novel endoscopic optical imaging techniques to provide real-time visualizations to improve clinicians' ability to successfully administer needle-based medical interventions.
Many health treatments require the delivery of medication through injection, called needle-based interventions. Some examples include the delivery of anesthesia, a tumor biopsy or a pregnant woman receiving an epidural during labor. Although quite common, needle-based interventions require absolute precision during administration. Currently, practitioners rely on X-ray or CT ultrasounds to provide guidance for needle placement, but these methods do not provide details about the depth of tissue, ligament, muscle or fat beneath the skin that can impact the efficacy of these interventions.
"With current methods, doctors can see the needle tip, but they cannot see the different tissue types. With an epidural, for example, there is not a precise way to ensure the needle reaches the epidural space, which is surrounded by blood vessels and can be dangerous if punctured," Tang said. "By developing our novel imaging technology to guide this kind of procedure, we can improve the precision of needle placement."
Tang's research group has developed a kind of miniaturized imaging device small enough to be placed on the tip of a needle, that combined with artificial intelligence and machine learning software could allow clinicians to see a computer read-out of the types of soft tissues ahead of the needle tip before penetration.
"There will be broad applications for needle-based interventions used in brain surgery, for tumor-related or laparoscopic surgeries – all could benefit from our tool to provide precise guidance and avoid hemorrhage," he said.
Additionally, with the support of OU's Precollegiate, Engineering Diversity, Equity and Inclusion, and Engineering Pathways programs, Tang will develop a "Biophotonics for Native Americans in Oklahoma" program to engage and mentor local Native American high school students and teachers in biomedical engineering and optics.
"This effort will enable Native American students to have access to the world-class research facilities at the University of Oklahoma and encourage more Native American representation in STEM," he said. "Other educational activities, including curriculum development and specific microscope demonstrations for local K-12 students, will be organized to increase students' interest in bioimaging."
###
About the Project
The project, "CAREER: Intelligent Multi-Contrast Imaging Platform for Needle-Based Interventions," is funded by an estimated $502,200 grant from the National Science Foundation, award #2238648. The project begins April 1, 2023, and is expected to conclude March 31, 2028.
About the University of Oklahoma Office of the Vice President for Research and Partnerships
The University of Oklahoma is a leading research university classified by the Carnegie Foundation in the highest tier of research universities in the nation. Faculty, staff and students at OU are tackling global challenges and accelerating the delivery of practical solutions that impact society in direct and tangible ways through research and creative activities. OU researchers expand foundational knowledge while moving beyond traditional academic boundaries, collaborating across disciplines and globally with other research institutions as well as decision makers and practitioners from industry, government and civil society to create and apply solutions for a better world. Find out more at ou.edu/research
About the University of Oklahoma
Founded in 1890, the University of Oklahoma is a public research university located in Norman, Oklahoma. OU serves the educational, cultural, economic and health care needs of the state, region and nation. For more information visit www.ou.edu.
---