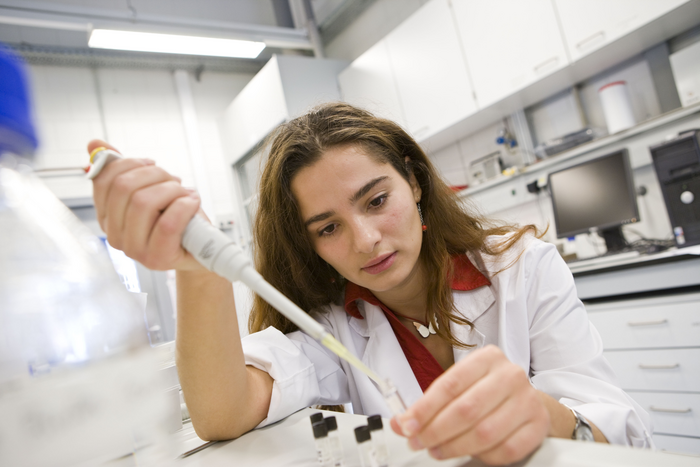 Prof. Nau, seventh place out of more than 80 locations in Germany - are you satisfied with the results?
Nau: Of course, we are very pleased, because the ranking is based on the satisfaction of our students in this particular discipline.
What distinguishes the subject of chemistry at Constructor University from others?
Nau: The study programs are characterized in particular by their multidisciplinary orientation and the intensive practical laboratory training. Ultimately, students don't just study chemistry at Constructor University, but are additionally exposed to related life science components.
The university currently offers three undergraduate programs, each with a different focus: Biochemistry and Cell Biology, Medicinal Chemistry and Chemical Biology, and Chemistry and Biotechnology.
Nau: Exactly, our programs extend from fundamental biochemical research to medicinal applications in the pharmaceutical industry and biotechnological production in the chemical industry. This is how we keep up with current trends in research and development, where dual qualifications and digital competence are becoming increasingly important. Due to the strength of Germany as a research location in these industries and large corporations such as the vaccine pioneer BioNTech, our students can expect favorable employment prospects. Often, our students already experience those career-based research environments during their internships which accompany their studies.
How are the programs structured?
Nau: Students from all three study programs take joint lectures with accompanying practical lab courses in the first year of study. The flexible curricular structure allows students to change their study program within the first year, and thus to freely choose their focus in the fields of chemistry and the life sciences. In addition, they can also continue to study a minor.
How important are aspects such as participation in research, laboratory equipment, and class size?
Nau: Laboratory sessions in small groups of typically 25 students are another distinct feature of our programs. This is the best way for students to learn modern chemical, biochemical and cell biological techniques. The laboratory facilities were also rated very well by the students in the CHE ranking. The outstanding feature of all three programs, in addition to the multidisciplinarity, is the early and comprehensive involvement in experimental or computational research projects. Thus, students are excellently qualified for the job market, as well as for subsequent master's and doctoral programs. This is reflected in positive feedback from renowned Ivy League universities and international employers.
Always striving for improvement: What changes are you working on? What role does digitalization play?
Nau: Because of the pandemic, demand for chemical and life science programs at Constructor University has grown a lot since 2021. Rightly so, as the rapid availability of new vaccines was only possible due to advances in biochemical mRNA technology, large-scale biotechnological production of the active ingredients, and the development of suitable chemical formulations for transporting them into the cell. Computational approaches and bioinformatics are already well-integrated in our curricula. Nevertheless, digital and data-driven methods in particular will become increasingly important in chemistry and the life sciences in the future, which is why we introduced the minor option in Data Science for all Bachelor students in 2022.
More information:
https://www.chemietechnik.de/markt/die-besten-chemie-unis-in-deutschland-116.html
https://jacobs-university.de/study/undergraduate/programs
www.constructor.university
---