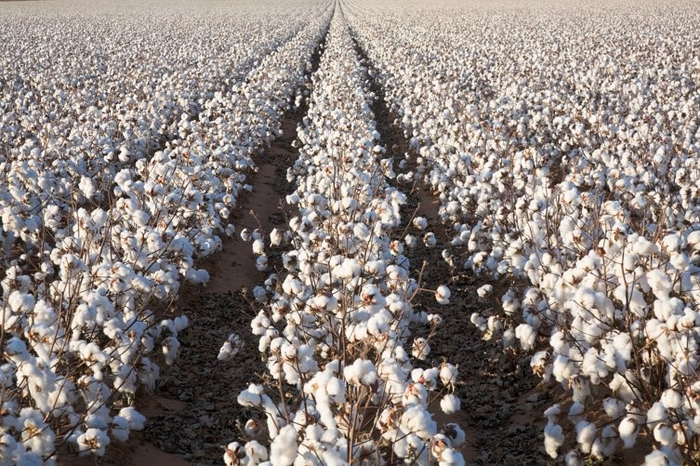 As the most commonly used natural fiber, cotton is a vital and versatile crop worldwide—grown for fiber, food, and even fuel. However, cotton production has fluctuated in the past decade due to various factors such as cultivar availability and climate change.
A foundational understanding of the physiological basis of yield in cotton is an important first step toward targeted yield improvement by using functional crop traits that are known to determine productivity. In a new "Focus on Cotton" webcast on Grow: Plant Health Exchange, John L. Snider, Associate Professor of Crop Physiology at the University of Georgia, provides an overview of the physiological drivers of yield in cotton and describes some of the factors that can influence each one. Additionally, he presents results from recently completed research with advanced breeding lines in the southeastern United States.
This 29-minute presentation is freely available through the "Focus on Cotton" resource on Grow: Plant Health Exchange—an outreach service of The American Phytopatholgical Society that contains more than 400 webcasts, including presentations from a number of conferences. These resources cover a broad range of aspects of cotton crop management: agronomic practices, diseases, harvest and ginning, insects, irrigation, nematodes, precision agriculture, soil health and crop fertility, and weeds. These webcasts are available to readers open access (without a subscription).
The "Focus on Cotton" homepage also provides access to "Cotton Cultivated," a resource from Cotton Incorporated that helps users quickly find the most current cotton production information available. These and other resources are freely available courtesy of Cotton Incorporated at www.planthealthexchange.org/cotton/Pages/default.aspx.
To learn more, watch Physiological Basis of Yield in Cotton on Grow: Plant Health Exchange.
Follow Grow: Plant Health Exchange and The Cotton Board on Twitter @crop_protection and @TheCottonBoard.
About Grow: Plant Health Exchange: Grow: Plant Health Exchange is a nonprofit, freely available, online resource of timely, science-based information on plant health. It's a place for plant health management professionals to exchange knowledge and discover the latest applied research. Applied researchers generate the content for Grow, sharing their work and amplifying their reach, and plant health practitioners consume the content on Grow, relying on this user-friendly platform to provide proven plant health science. As an outreach service of The American Phytopathological Society, Grow serves the full range of professionals in plant health management.
About the Cotton Board: The Cotton Research & Promotion Act established the Cotton Board as a quasi-governmental, nonprofit entity to serve as the administrator of the Cotton Research & Promotion Program. Funded by America's cotton producers and importers through the cotton check-off, the program's research and promotion activities are conducted worldwide by Cotton Incorporated, the Cotton Board's sole-source contracting organization, to increase the demand for and improve the market position of cotton.
The Cotton Research & Promotion Program continues to work in all areas of cotton's pipeline—from the field to the consumer—to keep cotton the number-one fiber choice in the United States. For more information about the Cotton Board and the innovative activities stemming from the program, visit www.cottonboard.org.
---
Article Title
Physiological Basis of Yield in Cotton
Article Publication Date
28-Nov-2022