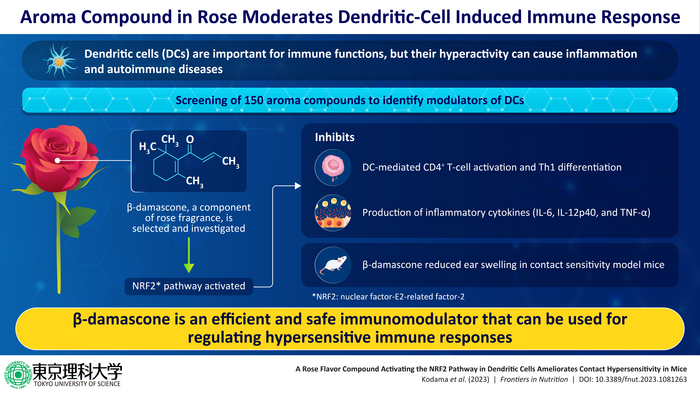 Dendritic cells (DCs) are important players of the immune system with important functions such as the identification of infectious pathogens, production of cytokines (chemical signalers of the immune system), presentation of antigens to activate T-cells, and more. Despite performing such key functions, DCs may lead to inflammatory and autoimmune diseases when hyperactive. Therefore, to prevent DC-mediated diseases, it is necessary to identify molecules that can modulate the functions of DCs.
Previous studies have indicated that natural compounds can serve as potent immunomodulators. To explore the role of such compounds in modulating the functions of DCs, a team of researchers from Japan, led by Prof. Chiharu Nishiyama from Tokyo University of Science, including Dr. Hikaru Okada, Dr. Masakazu Hachisu, and Dr. Naoki Kodama screened 150 types of natural aroma compounds. "Natural fragrant compounds are found in plants and microorganisms and are also commonly used in foods and daily necessities. However, not much research has been conducted on the physiological activities of individual flavor compounds, particularly on immune responses," remarks Prof. Nishiyama while discussing their motivation behind this study, which was published in Frontiers Nutrition on February 9, 2023.
First, the team conducted a two-step screening process of aroma compounds, which led to the identification of a novel and effective modulator of DCs known as β-damascone—a primary component that constitutes rose fragrance.
Next, through a series of molecular and immunological assays, the team found out that β-damascone inhibited several functions of DCs including antigen-dependent activation of CD4+ T-cells and the development of Th1 cells (Type-1 helper cells). In addition, β-damascone reduced the production of inflammatory cytokines such as, interleukin (IL)-6, IL-12p40, and tumor necrosis factor (TNF)-a.
Discussing these findings, Prof. Nishiyama further adds, "We wanted not only to observe the effective active ingredients, but also to thoroughly examine their mechanisms of action at the molecular level, up to the point of verifying whether they exert physiologically meaningful effects." True to their word, on exploring the mechanisms underlying the inhibitory functions of β-damascone, the team noted that these functions were mediated by NRF2—a master transcription factor with crucial antioxidative roles. NRF2 was found to exert these effects via its target genes, Hmox1 and Nqo1.
The function of β-damascone was further confirmed by in vivo experiments in contact hypersensitivity mice models. The oral administration of β-damascone reduced ear inflammation in these mice models. Notably, these experiments also corroborated the role of NRF2 in β-damascone-mediated immunomodulation. Indeed, ear swelling was not suppressed in NRF2 knockout mice models, i.e., mice that lacked NRF2.
Taken together, this comprehensive study showed that β-damascone can function as an efficient modulator of DC-mediated functions and can effectively reduce the inflammatory effects of DC-hyperactivation.
We are confident that these findings will lead to the application of β-damascone as a safe and effective immunomodulatory drug very soon!
***
Reference
DOI: https://doi.org/10.3389/fnut.2023.1081263
Authors: Naoki Kodama1†, Hikaru Okada1†, Masakazu Hachisu1†, Miki Ando1, Naoto Ito1, Kazuki Nagata1, Mayuka Katagiri1, Yayoi Yasuda1, Ikumi Hiroki1, Takuya Yashiro1, Gaku Ichihara2, Masayuki Yamamoto3, and Chiharu Nishiyama1*
Affiliations:
1Department of Biological Science and Technology, Faculty of Advanced Engineering, Tokyo, Japan
2Department of Occupational and Environmental Health, Faculty of Pharmaceutical Science, Tokyo, Japan
3Department of Medical Biochemistry, Tohoku University Graduate School of Medicine, Sendai, Japan
†These authors contributed equally to this work and share first authorship
About the Tokyo University of Science
Tokyo University of Science (TUS) is a well-known and respected university, and the largest science-specialized private research university in Japan, with four campuses in central Tokyo and its suburbs and in Hokkaido. Established in 1881, the university has continually contributed to Japan's development in science through inculcating the love for science in researchers, technicians, and educators.
With a mission of "Creating science and technology for the harmonious development of nature, human beings, and society," TUS has undertaken a wide range of research from basic to applied science. TUS has embraced a multidisciplinary approach to research and undertaken intensive study in some of today's most vital fields. TUS is a meritocracy where the best in science is recognized and nurtured. It is the only private university in Japan that has produced a Nobel Prize winner and the only private university in Asia to produce Nobel Prize winners within the natural sciences field.
Website: https://www.tus.ac.jp/en/mediarelations/
About Professor Chiharu Nishiyama from Tokyo University of Science
Dr. Chiharu Nishiyama is a Professor at the Faculty of Advanced Engineering, Department of Biological Science and Technology. She received her postgraduate degree in 1990 from the Department of Agricultural Chemistry at University of Tokyo Graduate School, followed by a PhD from the University of Tokyo. Her areas of research interest include applied biochemistry including immunology, allergy, molecular biology, transcription factors, and cell development. She has published over 130 research papers in international journals. She also received the prestigious JSBBA Award for Young Scientists in 2005, JSA Award for Young Scientists in 2005, and JAFI Award in 2019.
Funding information
This study was supported by a Grant-in-Aid for Scientific Research (B) 20H02939 (CN); Grants-in Aid for Scientific Research (C) 21K05297 (MH), and 19K05884 (TY); a Research Fellowship for Young Scientists DC2 and a Grant-in-Aid for JSPS Fellows 21J12113 (KN); a Scholarship for Doctoral Student in Immunology (from JSI to NI); a Tokyo University of Science Grant for President's Research Promotion (CN); the Tojuro Iijima Foundation for Food Science and Technology (CN); a Research Grant from the Mishima Kaiun Memorial Foundation (CN); and a Research Grant from the Takeda Science Foundation (CN)
---
Journal
Frontiers in Nutrition
Method of Research
Experimental study
Subject of Research
Cells
Article Title
A rose flavor compound activating the NRF2 pathway in dendritic cells ameliorates contact hypersensitivity in mice
Article Publication Date
9-Feb-2023
COI Statement
The authors declare that the research was conducted in the absence of any commercial or financial relationships that could be construed as a potential conflict of interest