Feature Story | 10-Feb-2023
Herbarium gets plant collection of late Cincinnati botanist
Diederik De Jong was an expert in Mexican sunflowers
University of Cincinnati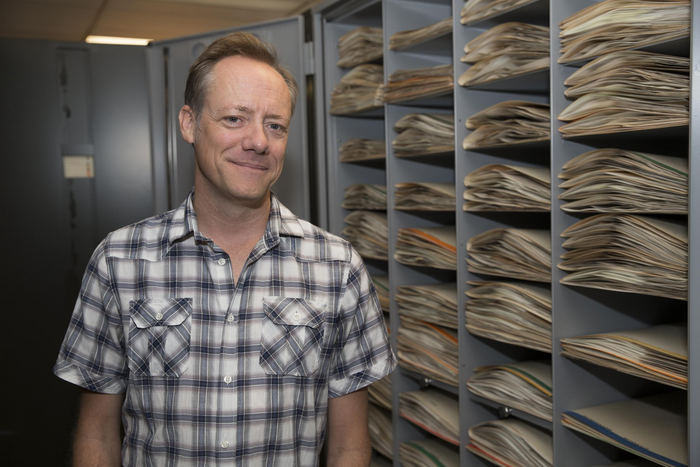 The University of Cincinnati's collection of rare plant specimens is getting bigger thanks to a donation from a local botanist.
UC Blue Ash is giving the late Diederik De Jong's collection of plant specimens to UC's Margaret H. Fulford Herbarium, which boasts a catalog of plants from around the world.
De Jong was born in Holland in 1932, emigrated to Canada in 1948 and moved to Cincinnati in 1966 to teach botany at Raymond Walters College, now UC Blue Ash. He specialized in sunflowers from Mexico, said Eric Tepe, an associate professor of biology and curator of the herbarium.
"I'm thrilled we have this collection. It's going to be a very nice addition to our herbarium," Tepe said. "The collection is rich in beautifully prepared specimens, including nomenclature-type specimens."
These are specimens that are considered most representative of the species and anchor the scientific names, making them especially valuable, Tepe said.
UC's herbarium is the third largest in Ohio with some 125,000 specimens, mostly from the region. But it includes a variety of specimens from different parts of the world where UC's researchers conducted much of their fieldwork. Tepe himself has contributed to the herbarium, naming new species related to black pepper, among others.
UC student Katie Daniel opened a folder containing one of De Jong's specimens, Astranthium splendens, revealing a neatly pressed flower attached to acid-free paper with details about where and when it was found.The delicate yellow petals were intact, if faded, which is incredible given it was collected 61 years ago.
"Certain parts of the plant are presented very well, so botanists who are not familiar with the species can easily see what makes them unique," Daniel said.
"These are some of the nicest prepared specimens I've seen. They're very carefully pressed," Tepe said.
At Raymond Walters, De Jong taught dendrology, the study of trees. This passion was reflected in the many specimens of trees across Cincinnati that he documented.
One Scotch pine bough De Jong took from a tree on UC's campus in 1979 looked like it had just been clipped.
"Pines and pine relatives are especially challenging. Robust ones are not so hard, but with the delicate ones, you often find a specimen in which all of the needles fall off. I don't know how he managed to do this," Tepe said.
This was Daniel's first time seeing De Jong's collection, too. She carefully opened each folder as if unwrapping a gift.
There was a Japanese yew collected from a front yard in Cincinnati. And a plant called bloodroot that Native Americans used for dyes and medicines that he found growing outside apartments in Blue Ash. Each specimen's flowers, leaves and roots were intact, flattened on the sheet like an oil painting.
"Working in the herbarium is an enjoyable experience," Daniel said. "It's almost like you get to see new places through the plants we have."
De Jong earned a doctoral degree from Michigan State University. His dissertation was on daisies, said Mark Otten, one of De Jong's former students at Raymond Walters.
"He formally described four species in the genus, including three from Mexico," said Otten, now an associate professor of biology at UC Blue Ash. One daisy called Erigeron dejongii is named for De Jong.
"He told our plant taxonomy class the story of how he discovered the plant while driving," Otten said. "He realized they looked a little different, hit the brakes and backed up. Even from the driver's seat, he was pretty sure it was something he had never seen before."
Otten said he was fortunate to have been De Jong's student and, later, colleague.
"Diederik was a gifted professor who had an immensely interesting life," Otten said.
Tepe and his students eventually will add De Jong's specimens to UC's growing digital catalog, which is shared with botanists around the world. These digital collections are helping researchers study topics such as climate change in finer detail than ever.
Tepe said the samples' geographic details can help botanists track things like how early in the season flowers historically bloomed or at what elevations or latitudes certain plants are found today compared to a century ago.
UC's herbarium is named for Margaret Fulford, its former and first curator, who began the position in 1927. UC's collection dates back much farther into the 1820s.
The collection provides a record of how the landscapes have changed, Tepe said. In places like Cincinnati, that's largely due to human development as parking lots, highways and apartment buildings replaced wetlands and forests.
"There are descriptions of Cincinnati's Northside from the late 1800s of pink lady's slippers as far as you could see. And now that orchid is extinct in Cincinnati," Tepe said.
This physical record also helps scientists track other changes.
"We can see how climate change is affecting species. Some of these species might not exist in another 20 years," Daniel said.
UC graduate Olivia Leek is working with the herbarium's large collection of bryophytes, nonvascular plants like mosses. She does a lot of local collecting for the herbarium as well in places like Cincinnati's Spring Grove Cemetery and Arboretum.
UC student A.J. Long studied UC's collection of Hawaiian plants, some of them endemic to the 50th State.
"I'd like to go to Hawaii to study botany and urban ecology," Long said. "I didn't know much about the herbarium until I started volunteering. Working here, I realized how important these collections are. It's preserving scientific knowledge."
De Jong died in 2017. Besides his work in botany, he was a music lover who hosted a program on WGUC called "Name that Composer."
Disclaimer: AAAS and EurekAlert! are not responsible for the accuracy of news releases posted to EurekAlert! by contributing institutions or for the use of any information through the EurekAlert system.