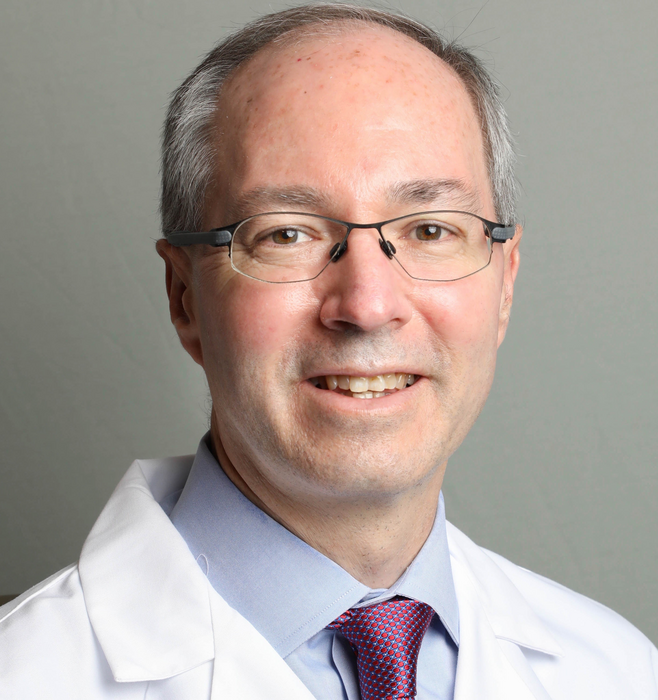 Sean Pinney, MD, FACC, FAST, FHFSA, a top expert in cardiovascular medicine and advanced heart failure and transplantation, has been named Chief of Cardiology at Mount Sinai Morningside. Dr. Pinney will lead all aspects of cardiology at the hospital, including the cardiac catheterization lab and the Al-Sabah Arrhythmia Institute.
Mount Sinai Morningside's Division of Cardiology has gained national status over the past several years, including being named among the top 50 cardiology and cardiac surgery programs in the country by U.S. News & World Report. Dr. Pinney will build on this recognition and tradition of excellence in cardiac care at Mount Sinai Morningside.
"I'm thrilled to be returning to Mount Sinai Heart to build a cardiovascular center of excellence at Mount Sinai Morningside that serves the local communities of Harlem, Morningside Heights, and the Upper West Side, focusing on eliminating health care disparities and advancing the careers of our faculty, staff, and trainees," says Dr. Pinney. "My vision is to create the top cardiovascular fellowship training program in New York and sustain a robust clinical trial program while employing the highest percentage of women and underrepresented minorities."
Dr. Pinney rejoins Mount Sinai, where he served in many leadership roles from 2004 to 2020, including Director of Heart Failure and Transplantation for the Mount Sinai Health System, Fellowship Director of Advanced Heart Failure and Transplantation for The Mount Sinai Hospital, and Professor of Medicine for the Icahn School of Medicine at Mount Sinai. He most recently held leadership positions at the University of Chicago Medical Center, where he served as Director of Heart Failure and Cardiac Transplantation, Director of the Richard P. Parrillo Family Center for Clinical and Translational Cardiology Research, and Co-Director of the Heart and Vascular Center.
Dr. Pinney's ongoing research focuses on innovative device therapies to treat heart failure and the investigation of novel immunosuppressive drugs for heart transplant recipients. He has published hundreds of book chapters, abstracts, and peer-reviewed papers in prestigious journals including Journal of the American College of Cardiology (JACC), JACC Heart Failure, Circulation, and The Journal of Heart and Lung Transplantation. Dr. Pinney is an associate editor of JACC and JACC Heart Failure, a contributing editor of ACCEL, and an editorial board member of the Journal of Heart Failure.
"We are pleased to have Dr. Pinney back at Mount Sinai. He is an outstanding academician and clinician with a significant commitment to training the next generation of cardiovascular specialists," says Valentin Fuster, MD, PhD, President of Mount Sinai Heart and Physician-in-Chief of The Mount Sinai Hospital.
"Dr. Pinney's leadership will further elevate the already outstanding cardiovascular care at Mount Sinai Morningside as an important part of the mission of Mount Sinai Heart," adds Deepak L. Bhatt, MD, MPH, Director of Mount Sinai Heart and the Dr. Valentin Fuster Professor of Cardiovascular Medicine at Icahn Mount Sinai.
"We are thrilled that Dr. Pinney is returning to our Health System and joining us at Mount Sinai Morningside to lead our cardiology program. The program already has a strong regional and national reputation. Under Dr. Pinney's expert leadership, we believe the Mount Sinai Morningside cardiac program can be one of the best in the United States," says Arthur Gianelli, MBA, MPH, President of Mount Sinai Morningside and Chief Transformation Officer for the Mount Sinai Health System.
Dr. Pinney will begin his new role at Mount Sinai Morningside on Wednesday, March 1, 2023.
Mount Sinai Heart is one of the world's top hospitals in Cardiology/Heart Surgery
Mount Sinai Heart is among the top 6 in the nation for cardiology and cardiac surgery, according to U.S. News & World Report. Newsweek's "The World's Best Specialized Hospitals" ranks Mount Sinai Heart as No. 1 in New York and No. 4 globally.
It is part of Mount Sinai Health System, which is New York City's largest academic medical system, encompassing eight hospitals, a leading medical school, and a vast network of ambulatory practices throughout the greater New York region. We advance medicine and health through unrivaled education and translational research and discovery to deliver care that is the safest, highest-quality, most accessible and equitable, and the best value of any health system in the nation. The Health System includes approximately 7,300 primary and specialty care physicians; 13 free-standing joint-venture centers; more than 410 ambulatory practices throughout the five boroughs of New York City, Westchester, and Long Island; and more than 30 affiliated community health centers. The Mount Sinai Hospital is ranked in U.S. News & World Report's "Honor Roll" of the top 20 U.S. hospitals and among the top in the nation by specialty: No. 1 in Geriatrics and top 20 in Cardiology/Heart Surgery, Diabetes/Endocrinology, Gastroenterology/GI Surgery, Neurology/Neurosurgery, Orthopedics, Pulmonology/Lung Surgery, Urology, and Rehabilitation.
For more information, visit https://www.mountsinai.org or find Mount Sinai on Facebook, Twitter and YouTube.
###
---