Feature Story | 2-Mar-2023
International HPV Awareness Day: Cervical cancer is just "the tip of the iceberg"
In the U.S, cervical precancer cases (196,000) outnumber cervical cancer (11,000) by almost 18 times every year. Both are caused by HPV.
BGI Genomics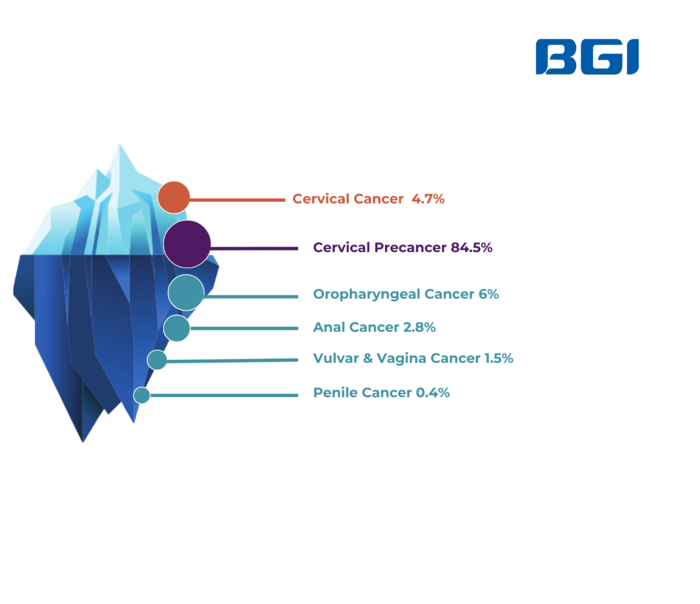 To mark International Human Papillomavirus (HPV) Awareness Day, BGI Genomics Senior Product Manager Zhang Lin shares his thoughts on the importance of raising awareness and why a combination of screening as well as vaccination means #onelessworry for the world.
Q1 Could you please share what's lacking in terms of HPV awareness now?
A: HPV is an extremely common sexually transmitted infection (STI) worldwide. Cervical cancer is the most well-known among the cancers caused by HPV.
The metaphor used by the CDC in the U.S is very apt as they describe cervical cancer is just "the tip of the iceberg". Based on their data, there are 11,000 cases of cervical cancer each year in the U.S which make up 4.7% of the conditions and diseases caused by HPV. In addition, there are many others – men and women - who are affected by HPV:
196,000 (84.5%) people with cervical precancer; almost 18 times higher than cervical cancer cases
14,000 (6.0%) people with oropharyngeal cancer
6,500 (2.8%) people with anal cancer
3,500 (1.5%) people with vulvar & vaginal cancer
900 (0.4%) people with penile cancer
Q2 Let's start with cervical cancer screening. Many people are wondering what's the difference between HPV tests and Pap smears. Appreciate if you could please share your thoughts.
A: In September 2021, the WHO has recommended HPV tests over Pap smears in its guidelines for screening and treatment of cervical precancer lesions for cervical cancer prevention. For the general population of women, HPV tests are recommended as the primary screening method – starting at the age of 30 years old.
HPV DNA-based testing has a 95% accuracy rate which is much higher than Pap smears' 80-90%. HPV testing is an objective diagnostic, unlike Pap smears that rely on visual inspection which is more prone to human errors.
Q3 What about other cancers caused by HPV? What more can be done to give everyone #onelessworry?
A: Data shows that the rate of HPV infection among men has risen in recent years. For example, CDC data indicates that more than 4 out of every 10 cases of cancer caused by HPV occur among men in the U.S. HPV infection in men can cause tumors of the genitalia, as well as tumors of the anus and the oropharynx.
Genital warts and cancers result from different types of HPV. People with weak immune systems (including those with HIV) may be less able to fight off HPV. They may also be more likely to develop health problems from HPV.
Cancer often takes years, even decades, to develop after a person gets HPV. This is why HPV screening is vital to give everyone #onelessworry. In addition, the HPV vaccine is an effective measure to prevent cervical cancer and other HPV-related diseases, and I hope more HPV vaccines for men will be available in the future.
Q4 What has BGI Genomics done to address HPV screening needs worldwide especially in lower and middle-income nations?
To address screening needs worldwide, BGI has developed early screening products, such as the SENTIS™ HPV test. Our HPV genotyping detection is based on Next Generation Sequencing (NGS) technology that carries out high-risk HPV genotyping with a large sample volume for each run, which could largely decrease the testing cost for each individual. This product has obtained CE certification.
About BGI Genomics
BGI Genomics, headquartered in Shenzhen China, is the world's leading integrated solutions provider of precision medicine. Our services cover over 100 countries and regions, involving more than 2,300 medical institutions. In July 2017, as a subsidiary of BGI Group, BGI Genomics (300676.SZ) was officially listed on the Shenzhen Stock Exchange.
Disclaimer: AAAS and EurekAlert! are not responsible for the accuracy of news releases posted to EurekAlert! by contributing institutions or for the use of any information through the EurekAlert system.