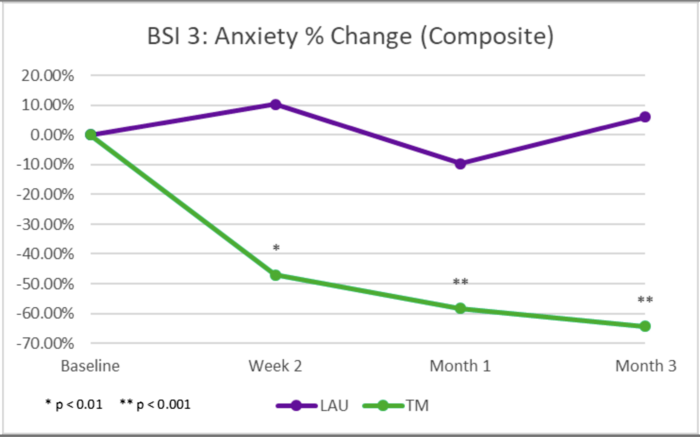 Healthcare providers (HCP) at three Miami hospitals during the height of the Covid crisis, who practiced the Transcendental Meditation technique (TM), showed a rapid and highly significant reduction in stress-related burnout symptoms such as somatization, depression, anxiety, sleep disturbances, and emotional exhaustion, as well as significant improvement in mental well-being, compared to a parallel matched lifestyle-as-usual group (LAU), according to a new study published today in PLOS ONE.
A total of 65 healthcare providers at the three Miami hospitals (Baptist, Mercy, and Encompass Hospitals), were enrolled in the TM group, as well as 65 parallel match controls. Validated surveys were used to assess burnout and stress-related symptoms including the Brief Symptom Inventory-18 scale (BSI), the Insomnia Severity Index (ISI), the Maslach Burnout Inventory-Human Services Survey (MBI), and the Warwick Edinburgh Mental Well Being Scale (WEMWBS).
After two weeks symptoms of somatization, depression, and anxiety in the TM group showed a near 45% reduction and insomnia, emotional exhaustion and well-being had improved by 33%, 16% and 11% respectively. At three months, the TM group showed mean reductions in anxiety of 62%, somatization 58%, depression 50%, insomnia 44%, emotional exhaustion 40%, and improvement in mental well-being of 18% (Examples Figures 1 – 3). TM appeared easy to learn and was maintained by the subjects within an average weekly TM session completion rate of 83%.
"The results of this study—one of the largest on the effects of TM in a healthcare setting conducted during the height of the Covid crisis—are dramatic, not just because of the size and significance of the improvements in a variety of burnout indices, but notably in how rapidly the results were seen," said Mark S. Nestor, M.D. Ph.D., the principal investigator, and lead author of the study. Dr. Nestor is Director of the Center for Clinical and Cosmetic Research in Aventura Florida, and Voluntary Professor at the University of Miami Miller School of Medicine. "This rapid and dramatic improvement in stress-related symptoms is not often seen with the use of medications much less with other easy to learn mental techniques."
The authors point out that "the study confirms and expands on the previously reported benefits of the practice of TM and its positive psychological impact on healthcare providers in high stress settings and should be considered as a rapid intervention for healthcare worker burnout but certainly may have application to other at-risk populations."
The study was supported, in part, by the David Lynch Foundation as well as Miami-area donors. The article is titled "Improving the mental health and well-being of healthcare providers using the Transcendental Meditation technique during the COVID-19 pandemic: a parallel population study."
---
Method of Research
Randomized controlled/clinical trial
Subject of Research
People
Article Title
Improving the mental health and well-being of healthcare providers using the Transcendental Meditation technique during the COVID-19 pandemic: a parallel population study
Article Publication Date
3-Mar-2023