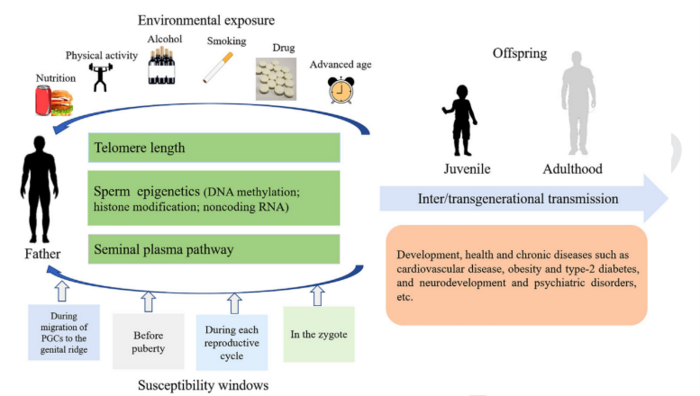 Over the past decade, new evidence has spurred the concept of paternal origins of health and disease. Paternal factors encompassing the exposure to toxins and medications, chemical weapons and ionizing radiation, improper nutrition, poor lifestyle behaviors and choices, and stress go beyond influencing sperm viability. They could hinder fetal development and adult offspring health too. Genetically coded information is not the only determinant that one's paternal lineage is responsible for passing on. Epigenetic changes–that occur due to the environment and behavior–are transmitted to the offspring's DNA as well.
A new review published online on 28 February 2023, in Pediatric Investigation outlines the current understanding of how paternal diet, nutrition, and lifestyle contribute to the development of future generations. "Not only did we aim to synthesize a body of work that captured the most up-to-date findings on the subject, but we also discussed the epigenetic mechanisms that govern information transfer between successive generations," explains Dr. Kemin Qi of the Laboratory of Nutrition and Development at the National Center for Children's Health in Beijing, who is the corresponding author of the paper.
Data from animal studies clearly suggests that paternal nutrition is key to maintaining the health of future generations. Key dietary aspects include protein, level of fat intake, excess sugar consumption, and vitamins or methyl donors in the diet. There is strong evidence to suggest that a western diet—which is driven by food choices revolving around sugary items, processed meats, refined grains, and low fiber meals—leads to imbalances in nutrient intake, fat/sugar consumption, low fiber consumption, etc. These ultimately exert a negative impact on the health of offspring.
There is a clustering pattern for unhealthy lifestyle choices including limited physical activity, tobacco and alcohol consumption, and poor diet in many adult populations, especially in males. These factors not only contribute to chronic diseases in adults but also adversely impact sperm. The subsequent event cascade modulates offspring genotype and phenotype during inheritance. Advanced paternal age (>50 years) at conception is linked to several genetic, psychiatric, and metabolic disorders in offspring. Therefore, when analyzing fertility of a couple, apart from semen parameters, the female partner's age, and the manner of conception, this parameter too, should be considered.
In evolutionary terms, changes in the germline create the phenotypic diversity that drives natural selection and influences the health status of progeny. The uniquely paternal mechanisms that exert influence on the development of progeny include an indirect effect on the fetal component of the placenta, sperm/seminal fluid epigenetic mechanisms, and telomere length.
Lastly the review highlights four windows of susceptibility during a father's life where the epigenetic profile of his sperm are most likely to be modulated by environmental influences. "The windows are as follows: First, during migration of primordial germ cells to the genital ridge; second, prior to puberty; third, during zygote development; and fourth, during each reproductive cycle." Dr. Qi concludes.
The researchers truly believe that providing appropriate men's healthcare—especially during these phases—along with emphasizing medical, behavioral, and social interventions is critical to improving both offspring and parental health status by limiting negative environmental exposures. With more research in this field, the awareness around reproductive health too, will hopefully improve.
***
Reference
DOI: https://doi.org/10.1002/ped4.12367
Authors: Qiaoyu Shi and Kemin Qi
Affiliations:
Laboratory of Nutrition and Development, Key Laboratory of Major Diseases in Children, Ministry of Education, Beijing Pediatric Research Institute, Beijing Children's Hospital, Capital Medical University, National Center for Children's Health, Beijing, China
About Professor Kemin Qi
Kemin Qi is a professor at the Beijing Pediatric Research Institute at Beijing Children's Hospital, Capital Medical University. His lab focuses on research in pediatric nutrition and development with expertise in early nutrition, epigenetics, and childhood/pediatric obesity. He has authored over 60 articles published in high impact journals.
Funding information
This research was made possible due to funding from The Research Funds of Reform and Development Budget from Beijing Municipal Science and Technology Commission. Grant Number: bjsekyjs to K.Q.
---
Journal
Pediatric Investigation
Method of Research
Literature review
Subject of Research
Not applicable
Article Title
Developmental origins of health and disease: Impact of paternal nutrition and lifestyle
Article Publication Date
28-Feb-2023
COI Statement
The authors declare that they have no competing interests.