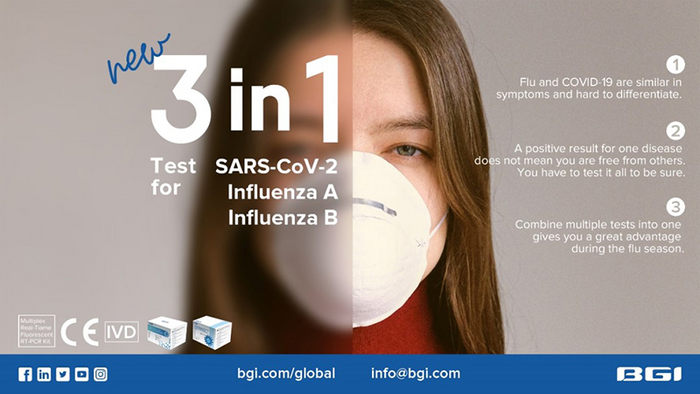 On March 2, BGI's Multiplex Real-time Fluorescent RT-PCR Kit for Detecting SARS-CoV-2, Influenza A Virus and Influenza B Virus obtained market access qualification to enter the Australian Register of Therapeutic Goods.
This in vitro qualitative nucleic acid amplification kit is designed to detect and distinguish the nucleic acids of SARS-CoV-2, influenza A virus (IFV A), and influenza B virus (IFV B) in throat swabs from patients with suspected COVID-19 symptoms.
The kit previously received EU CE market access certification. This certification marks that representative products of BGI's gene infection business line will be sold in the EU and Australia, further completing the product matrix and accelerating the growth of the company's international pattern.
We have just entered the high incidence influenza season. This viral infection and COVID-19 share symptoms such as fever, muscle aches, and cough, making it difficult to distinguish between the two diseases. Furthermore, because the individual is likely to be infected with more than a viral infection, multiple tests must be performed to determine specific conditions.
During flu season, the product integrates detection of multiple pathogens to aid in the identification of the causes.
Concurrent infection with multiple respiratory pathogens is a risk factor that can endanger one's life and health. The detection and identification of infectious pathogens can help clinicians modify the therapeutic regimen in real time.
This product can be used not only for single detection of SARS-CoV-2, influenza A, and influenza B viruses, but also for simultaneous detection of all three viruses without the need for repeated sampling.
This product provides the foundation for monitoring SARS-CoV-2, influenza A and influenza B viruses in the local public health system, thus enabling to save testing consumables and improve testing efficiency.

BGI has always been committed to problem research and clinical transformation in "infection prevention and control" over the years. It has completed the research and development and qualification certification of a number of infectious pathogen detection kits, including the SARS-CoV-2 detection kit, the adenovirus 41 nucleic acid detection kit, and the mpox virus nucleic acid detection kit.
BGI plans to boost infectious disease research, launch more customized services, develop relevant testing products and make every effort in precision medicine to protect people's health.
About BGI Genomics
BGI Genomics, headquartered in Shenzhen China, is the world's leading integrated solutions provider of precision medicine. Our services cover over 100 countries and regions, involving more than 2,300 medical institutions. In July 2017, as a subsidiary of BGI Group, BGI Genomics (300676.SZ) was officially listed on the Shenzhen Stock Exchange.
---