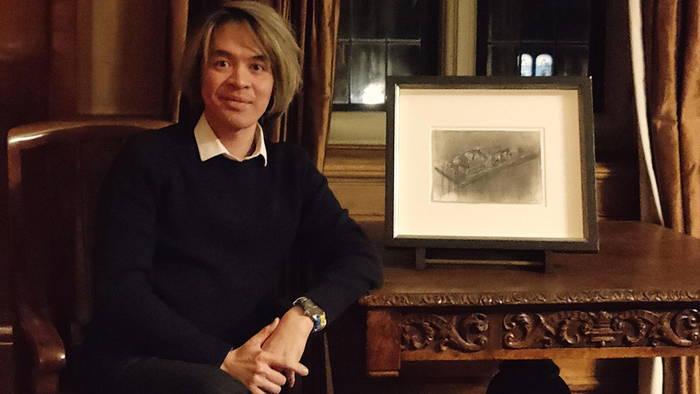 The innovative art work of award-winning artist and University of Huddersfield alumni Frank To has caused another explosion of interest with the University of Cambridge purchasing his artwork made from Humanium Metal – an upcycled illegal firearms - for the permanent collection in their Junior Parlour at Pembroke College.
In addition, Frank has been unconditionally accepted into the prestigious Society of Graphic Fine Art annual exhibition at the Mall Galleries in central London opening in March.

Frank graduated from Huddersfield with a BA (Hons) Fine Art Painting and Drawing in 2004 and is now Contemporary Art Practice Lecturer at Inverness College UHI (University of the Highlands and Islands). His unique gunpowder drawing technique is garnering him international recognition as a leading contemporary art figure amongst art critics and high-profile collectors alike, including actor Sir Patrick Stewart and New York based Michel Witmer, who hangs To's paintings alongside those of Picasso, Dine and Warhol.

Commenting on the University of Cambridge's recent acquisition and upcoming London exhibition, Frank says: "The Humanium Metal artwork that was purchased by Pembroke College was actually on show during my presentation at COP26. I was working in collaboration with OpenUK, which is a UK-based not-for-profit company which supports open source collaboration and open technologies within the United Kingdom. We presented together the current issue of global sustainability and highlighted the importance of Humanium Metal. The University of Cambridge was quite taken with the concept of the fair trade alloy and purchased the work in support of the cause. I am very honoured that an establishment with the prestige of Cambridge are in support of my research and my social activism which has given me hope that the younger generation are now align for social justice and human rights – whether it is an academic paper or art work.

"I am very pleased and privileged to be accepted in this year's Society of Graphic Fine Art annual exhibition unconditionally with my piece 'King of Fishers'. I will be showing next to contemporaries and peers who I strongly admire. Furthermore, by being accepted into this exhibition at London's Mall Galleries showcases my ongoing aim of show my draughtsmanship and innovation in Scottish contemporary drawing."
The Society of Graphic Fine Art - The Drawing Society - is the only national society in the UK dedicated exclusively to drawing. Founded in 1919, the Society promotes fine drawing skills in both traditional and contemporary media. Today the society has more than 130 elected members across Britain.
Frank To's coloured gunpowder art work goes on show and will be for sale in the Society of Graphic Fine Art Annual Exhibition at the Mall Galleries, 17 Carlton House Terrace, London SW1Y 5BD from 13th March to 18th March.
---