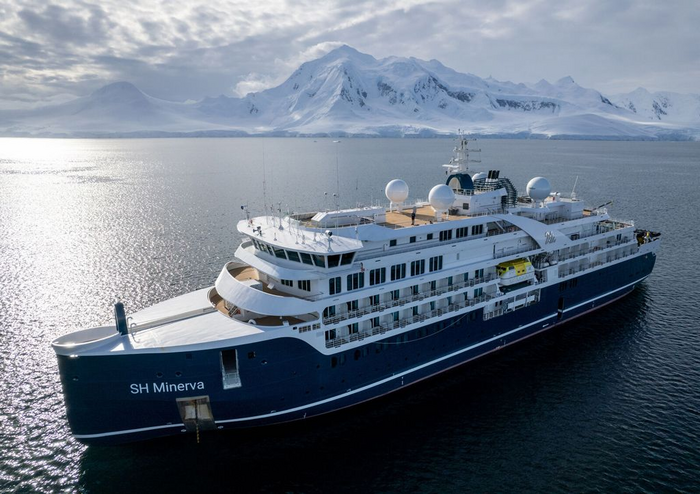 March 8, 2023, Mountain View, CA – The SETI Institute and Swan Hellenic announce SETI Institute guest lecturers who will offer cruise guests expert insights into the history and latest discoveries in astronomy, astrophysics, astrobiology and planetary science, and the quest to find other forms of life within and beyond our solar system. This quest takes SETI Institute researchers to the planet's most remote and inhospitable corners to explore life, including Antarctica, where the Swan Hellenic fleet is present for several months every year.
Outlining the agreement with Swan Hellenic, SETI President and CEO Bill Diamond explained, "The SETI Institute's work brings humanity's relationship with our planet, our solar system and the Universe beyond into focus. Over 100 Institute scientists strive to understand humankind's place in the cosmos. Outreach and public engagement are also central to our mission, and we are delighted with the opportunity to have our scientists and thought leaders interact with the curious-minded adventurers who explore with Swan Hellenic."
The new partnership will engage Swan Hellenic's many adventure travelers with never-before-seen presentations on explorations around Earth and beyond.
Swan Hellenic CEO Andrea Zito commented: "We're immensely proud of this new partnership. The presence of the SETI Institute's eminent scientists on board our cultural expedition cruises, imparting their expert knowledge of astrobiology, geology, physics, chemistry and astronomy, completes another facet of the quest to take our guests to see what others don't."
Seven SETI scientists will travel on Swan Hellenic's 2023 cultural expedition cruises.
Dr. David Grinspoon
Senior Scientist at the Planetary Science Institute, SETI Institute Science Advisory Board Member
Accompanying: SH Vega, Unspoilt Wilds of Southwest Africa, 3 – 16 April 2023
David is an astrobiologist, award-winning science communicator, prize-winning author and scientist with several interplanetary spacecraft missions, including NASA's DAVINCI mission to Venus. In 2013, he was appointed as the inaugural Chair of Astrobiology at the Library of Congress. David's lecture topics will be "An Astrobiology perspective on Our Place in Planetary History," "Mission to Venus: The Past, Present and Future Exploration of Earth's Twin Planet," and "Searching for Life and Intelligence Beyond Earth.
Dr. Simon Steel
Deputy Director of the Carl Sagan Center for Research at the SETI Institute
Accompanying: SH Vega, Lands of the Celts, 23 May – 3 June 2023
Simon is a PhD Astronomer and Astrophysicist who specializes in studying galaxies. He has taught at Harvard University and University College London. Simon's lecture topic will be "From Shí an Bhrú to JWST: Humanity's Quest for Meaning and Place in the Cosmos.
Bill Diamond
President & CEO of the SETI Institute
Accompanying: SH Vega, Arctic Islands & Fjords, 2 June – 6 July 2023
Bill has worked predominantly in applied technologies and has over 20 years of experience in photonics and optical communications, plus more than a decade in X-ray and semiconductor processing technologies. Bill's lecture topic will be "The Search for Life Beyond Earth – How it Works, Where it Stands, and Why it Matters."
Dr. Margaret Turnbull
SETI Institute Research Scientist
Accompanying SH Diana, Historic Ports of the Western Seaboard, 8 – 17 August 2023
Maggie is an astrobiologist whose expertise is in identifying planetary systems capable of supporting life as we know it. She developed a Catalogue of Habitable Stellar Systems for the search for extraterrestrial intelligence (SETI) and has studied the spectrum of the Earth to identify tell-tale signatures of life. She leads two NASA-funded teams to study the nearest star systems and their prospects for hosting habitable planets. Maggie's lecture topic will be "Search for life around nearby stars: Will there ever be another Earth?"
Dr. Pablo Sobron
SETI Institute Research Scientist
Accompanying: SH Vega, Greenland in Depth, 26 August - 5 September 2023
Pablo is a research scientist with a PhD in Physics and Technology Materials who worked at the European Space Agency, the Spanish Space Agency and the Universities of Oslo and Valladolid before dedicating himself to developing new technologies at Washington University, McGill University, the Canadian Space Agency, the SETI Institute and NASA. The technologies include all the laser tools we use to explore Mars today. Since 2016, Pablo has led teams of scientists and engineers in projects to deliver solutions to explore and study the deep sea and deep space. Pablo's lecture will be "Arctic resources and their role in space sciences and the energy transition."
Dr. Seth Shostak
Senior Astronomer and Fellow at the SETI Institute
Accompanying: SH Vega, Voyage to the Northwest Passage, 5 - 21 September 2023
With degrees in physics and astronomy from Princeton University and Caltech, Seth has a long history of research in radio astronomy and, since 1991, in the Search for Extraterrestrial Intelligence, or SETI. He is a frequent guest and commentator on radio and television. Seth's lecture topic will be "Looking for Aliens."
Dr. Dava Newman
Director of the MIT Media Lab, Apollo Program Professor of Astronautics at Massachusetts Institute of Technology (MIT) and Harvard–MIT Health, Sciences & Technology Faculty Member, SETI Institute Board of Trustees Member
Accompanying: SH Vega, Weddell Sea Discovery, 23 December 2023 – 3 January 2024
Dava served as NASA Deputy Administrator (2015-17) – the first female engineer in this role – and was awarded the NASA Distinguished Service Medal. She was also the principal investigator on four spaceflight missions aboard the Space Shuttle, Russian Mir Space Station and International Space Station. She has been to McMurdo base and the South Pole station in Antarctica. Dava's lecture topics will be "Humanity Becoming Interplanetary: Exploration via Sea and Space", "Antarctic Extreme Science and Exploration," and "Antarctica from Air, Sea, and Space: Latest Scientific Results."
About Swan Hellenic
Swan Hellenic was relaunched in July 2020 to proudly continue the spirit of cultural expedition cruising the company pioneered in the 1950s. Building on its British roots, the new company has a global cultural cruising outlook dedicated to providing guests with the opportunity to see what others don't.
Swan Hellenic's purpose-built ships feature elegant Scandi-design interiors, extensive outdoor spaces and dedicated expedition facilities. SH Minerva and SH Vega, two new 5-star Polar Code PC 5 expedition cruise ships with ice-strengthened hulls, respectively launched in December 2021 and arriving in July 2022, each accommodates 152 guests in 76 spacious suites and staterooms, the majority with large balconies. A slightly larger PC 6 ice-class vessel, SH Diana, accommodating 192 guests in the same distinctive comfort and style in 96 staterooms and suites, will be arriving in early 2023.
All three ships feature 3 dining venues – the Swan Restaurant, Club Lounge and Pool Bar & Grill – and are being built in full compliance with SOLAS Safe Return to Port requirements. Dedicated to guests with a passion for adventure and cultural exploration, the company's meticulously planned itineraries explore the wild landscapes, wildlife, peoples and unique cultures of the world's less travelled regions.
The crews each include a team of 12 seasoned expedition guides, expert speakers and lecturers, for a total complement of 120 and 140 persons respectively, offering outstanding staff-to-guest ratios to deliver the highest standards of attentive personal service.
Headquartered in Cyprus with offices in London, Dusseldorf, Monaco, Fort Lauderdale (serving the North American market), Hong Kong (serving Greater China and South-East Asia), Sydney (serving Australia-New Zealand) and Copenhagen (serving Scandinavia and Iceland), as well as partnerships serving India and Japan, Swan Hellenic supports the travel trade with local specialist partners to provide customers with expert personal service worldwide.
For more information about Swan Hellenic, please visit www.swanhellenic.com
or call +44 (0) 207 846 0271
For Swan Hellenic, please contact:
Patrizia Iantorno, VP of Global Marketing: patrizia.iantorno@swanhellenic.com
For Press, please contact:
Renato Bodi, TwentyTwenty: Tel.+41793746887 renato.bodi@twentytwenty.biz
Media Library:
https://swanhellenic.filecamp.com/s/SH_MINERVA_PHOTOS_15/fo
Interactive World Map of Swan Hellenic fleet itineraries:
https://prezi.com/view/6z9srGQDe0oZXWx0Bciu
About the SETI Institute
Founded in 1984, the SETI Institute is a non-profit, multi-disciplinary research and education organization whose mission is to lead humanity's quest to understand the origins and prevalence of life and intelligence in the Universe and to share that knowledge with the world. Its research encompasses the physical and biological sciences and leverages expertise in data analytics, machine learning and advanced signal detection technologies. The SETI Institute is a distinguished research partner for industry, academia and government agencies, including NASA and NSF.
Website: https://www.seti.org
Contact information
Rebecca McDonald
Director of Communications
SETI Institute
rmcdonald@seti.org
---