Feature Story | 8-Mar-2023
Out of this world: McMaster satellite team anticipates upcoming launch of NEUDOSE
McMaster University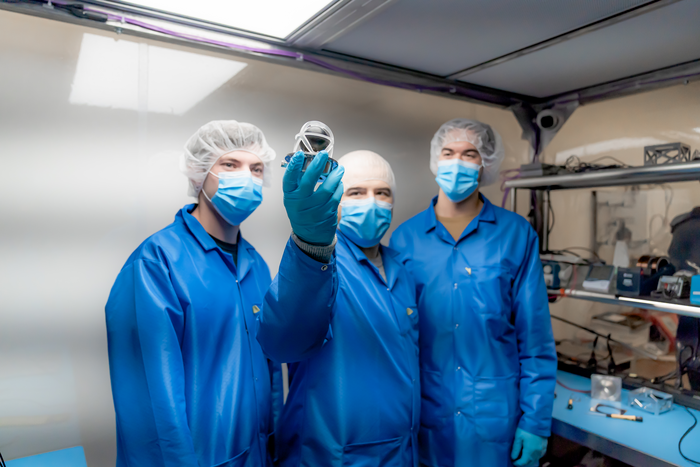 Hamilton, ON – Mar 8, 2023 - After eight years of work by more than 150 McMaster students and alumni, the NEUDOSE satellite is ready for liftoff.
More than 20 members of the team behind NEUDOSE will watch from the Kennedy Space Center in Cape Canaveral, Florida as their work launches aboard a Space X resupply mission to the International Space Station scheduled for March 14.
"If you'd told me five years ago that at some point we would get here, it would have been incredibly difficult to believe you. This launch represents the culmination of eight years of hard work and dedication from the entire team." says Andrei Hanu, adjunct professor in McMaster's department of Physics and Astronomy and co-Principal Investigator of the NEUDOSE satellite project. "I hope not to cry too much."
NEUDOSE (NEUtron DOSimetry and Exploration) is McMaster's first satellite and will measure space radiation to help understand the risks prolonged exposure poses to astronauts. Data collected by NEUDOSE will be transmitted back to a ground station at McMaster.
"On a mission to Mars, an astronaut may receive the equivalent radiation dose that we would receive in our whole life on Earth," says Hanu, now a senior scientist at Bruce Power. "This has the potential to increase the risk of cancer or cataract formation, in addition to the other physiological challenges that astronauts would have to battle on their journey."
"I'm very excited to get these measurements," says Eric Johnston, a McMaster graduate, chief innovation officer at the Nuclear Innovation Institute and co-Principal Investigator of NEUDOSE. "If we really want to understand what the long-term effects of human space travel are, especially if we go to Mars and beyond, we're going to need to start studying the quality of the radiation."
The project was first conceived by Hanu while he was working as a postdoctoral researcher at NASA in 2014. After bringing the idea to colleagues, work on NEUDOSE began with a poster campaign on McMaster's campus and a meeting of student volunteers in January 2015.
Hanu says training students to design, build and launch their own satellite was the primary objective of NEUDOSE.
"When I heard that there was a team at McMaster that was developing a satellite that would actually go into space, I was blown away," says Conor O'Reilly Juarez, a fourth-year mechanical engineering student and NEUDOSE payload mechanical specialist. "Knowing that something I helped work on is paving the way for future space exploration makes me incredibly proud."
"To be able to see students take on the project with enthusiasm and learn the skills that are necessary to develop all the components of the satellite, that to me is one of the most rewarding things," says Hanu.
This project was completed through the Canadian CubeSat Project and received financial support from the Canadian Space Agency and Bruce Power.
- 30-
For more information please contact:
Matt Innes-Leroux
Media Relations
McMaster University
647-921-5461 (c)
Multimedia elements
Photos of the NEUDOSE satellite can be found here
Credit: Kayla Da Silva/McMaster University
Video of the NEUDOSE satellite can be found here
Credit: McMaster University
Disclaimer: AAAS and EurekAlert! are not responsible for the accuracy of news releases posted to EurekAlert! by contributing institutions or for the use of any information through the EurekAlert system.