Feature Story | 9-Mar-2023
Modern Age and Deep Longevity partner to extend human life
Deep Longevity Ltd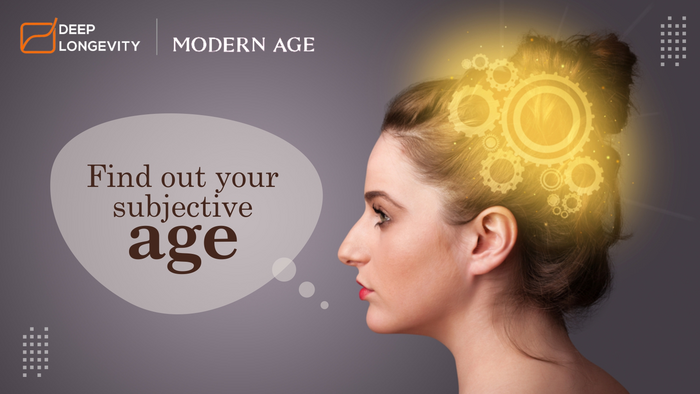 Modern Age, a New York, US, based longevity and wellness clinic, is on a mission to slow down aging, by optimizing health at every age. To help their customers, they're using a robust Subjective Age assessment tool developed by Deep Longevity.
The assessment utilizes Deep Longevity's , Mind Age and behavioral aging clocks. SubjAge describes the personal aging rate perception of an individual and is determined by various parameters, including personal experiences, social relationships, and cultural values The technology has been published in multiple peer-reviewed scientific papers and tested in different populations around the world.
Deep Longevity's innovative technology utilizes the latest advances in machine learning to provide a personalized and accurate assessment of how old you feel, based on a wide range of factors such as lifestyle and habits. This valuable insight will help customers make more informed choices about their health, wellness, and lifestyle, enabling them to live longer, healthier, and more fulfilling lives.

The final report, along with the overall subjective age, lists different factors and their individual and combined effects. Moreover, the AI-enabled recommendation engine suggests the most-viable anti-aging solutions. So doctors can design the best path to rejuvenation for the person.
AI-enabled, backed by research, available everywhere
A number of research papers, including those by research groups from Yale and Miami University, have demonstrated that how old you feel has a direct impact on your long-term health and life expectancy. Whether a negative mindset takes away from your lifespan, a positive attitude towards life and aging can make you younger.
That's why psychological aging assessments like Deep Longevity's Subjective Age become so important. Anyone with a smartphone can complete the assessment now, get their results in minutes, and embark on the path of better mental health and resilience.
According to Deepankar Nayak, the CEO of Deep Longevity, "A lust for life, curiosity, embracing uncertainty, are all engines of personal growth. Modern Age marks a significant milestone in our company's journey to empower individuals to take control of their aging process. With the launch of our revolutionary subjective age aging clock, we are thrilled to offer our customers in the US a cutting-edge tool to measure their perceived age and track their progress over time.




About Modern Age – Modern Age is a NY-based healthcare startup with a personalized approach to help people slow down aging, feel younger, and live longer. Their mission is to add millions of years of healthy life expectancy to humanity while pushing the peaks of physical and mental potential at every stage of life. The Modern Age team consists of world-class medical professionals and technologists. Based on the latest scientific research and evidence-based interventions, Modern Age combines engaging digital solutions, telemedicine, and state-of-the-art clinical studios.
About Deep Longevity – Deep Longevity develops cutting-edge aging clock technology to extend healthy human life. The Hong Kong-based company has published multiple aging clocks based on different data types, such as – blood panels, epigenetics, psychological surveys, microbiome, etc. State-of-the-art longevity clinics around the world are already using their technology to help their patients live longer, better, healthier, and more productive lives. Deep Longevity has several patents granted, many pending patents and their researchers continue to work hard to discover new frontiers of human longevity and preventive health technology.
Disclaimer: AAAS and EurekAlert! are not responsible for the accuracy of news releases posted to EurekAlert! by contributing institutions or for the use of any information through the EurekAlert system.