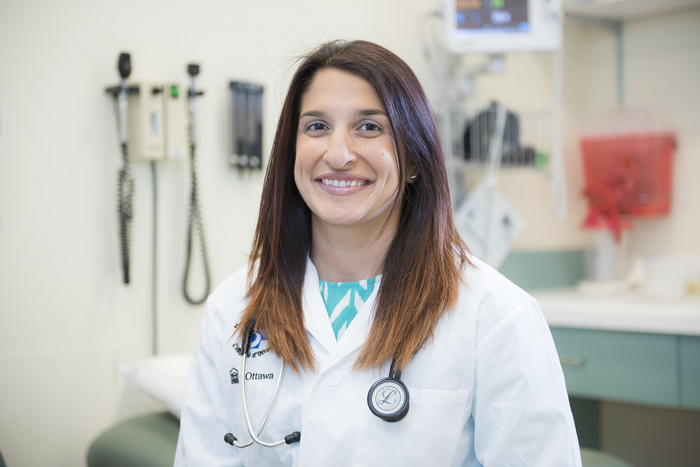 Dr. Natasha Kekre is this year's national winner of a "young investigator award" from the Canadian Society for Clinical Investigation (north_eastexternal linkCSCI), an organization that represents early career healthcare researchers across the country.
An exceptionally motivated scientist, Dr. Kekre is an associate professor at the uOttawa Faculty of Medicine, as well as a scientist and hematologist at The Ottawa Hospital.
Dr. Kekre says she's been "very fortunate" to be in Ottawa's dynamic medical research hub and benefit from having internationally known experts such as Faculty members Dr. John Bell and Dr. Harry Atkins as her colleagues, collaborators, and mentors. Their enthusiastic support has been invaluable, she says.
"This gave me the unique opportunity in Ottawa to excel quickly in research and develop a focus in CAR-T cellular therapies for cancer," says Dr. Kekre, referring to her pioneering work building the first "made-in-Canada" chimeric antigen receptor (CAR) T-cell clinical trial therapy.
Her early-career work has secured millions in funding and led to numerous peer-reviewed publications as she's helped advance the immunotherapy field in Canada.
She says she's "extremely humbled to win an award that acknowledges the work that myself and my whole team are doing to ensure these life-saving therapies reach the hands of Canadian cancer patients that need them."
In a letter nominating Dr. Kekre for the award, Dr. Bell noted her impressive accomplishments as a prominent clinician-scientist in our robust research ecosystem.
"Natasha has an impressive and burgeoning international profile and has become recognized as an expert in the study of cancer immunotherapies, focused on developing the translational medicine pipeline, bringing bench-side research to clinical trials for cancer patients," he wrote.
Dr. Bell also noted her strong commitment to mentoring students and trainees.
Besides bragging rights, the Joe Doupe Young Investigator Award includes a $1,000 cheque presented to the recipient at the time of an award lecture at the annual CSCI conference.
---