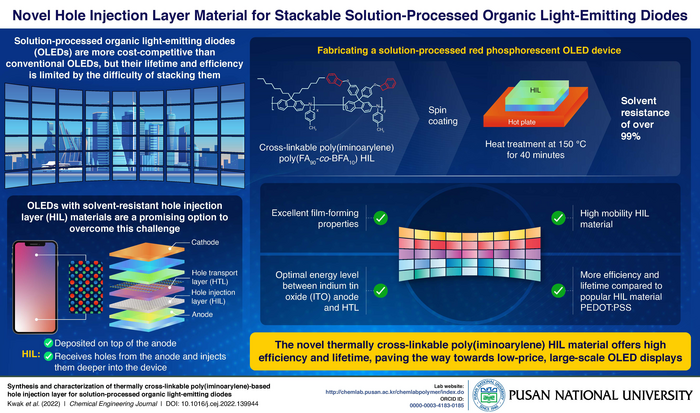 Organic light-emitting diode (OLED) displays are widely used in cameras, mobile phones, television sets, and other modern day electronic devices. However, the present technology for fabricating OLEDs is cost and labor intensive. In this regard, solution-processed OLEDs offer the promise of an economical, large-scale fabrication technique. However, solution-processed OLEDs have limited efficiency and lifetime owing to the difficulty of stacking the constituent layers such as the anode, cathode, hole injection layer (HIL), hole transport layer (HTL), etc. on top of each other to construct the LED. "Research is being conducted to solve this problem using solvent-resistant materials. Many HTL materials having solvent resistance have been developed, but research on the HIL has not been conducted much," explains Professor Do-Hoon Hwang from the Department of Chemistry at Pusan National University, Korea, who has been conducting research on organic semiconductor materials and electronic device applications for over two decades.
To this end, Prof. Hwang and his colleagues have synthesized and characterized a novel solvent-resistant HIL material, thermally cross-linkable poly(iminoarylene) poly(FA90-co-BFA10), and fabricated a functional solution-processed red phosphorescent OLED device using the same. In a recent article published in Chemical Engineering Journal, the researchers have detailed this breakthrough development. This paper was made available online on 22 October 2022 and was published in Volume 454, Part 1, Article number 139944 of the journal on 15 February 2023.
This novel HIL material with over 99% solvent resistance, has an optimum energy level that is intermediate between that of the indium tin oxide (ITO) electrode and the HTL. As a result, the researchers achieved photo-crosslinking of (poly-TPD) as HTL on top of crosslinked HIL. Moreover, the researchers demonstrated that the HIL material has high mobility and excellent film-forming properties that are crucial for the commercial viability of solution-processed OLEDs.
Remarkably, the researchers achieved a greater efficiency and lifetime with this novel HIL material, compared to (PEDOT:PSS), the most widely used hole injection layer material, in terms of efficiency and lifetime." notes Prof. Hwang.
Taken together, this development is a major step forward for the commercialization of efficient solution-processed OLED displays.
***
Reference
DOI: https://doi.org/10.1016/j.cej.2022.139944
Authors: Seon Lee Kwak 1, Hea Jung Park 1, Jae-Ho Jang 1, Jeong Yong Park 1, Jong Mok Park 2, Jihoon Lee 3, and Do-Hoon Hwang 1
Affiliations:
1Department of Chemistry and Chemistry Institute for Functional Materials, Pusan National University, Busan 46241, Republic of Korea
2Research Center for Advanced Specialty Chemicals, Korea Research Institute of Chemical Technology, Ulsan 44412, Republic of Korea
3Department of Polymer Science and Engineering and Department of IT & Energy Convergence (BK21 FOUR), Korea National University of Transportation, Chungju 27469, Republic of Korea
About Pusan National University
Pusan National University, located in Busan, South Korea, was founded in 1946, and is now the no. 1 national university of South Korea in research and educational competency. The multi-campus university also has other smaller campuses in Yangsan, Miryang, and Ami. The university prides itself on the principles of truth, freedom, and service, and has approximately 30,000 students, 1200 professors, and 750 faculty members. The university is composed of 14 colleges (schools) and one independent division, with 103 departments in all.
Website: https://www.pusan.ac.kr/eng/Main.do
About the authors
Professor Do-Hoon Hwang is a professor in the Department of Chemistry at Pusan National University and has been conducting research on organic semiconductor materials and electronic device applications for more than 25 years. He has authored over 300 papers and holds over 50 patents.
The first author, Seon Lee Kwak, is a Ph. D student in the Department of Chemistry at Pusan National University and is conducting research on the design and synthesis of charge transport materials that can have solvent resistance through crosslinking.
Lab website: http://chemlab.pusan.ac.kr/chemlabpolymer/index.do
ORCID id: 0000-0003-4183-0185
---
Journal
Chemical Engineering Journal
Method of Research
Experimental study
Subject of Research
Not applicable
Article Title
Synthesis and characterization of thermally cross-linkable poly (iminoarylene)-based hole injection layer for solution-processed organic light-emitting diodes
Article Publication Date
15-Feb-2023
COI Statement
The authors declare that they have no known competing financial interests or personal relationships that could have appeared to influence the work reported in this paper.