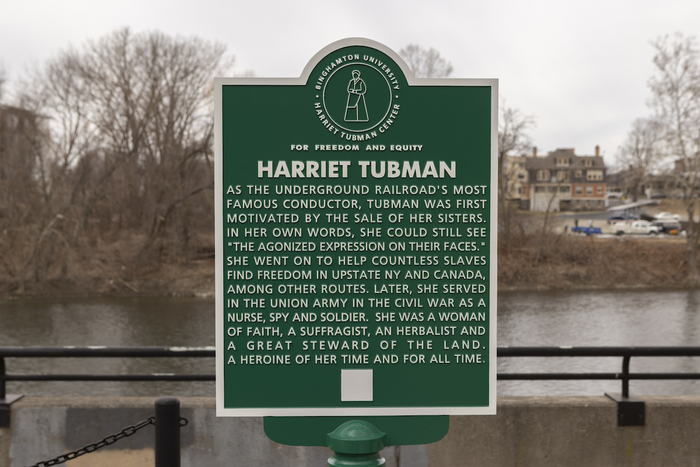 BINGHAMTON, N.Y. -- In recognition of Harriet Tubman Day, a national holiday, representatives from the Harriet Tubman Center for Freedom and Equity at Binghamton University, State University of New York gathered March 10 at the University Downtown Center to unveil the first of 12 markers on the Downtown Binghamton Freedom Trail. The markers will identify key Binghamton locations on the iconic Underground Railroad and other notable abolitionist sites.
State grant boosts Freedom Trail project
The ceremony follows New York State Gov. Kathy Hochul's recent announcement of a $400,000 state grant to fund key elements of this project. In addition to the markers, the Freedom Trail project includes a Harriet Tubman statue and memorial garden, as well as the development of programming in partnership with local school districts focused on integrating curricula that includes Black, Indigenous and People of Color (BIPOC) perspectives as well as material that celebrates New York state's heritage of liberty and civil rights.
Binghamton City Mayor Jared Kraham announced the city's commitment of $100,000 to the Freedom Trail project.
"My conversations with Dr. Bailey about the possibilities of the Freedom Trail initiative have truly been among the most rewarding and enlightening in my career," Kraham said. "And we are thrilled that it's all happening right here in downtown Binghamton. It's my hope that the [Tubman] statue and Freedom Trail will, for decades to come, inspire the next generation of changemakers."
This project demonstrates the collaboration and engagement between the University, the city of Binghamton and other stakeholders in the Southern Tier and documents Binghamton's pivotal role in the story of this country.
"The Downtown Freedom Trail Project publicly acknowledges the crucial part that our community played in what was the most important question in our nation's history — should we be slave or free," said Binghamton University President Harvey Stenger, "and because of exceptional people, like Tubman, the Binghamton community chose freedom. The Freedom Trail markers, and the statue of Harriett Tubman, will serve as a reminder of that commitment to freedom and equality, and a fundamental lesson that we can give to our students at Binghamton University and share with others in the community."
Memorial garden of abolitionist heroes
Last year, the Tubman Center assembled a public art subcommittee to review artist submissions for the Harriet Tubman statue. In February, the subcommittee presented a short list of selected artists who will each create a model of the proposed work. The maquettes, or models, will be available for review by members of the University and local community at an April 20 event in the downtown center, and Bailey expects public input will be critical to the final selection. The Tubman statue will anchor the memorial garden and space as it references other upstate New York abolition sites.
"There was a multicultural group of abolitionists including William Seward of Auburn, Gerritt Smith of Peterboro and Frederick Douglass of Rochester, who along with Tubman were active in the Southern Tier and in upstate New York," said Bailey, "but there is little in the Southern Tier to remind us of their inspirational legacy. This public project will help correct that."
The Harriet Tubman statue and memorial garden, with a view of the Susquehanna River, will represent the first stop on the Freedom Trail located in the heart of downtown at the Binghamton University Downtown Center.
A story of civil rights in 19th-century Binghamton
The remaining markers will be installed at other downtown locations through fall 2023, including at least one planned event with the unveiling of the Bud Fowler memorial marker at its Mirabito Stadium location on Sept. 1. John W. Jackson Jr., better known as "Bud Fowler," is one of the first Black players to integrate white professional baseball, predating Jackie Robinson by more than 60 years. Fowler, a 2022 Hall of Fame inductee, played for multiple teams throughout his 20-year career — including at least two stints with the Binghamton Crickets — meeting discrimination and intolerance at every stop along the way.
Like Fowler's, each marker on the Freedom Trail tells a story of individual courage, sacrifice and moral mettle, creating an anthology of late 19th-century abolitionist and civil rights activity in the Southern Tier.
Bailey and Tubman Center Associate Director Sharon Bryant foresee the Freedom Trail developing beyond static historical markers through the implementation of QR codes or engaging interfaces that will create a sensory and interactive educational experience that will benefit local students and teachers and put Binghamton on the map as a historical tourism destination.
"When I think about Harriet Tubman, I think about the word 'vision.'" Bailey said. "This is a word inspired by Tubman, that I carry with me every day. Vision gives you purpose. It gives you hope and the ability to work and live for something bigger than yourself. And Harriet had vision in spades."
PHASE II: SCHOLARS AND FELLOWS
In addition to the public installation and education features described as Phase I, the Tubman Center has also proposed plans for institutional scholarship in the form of the Harriet Tubman Scholars and Harriet Tubman Faculty Fellows and Community Outreach programs.
The first is a scholarship and mentoring program focused on developing a pipeline for historically underrepresented students into leadership roles. Selected scholars will receive financial assistance, mentorship and experiential opportunities, including internships at various agencies working toward equity and inclusion goals. Students will also serve as tour guides on the Freedom Trail.
With a core objective to help the University reach faculty diversity objectives established by the Truth and Reconciliation process, the faculty fellows' program will also assist faculty members of all backgrounds who work on diversity, equity and inclusion issues. These experts will then be available to the community, supporting local school districts on staff and curriculum development.
Both programs, for which the Tubman Center is seeking seed monies, will engage with and benefit the wider Binghamton community.
---