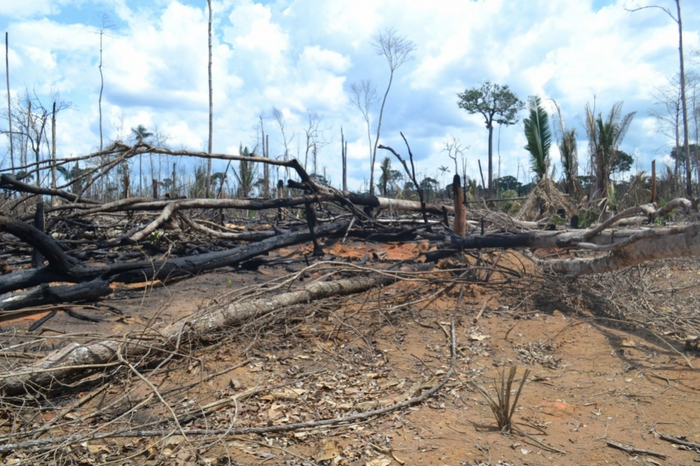 A swathe of the Amazon Rainforest almost twice the size of Luxembourg was destroyed by fire between 2003 and 2019. The area is in the southwest of Amazonas state, in Brazil's North region, and includes parts of nine municipalities with some of the worst sustainable development indicators in the country. Deforestation had been increasing in the area, largely owing to illegal logging and other activities linked to agriculture along two highways that run through it.
In the period 2003-19, fire destroyed 4,141 square kilometers (km²) of forest, of which 3,999 km² was primary (native) vegetation. A year-by-year breakdown shows that the area affected by fire ranged from a low of 33 km² in 2011 to a high of 681 km² in 2019. In addition, 6,484 km² of pasture and crops burned down in the period.
These numbers are from an article published in the journal Fire reporting a study by scientists at the National Disaster Surveillance and Early Warning Center (CEMADEN) and the National Space Research Institute (INPE), both of which are Brazilian institutions, in partnership with colleagues at universities and other research institutions in Brazil and abroad.
According to the article, which focuses on Boca do Acre, a municipality in Amazonas state, loss of vegetation due to deforestation increased the occurrence of burned areas, resulting in transformation of the landscape from forest to cropland and pastureland, especially in the vicinity of highways BR-317 and BR-364.
Factors such as intensification of the dry season and more frequent extreme weather events also made the region susceptible to anthropogenic (human-induced) fire. Moreover, the accumulation of organic matter from deforested areas fueled ongoing fires, which spread as a result.
On the other hand, protected areas such as conservation units and Indigenous territories acted as a barrier against deforestation. Fire destroyed only 189.13 km², or 1.3% of the total, in the period 2003-19, mainly near roads and farms in the Boca do Acre and Apurinã Indigenous Territories.
"Our study identified the extent and frequency of fires, and the correlations with changes in land cover and climate, pointing to priority areas for conservation. We also analyzed the susceptibility to fire of forest on undesignated public land and adjacent to rural properties. This is troubling. More recent deforestation is increasingly close to protected areas, which thereby become even more vulnerable," said Débora Dutra, first author of the article. She is an environmental and sanitary engineer and a researcher at CEMADEN, with a scholarship from FAPESP.
Undesignated land is government land that has not been assigned to a specific use, such conservation or settlement. This category is the most vulnerable to encroachment by land grabbers and squatters.
For Liana Anderson, also a researcher at CEMADEN and supervisor of Dutra's master's research, in addition to its detailed analysis of fire patterns in the area, the study also evidenced how fire is advancing through the Amazon Rainforest. "The region is known as the new deforestation frontier," she said. "A first wave devoured the forest from Mato Grosso [a state in Brazil's Center-West region], and the fires then moved on up into Amazonas state. This area is under pressure, but conservation units and Indigenous territories have served as barriers, emphasizing their importance to maintenance of the forest and its socio-biodiversity."
The study was also supported by FAPESP via two other projects (20/08916-8 and 20/15230-5).
Study area
Boca do Acre and nearby Lábrea have, respectively, the third- and second-worst sustainable development indicators among Brazil's 5,570 municipalities (behind Santana do Araguaia in Pará state), and deforestation rates there rank among the highest in Amazonas state.
The authors analyzed data for Boca do Acre plus a 25 km buffer zone around it, including parts of Lábrea, Pauini, Acrelândia, Senador Guiomard, Porto Acre, Bujari, Sena Madureira and Manoel Urbano. Seven Indigenous territories are located in the study area (Apurinã, Boca do Acre, Camicuã, Igarapé Capana, Inauiní/Teuiní, Peneri/Tacaquiri and Seruini/Mariene), as well as three conservation units (the Arapixi Extractive Reserve, the Mapiá-Inauiní National Forest, and the Purus National Forest).
Besides deforestation and fire data, the study also analyzed data from maps, satellite images and the Rural Environmental Register (Cadastro Ambiental Rural, CAR). All landowners are required to register with the CAR and enter environmental information about the property. Registration with the CAR is not required for conservation units, Indigenous territories and other types of public land. Misappropriation of government land via falsification of title deeds [grilagem] is common in the Amazon, the authors note, and adjustments had to be made for overlaps and duplications in the database.
"A very interesting finding about this region is the rapid and continuous growth of areas affected by fire inside undesignated public forests, especially since the Forest Code was enacted in 2012," Anderson said. "I believe deliberate efforts are being made to steal these areas, which have little or no governance because they're undesignated and are highly vulnerable to illegal activities."
Anderson is one of Brazil's leading researchers on the impact of extreme weather events and fire in the Amazon and co-authored a number of scientific papers on these topics published last year.
According to one such paper, published in Nature Ecology & Evolution, the number of active fires recorded in the Brazilian Amazon in August-September 2022 was the highest since 2010. Besides the record number of fires, which exceeded 74,000, the researchers found they were due not to extreme drought, as in 2010, but to recent anthropogenic deforestation (read more at: agencia.fapesp.br/40688).
Uncontrolled human use of fire was also the main driver of the increase in burnings detected between 2003 and 2020 throughout the Amazon in Brazil and the parts of the biome that are located in eight other countries, surpassing the influence of drought, according to another paper, published last year in Global Ecology and Biogeography. On average, pasture and other agricultural land accounted for 32% of burned areas in the region, followed by natural grasslands with 29% and old-growth forests with 16%. Burning of vegetation to prepare land for agricultural use was the main cause of fire in most years rather than extreme water deficits (read more at: agencia.fapesp.br/39961).
Future
The Amazon Rainforest is the world's largest and most biodiverse tropical forest and plays an important role in global climate regulation. This includes the "flying river" that moves huge amounts of water from the region to other parts of the continent. The forest's many trees release water vapor into the atmosphere through transpiration, the process whereby water traverses the plant and evaporates from aerial parts such as stems, flowers and the leaves of the canopy. The moisture released into the atmosphere is swept along by air currents and deposited elsewhere as precipitation.
Deforestation interferes with this cycle by intensifying the dry season in the Amazon itself and extending the amount of native vegetation affected by forest fires. According to the researchers, the total area destroyed by fire in the region will increase if deforestation is not contained.
In their conclusions to the Fire article, the researchers stress that the results of the study show the importance of conservation units, Indigenous territories and native vegetation as barriers to deforestation and burnings, advocating the inclusion of estimates of fire risk and impact under current and projected future climate conditions in policy decisions affecting the Amazon Forest in order to avoid the loss of ecosystem services.
"Discussions of policies for the region should include questions such as how to deal with the advancing fire frontier, and how better to protect conservation units and upgrade forest and fire management plans," Dutra said.
About São Paulo Research Foundation (FAPESP)
The São Paulo Research Foundation (FAPESP) is a public institution with the mission of supporting scientific research in all fields of knowledge by awarding scholarships, fellowships and grants to investigators linked with higher education and research institutions in the State of São Paulo, Brazil. FAPESP is aware that the very best research can only be done by working with the best researchers internationally. Therefore, it has established partnerships with funding agencies, higher education, private companies, and research organizations in other countries known for the quality of their research and has been encouraging scientists funded by its grants to further develop their international collaboration. You can learn more about FAPESP at www.fapesp.br/en and visit FAPESP news agency at www.agencia.fapesp.br/en to keep updated with the latest scientific breakthroughs FAPESP helps achieve through its many programs, awards and research centers. You may also subscribe to FAPESP news agency at http://agencia.fapesp.br/subscribe.
---
Article Title
Fire Dynamics in an Emerging Deforestation Frontier in Southwestern Amazonia, Brazil
Article Publication Date
21-Dec-2022