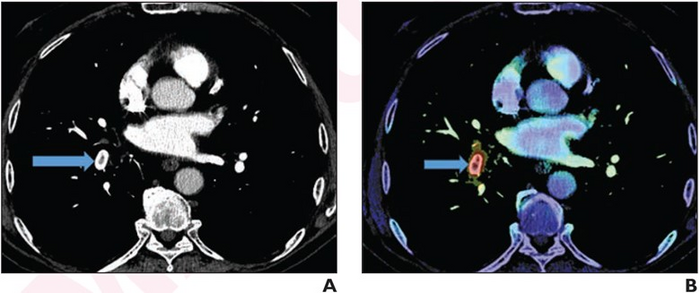 Leesburg, VA, April 5, 2023—According to an accepted manuscript published in ARRS' own American Journal of Roentgenology (AJR), a worklist reprioritization tool with artificial intelligence reduced both report turnaround time and wait time for pulmonary embolus-positive CT pulmonary angiography examinations.
"By assisting radiologists in providing rapid diagnoses, the artificial intelligence (AI) tool could potentially enable earlier interventions for acute pulmonary embolus (PE)," concluded lead researcher Kiran Batra, MD, from the department of radiology at University of Texas Southwestern Medical Center in Dallas.
Batra et al.'s AJR accepted manuscript included patients who underwent CT pulmonary angiography (CTPA) before (October 1, 2018–March 31, 2019) and after (October 1, 2019–March 31, 2020) implementing an FDA-approved AI tool that reprioritized CTPA examinations atop radiologists' reading list, if acute PE was detected. Timestamps from EMR and dictation systems were then utilized to determine three times: wait (examination completion to report initiation), read (report initiation to availability), as well as report turnaround (sum of wait and read). Times for PE positive reports, using final imaging for reference, were compared between periods.
Ultimately, the authors' AI-driven worklist reprioritization tool was associated with significantly shorter report turnaround (47.6 vs. 59.9 mins) and wait (21.4 vs. 33.4 mins) times—though no significant difference in reading time (26.3 vs. 26.5 mins)—for CTPA reports positive for acute PE, compared to reports from before AI implementation.
"During regular hours," the authors of this AJR accepted manuscript added, "the reduction in wait time was observed for examinations with routine, but not urgent or stat, priority."
---
North America's first radiological society, the American Roentgen Ray Society (ARRS) remains dedicated to the advancement of medicine through the profession of medical imaging and its allied sciences. An international forum for progress in radiology since the discovery of the x-ray, ARRS maintains its mission of improving health through a community committed to advancing knowledge and skills with the world's longest continuously published radiology journal—American Journal of Roentgenology—the ARRS Annual Meeting, InPractice magazine, topical symposia, myriad multimedia educational materials, as well as awarding scholarships via The Roentgen Fund®.
MEDIA CONTACT:
Logan K. Young, PIO
44211 Slatestone Court
Leesburg, VA 20176
---
Journal
American Journal of Roentgenology
Method of Research
Observational study
Subject of Research
People
Article Title
Radiologist Worklist Reprioritization Using Artificial Intelligence: Impact on Report Turnaround Times for CTPA Examinations Positive for Acute Pulmonary Embolism
Article Publication Date
5-Apr-2023
COI Statement
No relevant disclosures