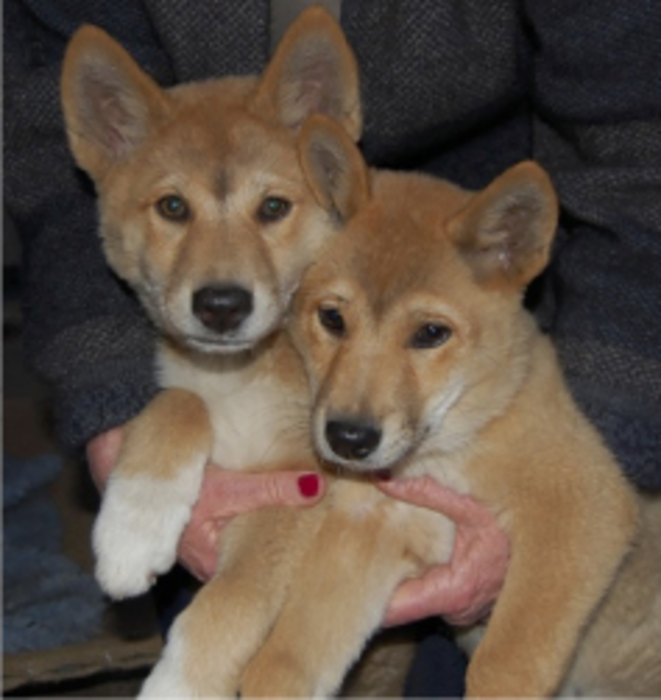 A taxidermy-prepared dingo named Cooinda has been proposed to serve as an "archetype" specimen for all dingoes. A newly published article provides detailed information on this individual, including a high-quality genome sequence, other molecular biology data, and magnetic resonance imaging of brain tissue. Cooinda, and the rich data collected on it, now serve as a point of reference for exploring the evolutionary history of dingoes, and to better understand how and when humans influenced the breed's anatomy, genetics and behavior as step in the domestication process. This work was published in the Open Science journal, GigaScience.
The Australasian dingo presents a riddle to biologists: Are they feralized dogs? Or are they an intermediate between wild wolves and domesticated dogs? Dingoes came to Australia more than 5,000 years ago. When they first arrived — probably in the company of sailors — they likely already had a history of interactions with humans that shaped their behavior, their anatomy and their genes.
A team led by Bill Ballard (University of Melbourne) has just published a new study in the Open Science journal GigaScience to propose one taxidermy-prepared specimen, an alpine dingo named Cooinda, as the model specimen to represent a typical dingo that they call an "archetype". This designated type specimen can help to better understand the unique placement of the dingo between a wild and a fully domesticated species.
Earlier work has confirmed that dingoes are indeed an early offshoot of modern dog, between the wild wolf and today's domesticated dogs. However, domestication is a long process, and it is possible the dingo is indeed partially marking an intermediate stage of domestication.
Charles Darwin was fascinated by the domestication of animals, and in fact observations on domesticated animals were a departure point when laying out his theory of evolution. Darwin proposed a two-step model of domestication: According to this idea, the first step is characterized by "unconscious" selection, leading to merely tamed rather than domesticated animals; followed in a second step by what biologists today call artificial selection. The hallmark of the second stage is that humans deliberately interfere in mating and reproduction by soecifically selecting desired traits. The question then is whether the dingo is an example of a population that only made it to the first step in Darwin's model, but not the second?
Prof. Bill Ballard, first author of the new GigaScience study, explains: "Unfortunately, the absence of a dingo reference specimen impedes our ability to definitively determine whether dingoes are a tamed intermediate or a feral canid, because we do not have a single reference point that links the scientific name to a specific specimen."
The genomic and morphological data in the new study is based upon an Alpine Dingo named Cooinda from Dingo Sanctuary Bargo in New South Wales, Australia.
A previously published Dingo genome was based on another animal, Sandy, a Desert Dingo, and the new data also allow comparisons between the Alpine and Desert ecological types.
In addition to the high quality genome data, the Australian team also collected mitochondrial DNA sequences and DNA methylome data, and linked this molecular information with morphological analyses of head shape, a trait specific to the dingo among canids, and magnetic resonance imaging of Cooinda's brain.
Along with other morphological changes, "domesticated animals often show reduced brain size compared to their wild relatives" notes study co-author Assoc. Prof. Laura Wilson (ANU). The brain analyses show that Cooinda had a larger cranial capacity than a similar-sized domestic dog.
Having such a data-rich and diverse characterization of a single individual makes Cooinda an ideal candidate to be considered the "archetype" for Dingo. She is now on display at the Australia Museum in Sydney.
Further Reading:
Ballard JWO, Field MA, Edwards RJ, Wilson LAB, Koungoulos L, Rosen BD et al.
The Australasian dingo archetype: De novo chromosome-length genome assembly, DNA methylome, and cranial morphology
GigaScience,2023, giad018 https://doi.org/10.1093/gigascience/giad018
GigaBlog:
Hans Zauner. Multi-dimensional data for Cooinda the dingo http://gigasciencejournal.com/blog/dingo-coinda-genome
Data Availability:
Ballard JWO, Field MA, Edwards RJ, Wilson LAB, Koungoulos L, Rosen BD et al.
Supporting data for "The Australasian dingo archetype: De novo chromosome-length
genome assembly, DNA methylome, and cranial morphology" GigaScience
Database. 2023. http://dx.doi.org/10.5524/102356
MRI Alpine dingo and domestic dog brain. Figshare repository. 2022. https://doi.org/10.6084/m9.figshare.20514693.v2
Sharing on social media?
Find GigaScience online on twitter: @GigaScience, @GigabyteJournal, @Giga_DB; Facebook https://www.facebook.com/GigaScience, and keep up-to-date with our blog http://gigasciencejournal.com/blog
About GigaScience Press
GigaScience Press is BGI's Open Access Publishing division, which publishes scientific journals and data. Its publishing projects are carried out with international publishing partners and infrastructure providers, including Oxford University Press and River Valley Technologies. It currently publishes two award-winning data-centric journals: its premier journal GigaScience (launched in 2012), which won the 2018 American Publishers PROSE award for innovation in journal publishing, and its new journal GigaByte (launched 2020), which won the 2022 ALPSP Award for Innovation in Publishing. The press also publishes data, software, and other research objects via its GigaDB.org database. To encourage transparent reporting of scientific research and to enable future access and analyses, it is a requirement of manuscript submission to all GigaScience Press journals that all supporting data and source code be made openly available in GigaDB or in a community approved, publicly available repository.
About GigaScience
GigaScience is co-published by GigaScience Press and Oxford University Press. Winner of the 2018 PROSE award for Innovation in Journal Publishing (Multidisciplinary), the journal covers research that uses or produces 'big data' from the full spectrum of the biological and biomedical sciences. It also serves as a forum for discussing the difficulties of and unique needs for handling large-scale data from all areas of the life and medical sciences. The journal has a completely novel publication format -- one that integrates manuscript publication with complete data hosting, and analyses tool incorporation. To encourage transparent reporting of scientific research as well as enable future access and analyses, it is a requirement of manuscript submission to GigaScience that all supporting data and source code be made available in the GigaScience database, GigaDB, as well as in publicly available repositories. GigaScience will provide users access to associated online tools and workflows, and has integrated a data analysis platform, maximizing the potential utility and re-use of data.
Media contacts:
GigaScience, Editor-in-Chief:
Scott Edmunds, Scott@gigasciencejournal.com, Cell: +852 92490853
Expert:
Bill Ballard, The University of Melbourne, bill.ballard@unimelb.edu.au , Tel: +61 420305145.
---
Method of Research
Meta-analysis
Subject of Research
Animals
Article Title
The Australasian dingo archetype: de novo chromosome-length genome assembly, DNA methylome, and cranial morphology
Article Publication Date
28-Mar-2023
COI Statement
The authors declare they have no competing interests