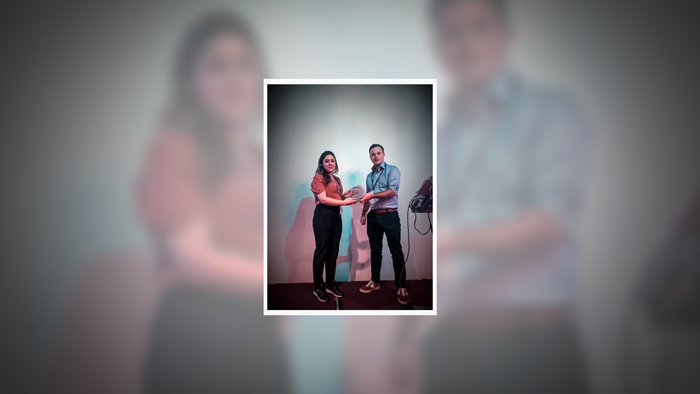 A PhD student from the University of Huddersfield's Department of Pharmacy competed against entries from around the world to win the prize for 'Best Oral Presentation' at a major international conference for the pharmaceutical sciences.
Haja Muhamad is in the final year of her PhD and is being supervised by the University's Dr Kofi Asare-Addo. Her prize-winning talk, presented at the 13th Academy of Pharmaceutical Sciences International Conference during the 'New Scientist Focus Group (NSFG)' session, was titled 'An investigation into swelling and dissolution behaviour of polymer-excipient blends of PEO utilising dissolution imaging' and featured Haja's PhD research on probing prandial effects on dosage forms using imaging and spectroscopic analysis.
Held in Belfast, the event was the first face-to-face Academy of Pharmaceutical Sciences (APS) meeting since before the global pandemic and attracted delegates of more than 20 nationalities.
The Academy represents individuals and organisations from around the globe in the delivery of excellence in the pharmaceutical science sector and their annual international conference is one of the most prestigious events within the industry.
Haja Muhamad pictured above left showcasing her PhD research and above right the conference attracted delegates of more than 20 nationalities.
The conference presented the very best in pharmaceutical science, offered a glimpse at the latest technologies and provided a platform for new talent such as Haja to showcase their work.
High-profile speakers, including the University's own Head of Pharmacy Professor Barbara Conway, presented ideas relating to the latest high-quality innovations for creating and manufacturing medicines ranging from the discovery phase to commercialisation, setting the stage for a new era in medical care driven by pharmaceuticals.
A key theme running throughout was how innovation and teamwork in the pharmaceutical sciences, often across international boundaries, continues to drive recovery of patients, healthcare organisations, the economy and society to overcome the damaging effects of the COVID-19 pandemic.
Haja, who also studied her Masters degree at the University, felt truly honoured to win the award and is extremely grateful to her supervisor Dr Asare-Addo for all of his guidance and support.
"I enjoyed all the aspects of the conference," she said. "It was very professionally done, with a highly qualified group of speakers and participants. It also provided a lot of networking opportunities. I didn't only gain a beautiful memory, I also gained forever friends!"
The British Journal of Pharmacy, of which the University's Dr Hamid Merchant is the editor, has published a special issue featuring the conference proceedings and can be accessed here.
---