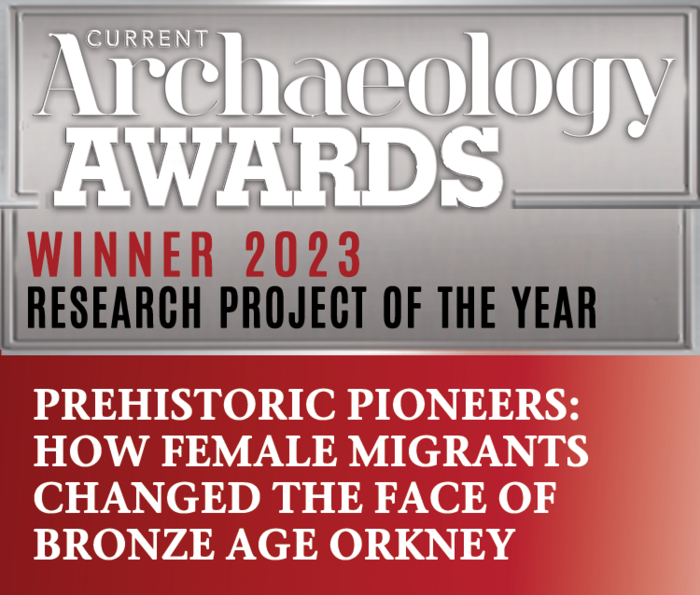 A revolutionary investigation that shed vivid light on pioneering female migrants who made their way to Orkney during the Bronze Age has won Research Project of the Year at the prestigious Current Archaeology Awards for 2023.
The project – a collaboration between EASE Archaeology and the University of Huddersfield – focused on human remains excavated at the Links of Noltland, a Bronze Age cemetery on the island of Westray. This work revealed the first concrete evidence of a major influx of non-local people into Orkney during the Bronze Age – and, significantly, it appears that this migration was dominated by women.
It had previously been thought that Orkney (which is renowned for its spectacular Neolithic monuments) had become more insular and less influential as the archipelago entered the Bronze Age. However, ancient DNA analysis of human skeletons from the Links of Noltland revealed that there had been a substantial replacement of Westray's population between the late Neolithic and early Bronze Age. More than that, while similar waves of Bronze Age migration seen across Europe are thought to have been led by men, in Orkney the incomers were predominantly women.
Accepting the award on behalf of the project team, Maeve McCormick and Máiréad Ni Challanáin, both of EASE Archaeology, said: 'We are overwhelmed and delighted to accept this award on behalf of EASE Archaeology and the University of Huddersfield, it is an honour and an acknowledgement of everyone's hard work, particularly during Covid.'
---