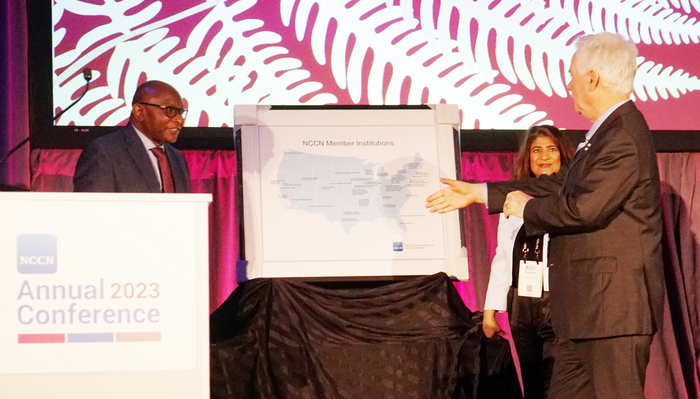 PLYMOUTH MEETING, PA and CHICAGO, IL [April 4, 2023] — The National Comprehensive Cancer Network® (NCCN®) today announced the addition of the University of Chicago Medicine Comprehensive Cancer Center as the newest Member Institution to join the not-for-profit alliance of leading cancer centers. There are now 33 academic centers across the United States contributing multidisciplinary subject matter experts to 61 different panels determining the latest evidence-based expert consensus recommendations for risk assessment, prevention, evaluation and treatment, surveillance, supportive care, and survivorship throughout the cancer care continuum.
"UChicago is a recognized leader in cancer care that will bring numerous strengths to our network," said Robert W. Carlson, MD, Chief Executive Officer, NCCN. "We were particularly impressed with their substantial work improving outcomes for underserved populations and longtime commitment to advancing diversity, equity, and inclusion. They serve an ethnically and economically diverse population and have a history of higher-than-average rates of Black patients taking part in clinical trials. Their work also includes a focus on cancer prevention through tobacco control and HPV control programs. We look forward to working with them as we continue to focus on our mission of helping all people with cancer live better lives."
The UChicago Medicine Comprehensive Cancer Center utilizes a broad array of unique and innovative educational, training, clinical, and research programs all characterized by a particular focus on increasing the presence of underrepresented populations in oncology and better understanding and serving their catchment area population. These include training and mentorship programs for students at all levels starting in high school, as well as partnerships with numerous community programs throughout their area.
Additionally, the UChicago Medicine Comprehensive Cancer Center was designated as a National Cancer Institute cancer center in 1974 and earned the comprehensive cancer center designation in 2008. It has been recognized for genetic classification of hematologic malignancies and for pioneering risk-adapted therapies. The UChicago Medicine Comprehensive Cancer Center also has a long history of major contributions to drug development and early-phase clinical trials.
"We are thrilled to join NCCN, which means our renowned faculty will contribute to evidence-based cancer treatment guidelines, research and education that will have an impact on patient care in the country and across the world," said Kunle Odunsi, MD, PhD, Director of the UChicago Medicine Comprehensive Cancer Center; the Dean for Oncology in the Biological Sciences Division; and The AbbVie Foundation Distinguished Service Professor in the Department of Obstetrics and Gynecology at the University of Chicago. "We need to have better cancer prevention, screening, diagnosis and treatment for our communities, especially those that are underserved and face some of the worst cancer disparities."
NCCN's Member Institutions work together in a variety of ways to define and advance high-quality, high-value, patient-centered cancer care globally. One key area of activity is maintaining the NCCN Clinical Practice Guidelines in Oncology (NCCN Guidelines®), which are updated at least once a year to reflect the very latest data and best practices. They are available free-of-charge at NCCN.org or via the Virtual Library of NCCN Guidelines® App. The clinical guidelines serve as the basis for NCCN Guidelines for Patients®—free resources to help people with cancer and their caregivers participate in informed decision-making about their care.
NCCN Member Institutions also work together to identify and address pressing concerns in cancer care delivery as they arise, including public health and safety, policy, and other issues.
NCCN was originally founded in 1995 with 13 Member Institutions. The alliance now includes 33 different centers that provide top-level care across the United States. Learn more at NCCN.org/member-institutions.
# # #
About the National Comprehensive Cancer Network
The National Comprehensive Cancer Network® (NCCN®) is a not-for-profit alliance of leading cancer centers devoted to patient care, research, and education. NCCN is dedicated to improving and facilitating quality, effective, equitable, and accessible cancer care so all patients can live better lives. The NCCN Clinical Practice Guidelines in Oncology (NCCN Guidelines®) provide transparent, evidence-based, expert consensus recommendations for cancer treatment, prevention, and supportive services; they are the recognized standard for clinical direction and policy in cancer management and the most thorough and frequently-updated clinical practice guidelines available in any area of medicine. The NCCN Guidelines for Patients® provide expert cancer treatment information to inform and empower patients and caregivers, through support from the NCCN Foundation®. NCCN also advances continuing education, global initiatives, policy, and research collaboration and publication in oncology. Visit NCCN.org for more information.
---