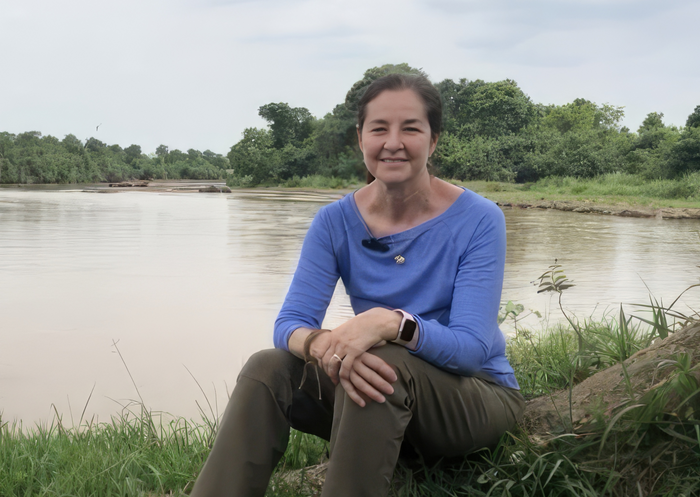 The Wildlife Conservation Society (WCS) announced today that Monica P. Medina, the first diplomat in the U.S. designated to advocate for global biodiversity, has been named WCS President and CEO, effective June 1, 2023. Medina, current Assistant Secretary of State for Oceans, Environment, and Science; and Special Envoy for Biodiversity and Water Resources will serve until April 30, 2023, at the U.S. Department of State.
Medina ushered in a new era of environmental diplomacy as a foreign policy priority at the State Department. She will join WCS to lead its mission to save wildlife and wild places, harnessing the power of its four zoos, an aquarium, and its Global programs across nearly 60 countries.
Said Chair of the WCS Board of Trustees Alejandro Santo Domingo: "Monica has a proven track record leading on biodiversity policies throughout her distinguished career during the most consequential times for the future health of the planet. She is an accomplished leader with executive, policy, advocacy, and diplomacy experience, and has a deep knowledge of environmental and conservation issues. She joins an extraordinary team at WCS.
"As the world faces three inter-related existential crises—the collapse of biodiversity, climate change, and the persistent threat of pandemics of zoonotic origin—Monica brings a formidable set of skills to accelerate progress on critical policies and conservation action to benefit nature and people. I want to thank Robb Menzi, who has done an outstanding job as WCS Interim President and CEO, following WCS's former President and CEO Cristián Samper stepping down last year to join the Bezos Earth Fund. Robb will resume his role as Executive Vice President and Chief Operating Officer. WCS has never been stronger."
Said Medina: "The Wildlife Conservation Society is the perfect organization to carry out my life-long passion to advocate for the protection of nature across the globe. I am optimistic about the world's future, but we have no time to waste. The team at WCS—in its zoos and aquarium, in policy rooms across the world, and on the ground in multiple continents—is making a great impact in these most challenging times for our planet. WCS Global is leading some of the most innovative and effective conservation programs with governments and Indigenous Peoples and local communities. Underpinned by strong science, WCS influences policies at the local, regional and global level. WCS's Bronx Zoo, New York Aquarium, Central Park Zoo, Prospect Park Zoo and Queens Zoo in New York City are gateways to educate millions of guests each year, inspiring action for the protection of biodiversity. As a longtime advocate for empowering women in multiple roles in government, I am thrilled to be the first woman to serve as WCS's President and CEO and to lead this incredible organization in its next chapter."
In her recent positions at the U.S. Department of State, Medina helped to achieve global agreements to tackle such crises as biodiversity loss; the degradation of the world's oceans; and plastic pollution. She was pivotal to the Biden Administration's adoption of the 30x30 goal—the protection of at least 30 percent of the planet's land and oceans by 2030—and she helped to ensure the same goal was a part of the Kunming-Montreal Global Biodiversity Framework. Further, Medina was a leading negotiator for the U.S. last month behind the adoption of the historic United Nations agreement to protect marine biodiversity in international waters. In earlier years while serving as the National Oceanic and Atmospheric Administration's (NOAA) Principal Deputy Under Secretary of Commerce, she led efforts on Arctic conservation; restoration of the Gulf of Mexico after the Deepwater Horizon oil spill; conservation of endangered species; and fisheries management and enforcement.
Medina has a long and accomplished career in conservation and environmental policy. She was confirmed as Assistant Secretary for Oceans and International Environmental and Scientific Affairs on September 28, 2021, with bipartisan support in the U.S. Senate. Previously, Medina was an adjunct professor at Georgetown University's School of Foreign Service. She was also a Senior Associate on the Stephenson Ocean Security Project at the Center for Strategic and International Studies, and Co-Founder and Publisher of Our Daily Planet, an e-newsletter on conservation and the environment. A former Principal Deputy Under Secretary of Commerce for Oceans and Atmosphere, she served as General Counsel of the National Oceanic and Atmospheric Administration (NOAA), and Special Assistant to the Secretary of Defense. Earlier in her career, Medina served as the Senior Counsel to former Senator Max Baucus on the Senate Environment and Public Works Committee; as the Senior Director for Ocean Policy at the National Geographic Society; as the ocean lead at the Walton Family Foundation; and in senior roles in other environmental organizations.
Medina attended college on an Army R.O.T.C. scholarship and began her career on active duty in the Army General Counsel's Office. She received the Department of Defense Medal for Distinguished Public Service and the Army Meritorious Service Medal. She has a Bachelor's degree from Georgetown University and a J.D. from Columbia Law School.
Wildlife Conservation Society (WCS)
MISSION: WCS saves wildlife and wild places worldwide through science, conservation action, education, and inspiring people to value nature. To achieve our mission, WCS, based at the Bronx Zoo, harnesses the power of its Global Conservation Program in nearly 60 nations and in all the world's oceans and its five wildlife parks in New York City, visited by 4 million people annually. WCS combines its expertise in the field, zoos, and aquarium to achieve its conservation mission. Visit: newsroom.wcs.org. Follow: @WCSNewsroom. For more information: +1 (347) 840-1242. Listen to the WCS Wild Audio podcast HERE.
###
---