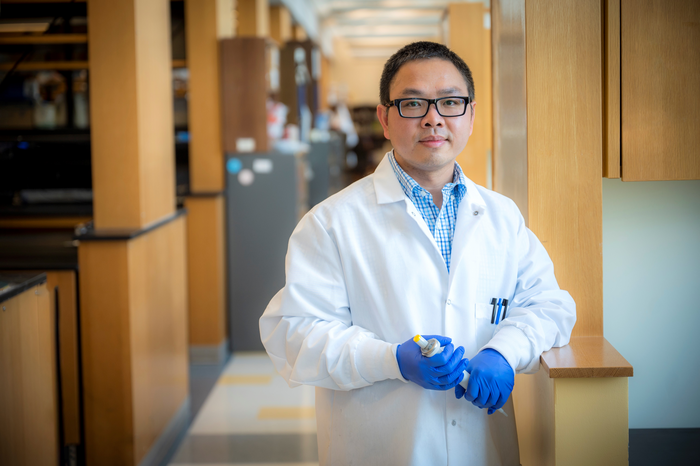 AUGUSTA, Ga. (April 6, 2023) – Immune cells that can "smell" the metabolites of a high-fat Western diet and may produce inflammation and ultimately heart disease as a result, just what our "longer" RNAs are doing in our bodies and the role of immune cells called neutrophils in both cancer and heart disease are some areas of pursuit of the first five scientists recruited to the new Immunology Center of Georgia at the Medical College of Georgia.
The new IMMCG, codirected by Georgia Research Alliance Eminent Scholars Catherine "Lynn" Hedrick, PhD, and Klaus Ley, MD, who joined the MCG at Augusta University faculty late last summer, focuses on better understanding the immune system's seemingly diametric roles in enabling good health and in contributing to major killers like cancer and heart disease.
The first recruits bring to MCG more immunological strength in major areas of research and clinical expertise of the medical school, says Hedrick.
Already onboard is Kunzhe Dong, PhD, a vascular immunologist with expertise in long noncoding RNA, literally long RNAs which regulate gene activity both up and down. He was first author on a 2022 study showing that a long noncoding RNA called CARMN is found in abundance in the healthy smooth muscle cells that give our blood vessels strength and flexibility and is significantly decreased in atherosclerosis. The finding provided more insight into how blood vessel disease happens as it pointed toward new ways to treat it. He also has studied autophagy, a fundamental the immune system uses to eliminate invading microorganisms and cell debris by ingesting them, and novel methods for protecting against destructive inflammation prompted by infection and by vascular disease.
Dong earned his PhD in animal genetics, breeding and reproduction from the Chinese Academy of Agricultural Sciences in Beijing, came to MCG in 2017 as a postdoctoral fellow studying with Vascular Biologist Jiliang Zhou, PhD, in the Department of Pharmacology and Toxicology, and was promoted to senior postdoctoral fellow in 2021. He received an American Heart Association Career Development Award in 2022, which runs through 2025, as well as an AHA Postdoctoral Fellowship during his training. Dong also received a 2022 travel grant for early career investigators from the AHA journal Arteriosclerosis, Thrombosis and Vascular Biology.
Marco Orecchioni, PhD, an immunologist and cellular biologist, who studied with Ley at the La Jolla Institute for Immunology in California, will be joining the IMMCG faculty May 1. The Italy native earned his PhD from the University of Sassari, before moving to La Jolla as a postdoctoral fellow in 2017. He was promoted to instructor in 2022.
Orecchioni's work includes elucidating the role of olfactory (smell) receptors on macrophages, immune cells that can turn inflammation both up and down and can also consume cellular debris. He is working to better understand how these receptors, which seem to be more common in disease states like arteriosclerosis, affect immune cells, including driving inflammation, and whether they provide an unexplored connection between diet and the progression of heart disease and other metabolic problems. His research in collaboration with Ley and Hedrick has been published in top-tier journals including Science. A focus has been the simple chemical octanal which is detected by the olfactory receptors, and their connection prompts production of proinflammatory factors. The scientists have found levels of octanal in human and mouse blood sufficient to activate the respective receptors. When they boost octanal levels, they have found it increases characteristic plaque in blood vessels, and when they genetically delete the receptor it reduces disease, findings that point toward the smell receptor as both a sound prevention and treatment target. They also are exploring the possibility that octanal has effects in other diseases like cancer. Hedrick notes that despite the common ground of inflammation in the major killers of cancer and cardiovascular disease, they have two different environments with different inflammation types.
Orecchioni received an AHA Career Development Award in 2022 that continues today and received the Conrad Prebys Foundation Award in 2021. The foundation supports arts, medical research, health care and youth success in the San Diego community. He also received an AHA postdoctoral fellowship in 2018 and is associate editor of Frontiers in Immunology.
Also starting May 1 is Yanfang "Peipei" Zhu, PhD, a cancer immunologist coming to MCG and the IMMCG from the University of California San Diego. Zhu completed her postdoctoral fellowship at the La Jolla Institute for Immunology with Hedrick and was named an instructor at the institution before moving to the UCSD in 2020. Her research focus is neutrophils, short-lived immune cells that are early arrivers when we get a bacterial or viral infection. Their levels can shrink in response to problems like stress, as well as congenital or later problems that affect their production in the bone marrow. Zhu's lab identified a progenitor cell called NeP that just makes neutrophils and a similar one called hNeP, in both mouse and human bone marrow. They also found that when cancer is present, these progenitor cells go right to the site of the tumor to support its growth. Now they are looking to better categorize which neutrophils and NePs support a healthy immune response versus cancer with the goal of identifying new biomarkers and treatment targets. Zhu also is exploring the cells' potential role in atherosclerosis. Additionally, she is an expert in next-generation sequencing technologies that enable high throughput examination of the fine details of the genome.
Zhu earned her PhD from the University of Louisville School of Medicine in Kentucky before going to the Hedrick lab for her postdoc work, where she received a National Cancer Institute scholarship. She is academic editor for the Journal of Cellular Immunology and an editor for The Journal of Immunology and Microbiology.
Rafael S. Czepielewski, PhD, joins IMMCG July 1 from Washington University Medical School in Saint Louis, Missouri, one of the nation's top immunology programs. The mucosal immunologist's research focus is better understanding inflammatory bowel disease, or IBD, and changes to the lymphatic system during the course of the disease. The lymphatic system is part of the immune system defined as the tissues and organs that produce, store and carry white blood cells throughout the body where they patrol for infections and other invaders. IBD, which includes Crohn's disease and ulcerative colitis, are both risk factors for colon cancer. Last year, Czepielewski received a Career Development Award from the Crohn's & Colitis Foundation for his work on how crosstalk between the lymphatic vessels, microvessels throughout the body that carry lymph (fluid) away from tissues, and immune cells control IBD. His discoveries include little nests of immune cells along the lymphatic system in IBD, and now he and his new colleagues want to answer questions like how they got there and what they are doing.
Czepielewski received a Young Investigator Award from the 2021 Lymphatic Forum, a biennial event where researchers worldwide present and discuss studies of lymphatics in health and disease. Additionally, he is a "fantastic microscopist," Hedrick says, in his case, that includes expertise in intravital microscopy, where you can look at more than one biological process at a time in living research animals, like transparent roundworms called C. elegans.
He earned his PhD from Brazil's Pontificia Universidade Catόlica do Rio Grande do Sul and joined the faculty as an instructor in 2021. During his PhD work he completed an international PhD fellowship at the Immunology Institute of the Icahn School of Medicine at Mount Sinai in New York City.
Adil Rasheed, PhD, a postdoctoral fellow completing his studies in vascular immunology at the University of Ottawa Heart Institute in Ontario, will start at IMMCG Sept. 11. At the Heart Institute, Rasheed has been honored for his leadership in postdoctoral studies and as the Ottawa Region's Cardiovascular Trainee of the Year. He is a member of the American Heart Association journal Arteriosclerosis, Thrombosis and Vascular Biology Early Career Editorial Board. He was a founding member of the online community Trainees in Metabolism, which hosted seminars and workshops on a range of relevant topics like effective mentorship and scientific communication.
Rasheed will bring with him studies of the protein MLKL, a protein known to play a key role in programmed cell death and which at high levels is associated with inflammatory bowel disease in children. He is finding MLKL's role in cell death appears to be a factor in accumulation of lipid and other substances inside blood vessels in atherosclerosis, and the protein has a significant role as an immune regulator in blood vessel and possibly other metabolic diseases. Rasheed also has an interest in the development of immune cells in the bone marrow, called hematopoiesis. He is the 2022 recipient of the Young Investigator Award from the journal STEM CELLS Translational Medicine for his pioneering research in heart disease while still working on his PhD at the University of Toronto.
Download a high-resolution photo of Kunzhe Dong, PhD, one of the recent recruits to MCG's new Immunology Center of Georgia, taken by AU photographer Michael Holahan.
---