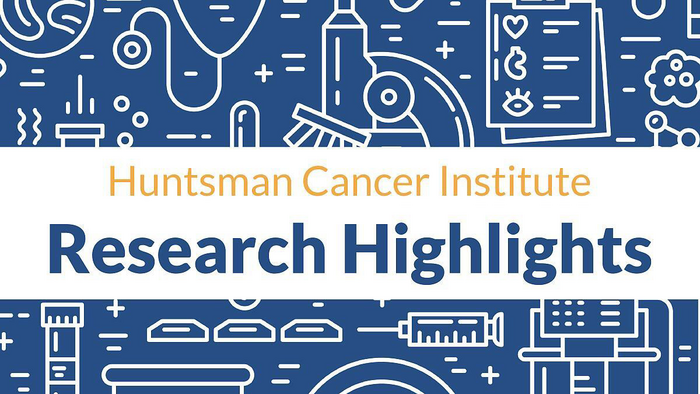 Huntsman Cancer Institute research highlights shine the spotlight on new discoveries and cutting-edge cancer research. In March 2023, researchers administered a Phase I clinical trial investigating a new targeted therapy to its first patient. Also, new evidence showed elephant genes can function to induce death of human cancer cells, and a pair of grants will fund research on chronic lymphocytic leukemia and vaccine hesitancy and confidence of those in the area we serve.
Phase I clinical trial for new targeted therapy enrolls first patient
Vaia Florou, MD, physician-scientist at Huntsman Cancer Institute, enrolled the first patient in the world on her Phase I clinical trial testing a new targeted therapy for cancer. The drug, an Aurora kinase A inhibitor, blocks cancer growth. While the therapy is currently being used for any solid tumors, once the correct dose is found, Florou's team can study the drug in more specific cancer types. They will do this by enrolling more patients and sorting them into cancer types, where they will watch how the drug interacts with the tumors. Huntsman Cancer Institute is one of a few cancer centers that can accommodate Phase I clinicals trials, which are a way for patients to participate in research and get access to new therapies..
Elephant gene discovered to kill cancer cells
In a study published in the Nature journal Cell Death Discovery, researchers found that a processed copy of a unique elephant gene, TP53-RETROGENE 9, can kill human cancer cells. Lisa Abegglen, PhD, and Joshua Schiffman, MD, researchers at Huntsman Cancer Institute, and their team explored how TP53-RETROGENE 9 can kill human cancer cells through the mitochondria, the powerhouse of the cell. When a cell has DNA damage, it should either repair itself or die. If the damaged cell cannot repair itself, then DNA damage-response genes like human TP53 should recognize it and cause the cell to die. If they don't, cells can become cancer. In a lab setting, the team found that the elephant gene, when expressed in human cancer cells, induces cell death. This discovery suggests that elephant TP53 retrogenes are functional, despite previous reports that they are non-functional pseudogenes. Dr. Abegglen and colleagues are considering how this special elephant gene could be useful in cancer treatment.
New grant provides support to clinical investigator to research chronic lymphocytic leukemia
The National Cancer Institute granted a new R50 award to Deborah Stephens, DO, physician-scientist at Huntsman Cancer Institute. Through the SWOG national cooperative cancer research groups, Stephens is leading a national clinical trial for patients with chronic lymphocytic leukemia (CLL). A second clinical trial for patients whose CLL transforms into more aggressive lymphoma will open in the next two years. She will also continue her active work in national CLL cancer research groups and committees. The five-year R50 award provides protected research time for clinical investigators who are actively working on cooperative group national studies.
Understanding vaccine hesitancy and confidence in the Mountain West
Deanna Kepka, PhD, MPH, investigator at Huntsman Cancer Institute and Associate Professor in the University of Utah College of Nursing, received a Merck Investigator Studies Program (MISP) grant to study many domains of vaccine hesitancy and confidence in the Mountain West with a survey of young adults. The Mountain West contains many rural areas that generally have lower adolescent and young adult vaccination rates than other areas in the United States. The study will also use the Utah Statewide Immunization Information System to develop and examine an intervention to build confidence in vaccines with children and young adults enrolled in Utah's Vaccines for Children Program.
###
About Huntsman Cancer Institute at the University of Utah
Huntsman Cancer Institute at the University of Utah is the official cancer center of Utah and the only National Cancer Institute-designated Comprehensive Cancer Center in the Mountain West. The campus includes a state-of-the-art cancer specialty hospital and two buildings dedicated to cancer research. Huntsman Cancer Institute provides patient care, cancer screening, and education at community clinics and affiliate hospitals throughout the Mountain West. It is consistently recognized among the best cancer hospitals in the country by U.S. News and World Report. The region's first proton therapy center opened in 2021 and a major hospital expansion is underway. Huntsman Cancer Institute is committed to creating a diverse and inclusive environment for staff, students, patients, and communities. Advancing cancer research discoveries and treatments to meet the needs of patients who live far away from a major medical center is a unique focus. More genes for inherited cancers have been discovered at Huntsman Cancer Institute than at any other cancer center, including genes responsible for breast, ovarian, colon, head and neck cancers, and melanoma. Huntsman Cancer Institute was founded by Jon M. and Karen Huntsman.
---