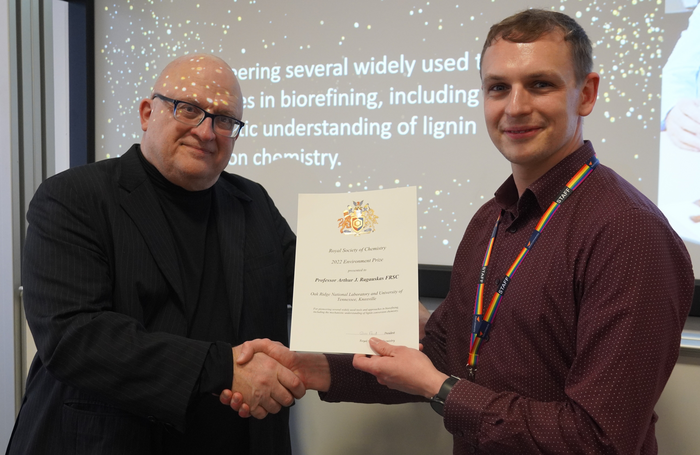 Professor Arthur Ragauskas awarded Royal Society of Chemistry prize
He is based at the Oak Ridge National Laboratory and University of Tennessee
He chose to receive award at Aston University because of its research into renewable resources.
Aston University has hosted a prestigious Royal Society of Chemistry prize-giving and lecture.

Professor Arthur Ragauskas of the Oak Ridge National Laboratory and University of Tennessee chose the University as the venue for this event because its research into renewable resources has inspired his work.
He is the recipient of the Society's 2022 environment, sustainability and energy division open award: Environment Prize.

His research focuses on finding new and improved applications for naturally derived renewable energy, specifically biopolymers for biofuels, biopower and bio-based materials and chemicals.

By understanding the structure of biomass from wood and agricultural products Professor Ragauskas hopes to develop sustainable chemical solutions to replace petrol-based resources.

The Royal Society of Chemistry awarded the prize specifically for pioneering several widely used tools and approaches in biorefining, including the mechanistic understanding of lignin conversion chemistry.

Professor Ragauskas held the first Fulbright chair in alternative energy and is a Fellow of the American Association for the Advancement of Science, the International Academy of Wood Science and the Technical Association of the Pulp and Paper Industry (TAPPI).

He said: "I was inspired to alter the direction of my research and explore biomass after attending an event at Aston University. Hearing about the research being done there was a turning point in my work, so the University seemed like an obvious place to receive my award.

"Giving my lecture was an opportunity to share my prize-winning work with researchers and students but also to discuss development in this field of research."

Dr Matt Derry, lecturer in infrastructure and sustainable engineering at Aston University's College of Engineering and Physical Sciences, presented the Royal Society of Chemistry medal and certificate. He said: "We were delighted to host Professor Ragauskas' lecture and his prize-giving.

"The fact that he chose Aston University highlights the contribution our research in renewable resources is making both academically and to solving real world problems."
Professor Ragauskas is also the recipient of the 2014 TAPPI Gunnar Nicholson Gold Medal Award, the 2014 ACS Affordable Green Chemistry Award, 2017 AIChE Green Processing Award, 2017 Academia Distinguished Service Award, 2019 AIChE Chase Award. His research has been summarised in 828 peer-reviewed publications.
---