Feature Story | 7-Apr-2023
Global seahorse conservation platform celebrates citizen science milestone
iSeahorse Celebrates 10,000 Observations: A Milestone for Community Science and Seahorse Conservation
University of British Columbia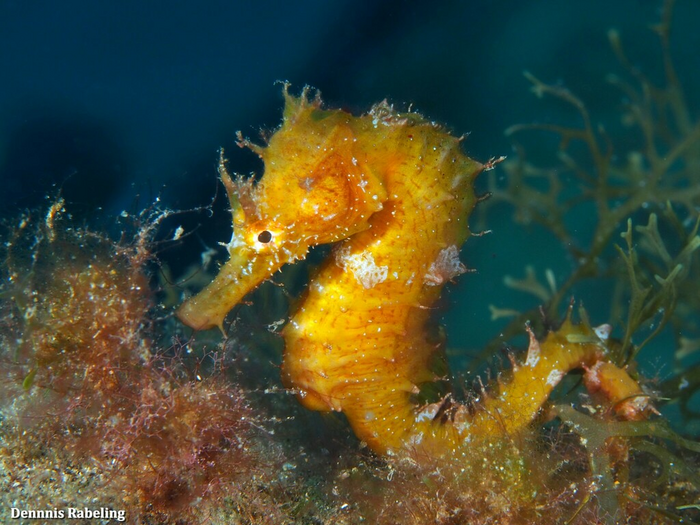 iSeahorse.org, a global platform for seahorse science and conservation, developed by the University of British Columbia's Project Seahorse research unit, has reached a significant milestone with 10,000 observations submitted by community scientists.
The 10,000th observation was made by Dennis Rabeling, a long-time and enthusiastic contributor to iSeahorse, of the short-snouted seahorse (Hippocampus hippocampus) species. This milestone highlights the hard work and dedication of people worldwide who have reported sightings of seahorses in the wild and reflects the potential of community science to advance seahorse conservation.
iSeahorse, which was launched by Project Seahorse and powered by iNaturalist in October 2013, has built a strong community and alliance of community scientists, conservationists, experts, and enthusiasts. The platform aims to improve our understanding of seahorses, which are a critical part of marine ecosystems but are threatened by poorly managed fishing and habitat loss. Observations collected through iSeahorse are being used by Project Seahorse and its partners to improve knowledge of seahorses, their habitats, and their conservation status.
The 10,000 observations milestone is significant as it highlights the desire of individuals to contribute to collective conservation efforts, and advance both science and action. A new analysis of iSeahorse contributions has found that validated sightings extend the geographic ranges of eleven seahorse species, with implications for management and policy action. Additionally, the data collected by iSeahorse observations have already led to the creation of one new marine protected area (MPA) in the village of Anda, Bohol, Philippines, and the expansion of another MPA in the Philippines.
"We are thrilled to have reached this notable tally and grateful for the dedication and hard work of our community scientists," said Dr. Sarah Foster, Program Leader for Project Seahorse. "A total of ten thousand contributions – and growing – indicates how much people care about seahorses and want to engage with them. As a Canadian, I'm delighted that iSeahorse has garnered rare sightings of the lined seahorse in Nova Scotia."
iSeahorse provides a platform for individuals to learn about seahorses and their habitats and to connect with a community of like-minded individuals dedicated to protecting these animals. Given that the 46 seahorse species are found across most shallow coastal seas in temperate and tropical zones, it is not suprising that iSeahorse is truly global. So far, iSeahorse observations come from 97 countries, with one-third of reports covering sightings in Australia.
Since its inception, iSeahorse has been successful in improving our understanding of seahorses and the threats they face, ultimately contributing to their conservation. To date, iSeahorse has collected observations from more than 1,800 individual contributors, with 96 per cent of sightings from diving. The platform has enabled scientists from Project Seahorse and around the world to better understand species ranges, depth distribution, habitat use, and breeding season. Project Seahorse has used these data to mobilize governments, policymakers, and ocean advocates to care about seahorses and act on their behalf.
The iSeahorse community has grown significantly over the years. In addition to logging sightings, iSeahorse has helped generate twenty long-term seahorse population monitoring projects on six continents. A total of 15 seahorse experts and enthusiasts from 13 countries also participate as iSeahorse National Seahorse Experts, helping ensure scientific accuracy, along with 22 iSeahorse Ambassadors from 14 countries who spread news about the program and its merits.
The success of iSeahorse highlights the potential for community science to drive positive change in conservation efforts. By inviting individuals worldwide to contribute to scientific knowledge and conservation efforts, we can better protect seahorses and the marine ecosystems they call home.
"We congratulate Dennis Rabeling for submitting the 10,000th observation and thank all our contributors for their tremendous contributions to iSeahorse," said Dr. Amanda Vincent, Director of Project Seahorse and Chair of the IUCN SSC Seahorse, Pipefish and Seadragon Specialist Group. "We love engaging with community scientists and expanding the network of seahorse experts and enthusiasts. Collectively, we can and do power research and conservation to protect these quirky fishes and their ocean homes."
To learn more about iSeahorse and how to get involved in seahorse conservation, visit the websites at iSeahorse.org and ProjectSeahorse.org.
This work was supported by Guylian Belgian Chocolates, iNaturalist, John G. Shedd Aquarium, Sea of Change Foundation, Synchronicity Earth, Taiwan Forestry Bureau, and Whitley Fund for Nature.
Disclaimer: AAAS and EurekAlert! are not responsible for the accuracy of news releases posted to EurekAlert! by contributing institutions or for the use of any information through the EurekAlert system.