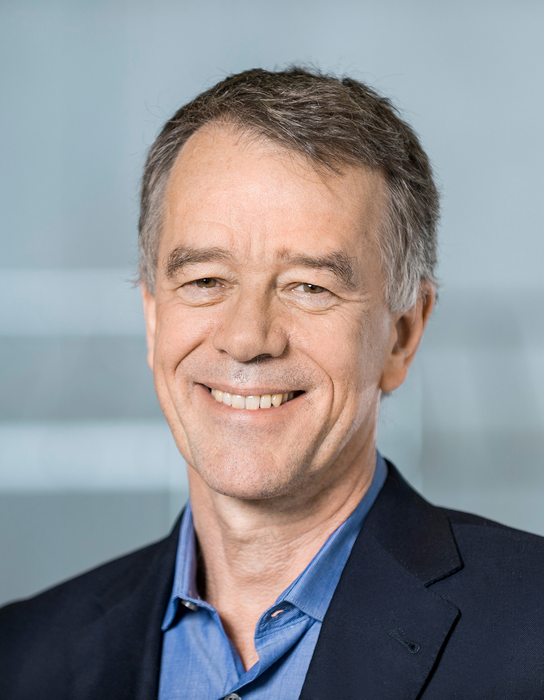 Roland Martin, MD, a world-class neurologist and investigator, is the winner of the 2023 John Dystel Prize for MS Research. He is being honored for advancing our understanding of immune mechanisms underlying multiple sclerosis and translating them to develop innovative strategies to treat the disease.
Martin uncovered how key MS susceptibility genes are involved in launching immune attacks on the nervous system and identified specific components of nerve-insulating myelin that are targeted by those attacks. His team has developed an experimental therapy designed to make the immune system ignore those targets but leave the rest of the protective immune system intact. This strategy is now in clinical testing.
Martin is Professor Emeritus at the University of Zurich's Institute for Experimental Immunology. He also holds positions as Senior Scientist at the Karolinska Institutet in Stockholm and Chief Scientific Officer at the biotech company Cellerys® AG.
"Professor Martin has made major contributions to our understanding of the underlying immune activity at work in MS," said Dr. Bruce Bebo, Executive Vice President of Research at the National Multiple Sclerosis Society. "His team has brought us closer than ever to finding a way to turn off only the destructive immune activities in MS, while retaining the body's ability to ward off infections."
Previous Dystel Prize winner Stephen L. Hauser, M.D., nominated Martin for the prize. "Roland Martin is a remarkably creative physician-scientist and neurologist whose brilliant investigations have profoundly advanced knowledge of the fundamental biology of MS," he commented. "His discoveries – bridging genetics, epidemiology, and immunology – revealed how inheritance, coupled with critical environmental exposures, can lead to a misdirected immune attack against the nervous system. He has given us a new understanding of how MS might begin."
Martin's work has revealed how immune B cells play a role in activating immune T cells to enter the brain and spinal cord and target specific tissue components in MS and has offered clues to how infectious agents or gut bacteria could trigger MS immune attacks. He has also provided care for people with MS throughout his career, has conducted early clinical trials testing novel therapies in MS, and was responsible for making aHSCT available in Switzerland for people with active MS.
In addition to recent leadership positions, Martin served as director of clinical MS research at the University of Hamburg, held staff positions at the National Institutes of Health, and has served as advisor to many organizations in the U.S. and Europe. He received his medical degree from the University of Würtzburg and additional training at the National Institutes of Health, the University of Tübingen, and the University of Maryland. He has authored over 425 papers and book chapters.
Martin will deliver the Dystel Prize lecture and receive the award at the American Academy of Neurology 2023 Annual Meeting, in Boston, MA, on April 24.
# # #
About the John Dystel Prize for MS Research
The Dystel Prize is awarded jointly by the National MS Society and the American Academy of Neurology. It was established in 1994 by former Society National Board member the late Oscar Dystel, and his wife the late Marion Dystel, in honor of their son, John Jay Dystel, an attorney whose promising career was cut short by progressive disability from MS, and complications of the disease that lead to his death in June 2003. Read more about other Dystel Prize winners.
About Multiple Sclerosis
Multiple sclerosis is an unpredictable disease of the central nervous system. Currently there is no cure. Symptoms vary from person to person and may include disabling fatigue, mobility challenges, cognitive changes, and vision issues. An estimated 1 million people live with MS in the United States. Early diagnosis and treatment are critical to minimize disability. Significant progress is being made to achieve a world free of MS.
About the National Multiple Sclerosis Society
The National MS Society, founded in 1946, is the global leader of a growing movement dedicated to creating a world free of MS. The Society funds cutting-edge research for a cure, drives change through advocacy and provides programs and services to help people affected by MS live their best lives. Connect to learn more and get involved: nationalMSsociety.org, Facebook, Twitter, Instagram, YouTube or 1-800-344-4867.
---