Feature Story | 10-Apr-2023
Kirstin Alberi: Then and Now / 2012 Early Career Award Winner
At the National Renewable Energy Lab, Kirstin Alberi discovered that light can create desirable properties in crystals grown for semiconductors.
DOE/US Department of Energy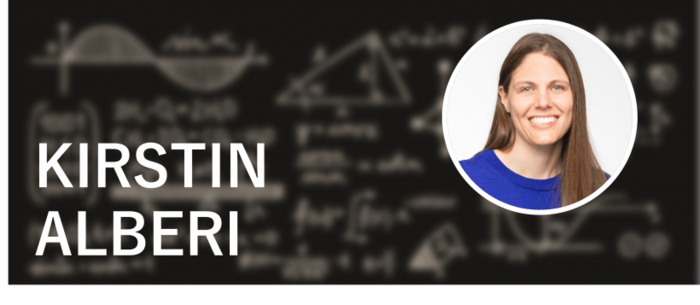 WHAT DID THE 2012 EARLY CAREER AWARD ALLOW YOU TO DO?
Materials scientists have achieved improvements in renewable and sustainable energy technologies like photovoltaics, solid-state lighting, and power electronics. This comes from our ability to make and layer together new crystalline semiconductors with highly advantageous properties.
We create these materials by condensing atoms from a vapor onto a substrate (base surface). Scientists control the layer formation process by adjusting the substrate temperature and the properties of the vapor.
But those two variables are not always sufficient to produce the atomic arrangements that we desire.
My project examined how light can be used as a third variable to control semiconductor synthesis. Our research showed that, in many instances, excess free electrons and holes generated by light absorption in the substrate modify how atoms and defects incorporate into the growing crystal.
As a result, this project has informed new ways to better control the growth of semiconductor layers and device structures. These new ways do not otherwise change the growth methods themselves.
In addition to supporting this research, the Early Career Award allowed me to build a new team. I formed new collaborations with other researchers and expanded my own scientific and leadership skillsets. I am now using the knowledge and tools we generated through this project for my current research.
ABOUT:
Kirstin Alberi is the Director of the Materials Science Center in the Materials, Chemical and Computational Science directorate at the National Renewable Energy Laboratory (NREL).
SUPPORTING THE DOE SC MISSION:
The Early Career Research Program provides financial support that is foundational to early career investigators, enabling them to define and direct independent research in areas important to DOE missions. The development of outstanding scientists and research leaders is of paramount importance to the Department of Energy Office of Science. By investing in the next generation of researchers, the Office of Science champions lifelong careers in discovery science.
For more information, please go to the Early Career Research Program.
THE 2012 PROJECT ABSTRACT:
Title: Light‐Stimulated Epitaxy of Novel Semiconductor Alloys and Heterostructures
Abstract
The realization of new semiconductor alloys and heterostructures is critical to materials research efforts, but kinetic limitations often impede the low temperature growth of such systems. Innovative approaches designed to tailor specific growth processes are needed to overcome these longstanding challenges.
The principal objective of this research is to use light as an additional free parameter to control adatom dynamics. Specific goals of the project are to 1) expand our basic understanding of how photons affect semiconductor growth by molecular beam epitaxy, 2) selectively stimulate and manipulate surface processes that lead to atomistic growth control, and 3) systematically advance the boundaries of semiconductor synthesis and investigation.
By establishing pathways that surmount current material synthesis constraints, this work will impact the development of advanced approaches to access new growth regimes, facilitate the exploration of novel materials systems and drive breakthroughs in photovoltaics and solid‐state lighting technologies.
RESOURCES:
K Alberi and MA Scarpulla, "Suppression of compensating native defect formation during semiconductor processing via excess carriers." Scientific Reports, 6, 27954 (2016). [DOI: 10.1038/srep27954]
DA Beaton, A Mascarenhas, and K Alberi, "Insight into the epitaxial growth of high optical quality GaAs1-xBix." J. Appl. Phys., 118, 235701 (2015). [DOI: 10.1063/1.4937574]
CE Sanders, DA Beaton, RC Reedy, and K Alberi, "Fermi energy tuning with light to control doping profiles during epitaxy." Appl. Phys. Lett., 106, 182105 (2015). [DOI: 10.1063/1.4921047]
Additional profiles of the Early Career Research Program award recipients can be found at the Early Career Program page.
The Office of Science is the single largest supporter of basic research in the physical sciences in the United States and is working to address some of the most pressing challenges of our time. For more information, please visit the Office of Science website.
Disclaimer: AAAS and EurekAlert! are not responsible for the accuracy of news releases posted to EurekAlert! by contributing institutions or for the use of any information through the EurekAlert system.