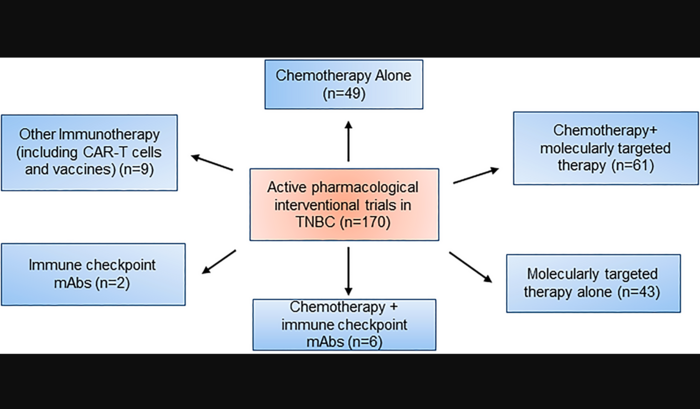 "[...] the study of immunotherapy for treating triple negative breast cancer might still be at its early stages of development but is full of future promise."
BUFFALO, NY- April 10, 2023 – A new review paper was published in Oncotarget's Volume 14 on March 31, 2023, entitled, "Crosstalk between triple negative breast cancer and microenvironment."
Although many advances have been made in the treatment of breast cancer, for triple negative breast cancer (TNBC) these therapies have not significantly increased overall survival. Tumor microenvironment (TME) plays an essential role to develop and control TNBC progression. Many preclinical and clinical studies are ongoing to treat patients with TNBC disease, but effective therapies are currently not available.
In their new review, researchers Karly Smrekar, Artem Belyakov and Kideok Jin from Albany College of Pharmacy and Health Science discuss recent progress in our understanding of TNBC, advancements in defining mechanisms of TNBC therapies and potential therapeutic strategies to overcome TNBC.
"Technological advancements such as genomics and epigenomics have provided us with vast insight about the complexity of breast cancer. However, one thing has remained the same, the need for the evaluation of three markers. These three markers; the expression of estrogen, progesterone, and HER2, are all molecular targets for treatment regimens, and are relied on by clinicians [1]. Chemotherapy is the staple treatment for TNBC patients. However, they lack the expression of three key therapeutic markers. The lack of therapeutic markers leads to poorer outcomes in TNBC."

Read the review: DOI: https://doi.org/10.18632/oncotarget.28397
Correspondence to: Kideok Jin
Email: kideok.jin@acphs.edu
Keywords: triple negative breast cancer, tumor microenvironment, current therapy

About Oncotarget: Oncotarget (a primarily oncology-focused, peer-reviewed, open access journal) aims to maximize research impact through insightful peer-review; eliminate borders between specialties by linking different fields of oncology, cancer research and biomedical sciences; and foster application of basic and clinical science.
To learn more about Oncotarget, visit Oncotarget.com and connect with us on social media:
Click here to subscribe to Oncotarget publication updates.
For media inquiries, please contact: media@impactjournals.com.
Oncotarget Journal Office
6666 East Quaker Str., Suite 1A
Orchard Park, NY 14127
Phone: 1-800-922-0957 (option 2)
###
---
Method of Research
Literature review
Subject of Research
People
Article Title
Crosstalk between triple negative breast cancer and microenvironment
Article Publication Date
31-Mar-2023