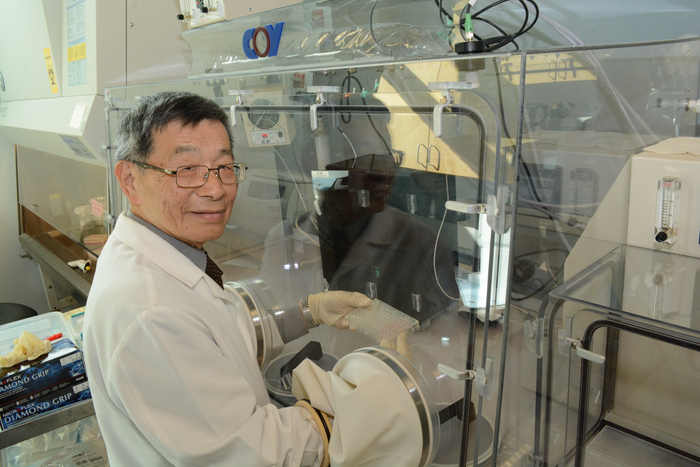 A new twist on a drug used to treat alcohol use disorder could double up as a treatment for stroke, the leading cause of disability and the third leading cause of death in the United States. Called "Carb" for short, this new formulation is designed to treat ischemic stroke, protect brain tissue against injury and minimize the size of a brain infarct. About 87 percent of all strokes are ischemic stroke, which occurs when a vessel supplying blood to the brain is obstructed.
Jang-Yen (John) Wu, Ph.D., a Senior Schmidt Fellow and professor of biomedical science in Florida Atlantic University's Schmidt College of Medicine, has received a new patent from the U.S. Patent and Trademark Office titled, "Treatment for Ischemic Stroke," for his work related to Carbamathione, [S-(N,N diethylcarbamoyl)glutathioneas].
Wu is working with CHS Pharma, Inc. (CHS), a South Florida biotechnology company that acquired this patent and four others related to neurological disorders and traumatic brain injury. CHS intends to advance this novel discovery through the commercialization process according to Stephen Chakoff, co-founder, director and CEO of CHS.
"One of the novel aspects of using Carbamathione or Carb therapy to treat stroke is its safety," said Wu, who also is a member of the FAU Stiles-Nicholson Brain Institute. "Carb is an active metabolite of disulfiram or DSF, which has been used to treat alcohol use disorder for more than six decades and has been found to be safe with minimum adverse effects. Once we are able to demonstrate the efficacy of Carb therapy in treating stroke, we will be able to use it on patients."
A lot of progress has been made related to the mechanism of brain injury induced by inadequate blood supply (ischemia) and lack of oxygen (hypoxia) to the brain, a major pathophysiology of stroke. However, despite extensive research to develop medicines for stroke based on the known mechanisms either as glutamate receptor antagonists, Ca2+ channel blockers, enzyme inhibitors, inhibitors of apoptotic pathways, or reactive oxygen species (ROS) scavengers, these efforts have been disappointing.
"Attempts to develop medicines to treat stroke have been disappointing, partially because the underpinning mechanism of stroke-induced neuronal injury is multi-factorial and therefore needs a therapeutic intervention that addresses the multi-factorial nature of the disease," said Wu.
It is generally believed excitotoxicity caused by excessive release of excitatory neurotransmitter glutamate plays an important role in ischemia/reperfusion induced neuronal death. The mode of action of Carb in protecting ischemia-induced brain injury is through its action as a glutamate receptor partial antagonist. This unique property could provide neuronal protection through its action to block excessive glutamate-induced neuronal excitation while allowing the basal glutamate neurotransmission to continue.
Wu says that a pharmaceutically formulated version of Carb could be administered as an injection to treat patients diagnosed with an ischemic stroke.
"Unlike tissue plasminogen activator (TPA), which has a window of opportunity of only four hours, Carb could be administered within 24 hours of the onset of symptoms of ischemic stroke," said Wu.
Because Carb is an active metabolite of DSF and can be used with the same efficacy in patients with or without liver problems, it could be used to treat ischemic stroke in patients in the general population.
"Carb therapy created by Dr. Wu and his team will have the potential to bring us closer to developing an optimal intervention to treat stroke," said Julie Pilitsis, M.D., Ph.D., dean and vice president for medical affairs, FAU Schmidt College of Medicine and a member of the FAU Stiles-Nicholson Brain Institute. "This innovation also holds promise to treat other diseases in the future as glutamate-induced excitotocixity is thought to be involved in many neurological diseases including Alzheimer's disease, epilepsy and others. The impact of Carb therapy could be quite broad and significant in the treatment of neurological diseases."
- FAU -
About the Charles E. Schmidt College of Medicine:
FAU's Charles E. Schmidt College of Medicine is one of approximately 156 accredited medical schools in the U.S. The college was launched in 2010, when the Florida Board of Governors made a landmark decision authorizing FAU to award the M.D. degree. After receiving approval from the Florida legislature and the governor, it became the 134th allopathic medical school in North America. With more than 70 full and part-time faculty and more than 1,300 affiliate faculty, the college matriculates 64 medical students each year and has been nationally recognized for its innovative curriculum. To further FAU's commitment to increase much needed medical residency positions in Palm Beach County and to ensure that the region will continue to have an adequate and well-trained physician workforce, the FAU Charles E. Schmidt College of Medicine Consortium for Graduate Medical Education (GME) was formed in fall 2011 with five leading hospitals in Palm Beach County. The Consortium currently has five Accreditation Council for Graduate Medical Education (ACGME) accredited residencies including internal medicine, surgery, emergency medicine, psychiatry, and neurology.
About Florida Atlantic University:
Florida Atlantic University, established in 1961, officially opened its doors in 1964 as the fifth public university in Florida. Today, the University serves more than 30,000 undergraduate and graduate students across six campuses located along the southeast Florida coast. In recent years, the University has doubled its research expenditures and outpaced its peers in student achievement rates. Through the coexistence of access and excellence, FAU embodies an innovative model where traditional achievement gaps vanish. FAU is designated a Hispanic-serving institution, ranked as a top public university by U.S. News & World Report and a High Research Activity institution by the Carnegie Foundation for the Advancement of Teaching. For more information, visit www.fau.edu.
---