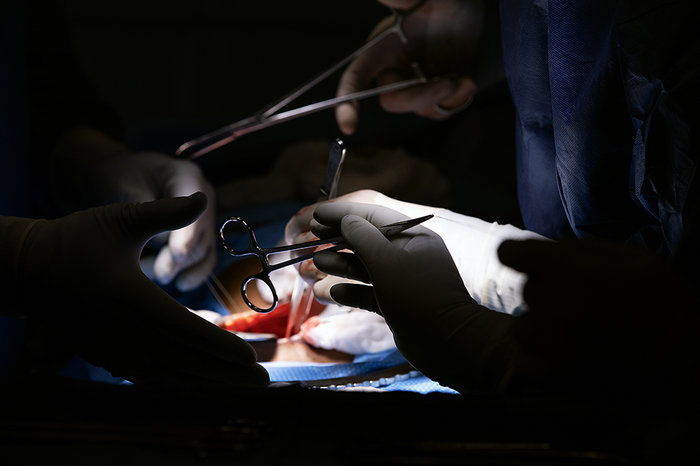 African Americans are more than three times as likely to have kidney failure than Whites but four times less likely to have received a kidney transplant by one year after developing kidney failure. Researchers from the Department of Surgery at the Medical University of South Carolina (MUSC) are attempting to address this inequity.
Kidney transplant surgeon Derek DuBay, M.D., and director of clinical trials David Taber, Pharm.D., developed an initiative to help to address kidney transplant disparities affecting African Americans. They were able to increase equity at a crucial step of the kidney transplant process – transplant evaluations. They report their findings in the Journal of the American College of Surgeons.
"We implemented several interventions that were very strategically designed to try to reduce structural barriers in access to kidney transplant," said DuBay.
Structural barriers, in this case, are aspects of the kidney transplant process itself that limit access to patients. These include significant travel and time requirements that prevent people from completing evaluation for a kidney transplant.
These structural barriers can serve to create unequal access to transplant. As a result, many African Americans languish on dialysis.
Dialysis
Dialysis is the process by which a machine does what the kidneys would normally do – filter the blood. Although short-term dialysis can be lifesaving, it is far from optimal as a long-term treatment, Taber said.
"The five-year survival on dialysis is lower than most cancers – even stage 4 cancers," he said.
Quality of life on dialysis is also poor. Patients must come in for a four-hour session three times a week. This demanding schedule can also affect a patient's ability to work and function in society – all for only 10% of normal kidney function.
Ideally, dialysis would be a stop gap while patients ready themselves for a kidney transplant. In fact, however, it is often a permanent but very imperfect solution for African Americans with end-stage kidney disease.
"In South Carolina, 68% of the patients on chronic dialysis are African American," said DuBay.
The only way to be free of dialysis is a kidney transplant. However, the road to kidney transplantation can be difficult, especially for patients in underserved communities.
Obstacles
Some experts think that the primary obstacle to African Americans receiving transplants is a lower rate of referral to transplant programs. Taber disagrees, noting that recent data shows that providers refer African Americans for kidney transplant at about the same rate as other groups. The real problem, he said, is that fewer African Americans complete the evaluation for kidney transplant.
During the evaluation process, patients provide documentation of medical histories and undergo physical and psychological exams. Depending on their specific conditions, patients could need a host of other tests.
This process can be lengthy and formidable, DuBay explained. For some, it can even be impossible.
"African Americans globally struggle to make it through all the steps of a kidney transplant evaluation," he said.
But why are African American patients much less likely to make it through this crucial step, and what can providers do to change that?
To answer those questions, DuBay and Taber focused on structural, or systemic, barriers facing African Americans.
Telehealth
From 2017 to 2021, DuBay and Taber used a series of initiatives to lower barriers to kidney transplant access. They focused on, among other things, making evaluation tests easier to access.
"You really have to implement things that focus on structural changes to the system," said Taber.
Their greatest success was using telehealth to provide greater access to transplant evaluation.
By partnering with the South Carolina Telehealth Alliance, DuBay and Taber used telehealth hubs in metropolitan areas across the state that are located far from transplant centers but collaborate closely with them to provide care.
DuBay explained that MUSC Health's Center for Telehealth is one of only two National Telehealth Centers of Excellence in the country. "South Carolina has got a very robust telehealth system," he said.
The use of telehealth hubs made it much easier for the providers to evaluate those seeking kidney transplants.
In addition to telehealth, MUSC Health mid-level practitioners, such as physician assistants, and local medical providers worked within affected communities to help patients to complete testing and screening.
DuBay and Taber found that their efforts to streamline the evaluation process greatly aided in these scenarios.
"While not cutting out the key elements that are really important to work up a kidney transplant patient, we significantly reduced the disparity in access to transplant," said DuBay.
Once the providers implemented these interventions, racial disparities in the rates of evaluation virtually disappeared. African Americans were as likely to proceed with evaluation as Whites.
These findings stress the importance of systemic solutions. Tackling these kinds of health disparities takes buy in from everyone involved, said DuBay, from doctors and surgeons to dialysis centers and hospital administrators.
DuBay is grateful that they had that buy in at MUSC.
"We greatly appreciate support from MUSC leadership at the highest level for investing in transplant because it provides a tremendous service to our most vulnerable populations in our community," he said.
# # #
About MUSC
Founded in 1824 in Charleston, MUSC is the state's only comprehensive academic health system, with a unique mission to preserve and optimize human life in South Carolina through education, research and patient care. Each year, MUSC educates more than 3,000 students in six colleges – Dental Medicine, Graduate Studies, Health Professions, Medicine, Nursing and Pharmacy – and trains more than 850 residents and fellows in its health system. MUSC brought in more than $297.8 million in research funds in fiscal year 2022, leading the state overall in research funding. For information on academic programs, visit musc.edu.

As the health care system of the Medical University of South Carolina, MUSC Health is dedicated to delivering the highest quality and safest patient care while educating and training generations of outstanding health care providers and leaders to serve the people of South Carolina and beyond. Patient care is provided at 14 hospitals with approximately 2,500 beds and five additional hospital locations in development, more than 350 telehealth sites and connectivity to patients' homes, and nearly 750 care locations situated in all regions of South Carolina. In 2022, for the eighth consecutive year, U.S. News & World Report named MUSC Health the No. 1 hospital in South Carolina. To learn more about clinical patient services, visit muschealth.org.

MUSC and its affiliates have collective annual budgets of $5.1 billion. The nearly 25,000 MUSC team members include world-class faculty, physicians, specialty providers, scientists, students, affiliates and care team members who deliver groundbreaking education, research and patient care.
---
Method of Research
Data/statistical analysis
Subject of Research
People
Article Title
Multilevel Intervention to Improve Racial Equity in Access to Kidney Transplant.
Article Publication Date
15-Mar-2023
COI Statement
Disclosure Information: Dr Casey served as a consultant for CareDx and received research funding from Dialysis Clinics, Inc. Dr Scalea is a paid consultant to CareDx and is the founder and CMO of MediGO, Inc. Dr Rodrigue is supported by funding from Transplant Solutions, LLC. Disclosures outside the scope of this work: Dr DuBay receives funds for an advisory role at MediGO. Dr Taber's institute receives funding from Veloxis, CareDx, Merck, and Takeda Pharmaceuticals. Dr Scalea holds stock and is a paid advisor to MissionGO, Inc. Support: Dr Dubay is supported by a research grant from The Duke Endowment Foundation. Dr Rodrigue's institute is supported by research grants from the National Institute of Diabetes and Digestive and Kidney Diseases, the Patient-Centered Outcomes Research Institute, and the Health Resources and Services Administration.