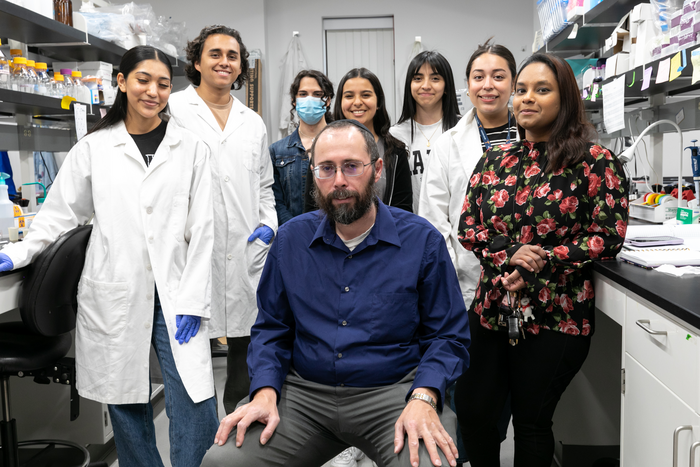 EL PASO, Texas (April 11, 2023) – A University of Texas at El Paso researcher has earned one of the nation's highest awards for early-career faculty to support his work on the neural mechanisms of decision-making.
Alexander Friedman, Ph.D., assistant professor in the UTEP College of Science, received a $1.15 million grant from the National Science Foundation's (NSF) Faculty Early Career Development (CAREER) Program, the foundation's highest award in support of junior faculty who have the potential to serve as role models in research and education.
Friedman was also recently selected by the National Academy of Sciences (NAS) to be a 2023 Kavli Fellow. According to NAS, the fellows represent "the brightest young scientists from industry, academia and government."
"Since his arrival at UTEP in 2020, I have been impressed with Dr. Friedman's research expertise to address challenging questions of human disease and how his work will impact conditions such as addiction, chronic stress and Post Traumatic Stress Disorders," said Robert A. Kirken, Ph.D., dean of the UTEP College of Science. "I am proud of his selection for this highly competitive and prestigious award, but also the high level of training that his students receive in the College of Science."
Friedman's NSF CAREER grant also will support the development of undergraduate and graduate courses that focus on the mechanisms of decision-making, the analytical and experimental tools to study decision-making, and analyses of neural circuit recordings.
"The project's educational objectives to advance knowledge in computational and biological science will receive a special emphasis on our campus thanks to this grant, in addition to our research goals," Friedman said. "I am extremely thankful to have received this award."
The main purpose of Friedman's project is to create a foundation for future studies defining the role of striosomal circuits in decision-making and, secondly, to improve the educational aspects of this field of research.
Striosomes, or striosomal patches, are compartments of the striatum, a cluster of neurons in a part of the human brain known as the basal ganglia. The basal ganglia is a key part of the network of brain cells and nerves that control the body's voluntary movements, and plays a role in other functions such as motor learning, executive functions and behaviors, and emotions.
As part of the work funded by the NSF grant, Friedman and his co-researchers at the Friedman Laboratory for Neuronal Circuit Computation will record and manipulate activity in striosomal circuits in test models using a novel cost-benefit decision-making task developed at UTEP. The goal will be to identify the mechanism that underlies the shift in the circuit activity between different decision-making contexts.
Previous studies by the Friedman lab have provided the first clues about the role of striosomes as critical elements of cost-benefit decision-making and learning. The researchers have also discovered that these processes are affected by chronic stress, aging and Huntington's disease, a genetic condition that causes the progressive breakdown of nerve cells in the brain.
About the University of Texas at El Paso
The University of Texas at El Paso is America's leading Hispanic-serving university. Located at the westernmost tip of Texas, where three states and two countries converge along the Rio Grande, 84% of our 24,000 students are Hispanic, and half are the first in their families to go to college. UTEP offers 169 bachelor's, master's and doctoral degree programs at the only open-access, top-tier research university in America.
---