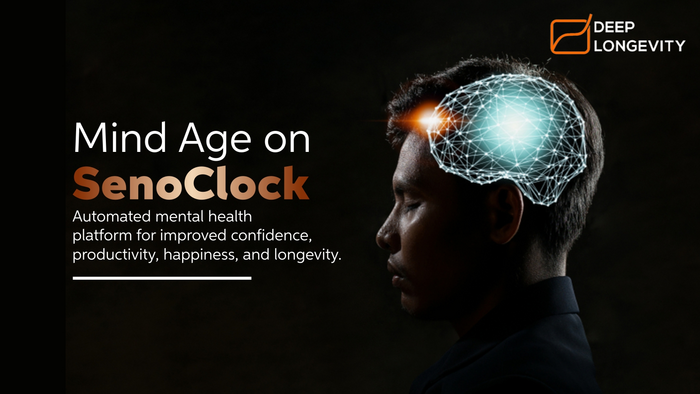 Deep Longevity, a leading longevity AI company, has announced the launch of its highly anticipated Mind Age clock on the SenoClock platform. Mind Age promises to be a breakthrough in the field of aging research, providing individuals with an accurate and comprehensive assessment of their psychological age. Deep Longevity has organized a virtual event, scheduled for April 20th at 15:00 UK / 10:00 ET.
Mind Age is going to revolutionize the way individuals assess their psychological age and well-being. The latest addition to the SenoClock platform will help individuals gain personalized guidance on how to improve their confidence, productivity, happiness, and longevity. Mind Age clock incorporates advanced machine learning algorithms that processes responses to a predetermined set of survey questions, generating an individual's psychological profile with high precision and accuracy and then recommend a set of actions to improve resilience and wellbeing. The technology is available over an API.
Don't miss out on the opportunity to join the global community of psychologists, gerontology scientists, HR managers, wellness experts, and longevity doctors for the launch of Mind Age on SenoClock. Discover how this groundbreaking technology can transform your industry and gain insights into its numerous use cases. Register now to secure your spot and learn more about the power of Mind Age.
Our CEO, Deepankar Nayak and Chief Longevity officer Alex Zhavoronkov will take a deep dive, explaining the intricate functioning and immense potential of this unique aging clock as well as the steps needed to implement it in different clinical and real-world settings.
"We would like the participants to appreciate true innovation in the form of Mind Age and explore with us the immense potential that AI holds in strengthening mental health at scale." Deepankar Nayak, the CEO of Deep Longevity explains about the launch event, "The participants will be able to make sense of the aging clock results. We will discuss various use cases on how the Mind Age technology can be used in various industries by seamlessly integrating with existing technology ecosystems."
About Deep Longevity

Deep Longevity pioneers AI and deep learning technology in the context of human aging and longevity. Their researchers have developed several aging clocks that can predict the biological age of a person based on different data types. These aging clocks include hematological, psychological, epigenetic, microbiome, and others.
Deep Longevity has published numerous peer-reviewed studies demonstrating the viability and effectiveness of their aging clocks. The firm has also been awarded several patents (many pending patents). The team is focused on making its science actionable, implementing its research and technologies in commercial settings.

About SenoClock
SenoClock is Deep Longevity's aging clock platform. It hosts and provides all its aging clocks, which can be accessed and implemented digitally from anywhere in the world. Healthcare practitioners, doctors, hospitals, clinics, and other healthcare organizations will have access to the most-advanced aging clock technologies through this platform.
---