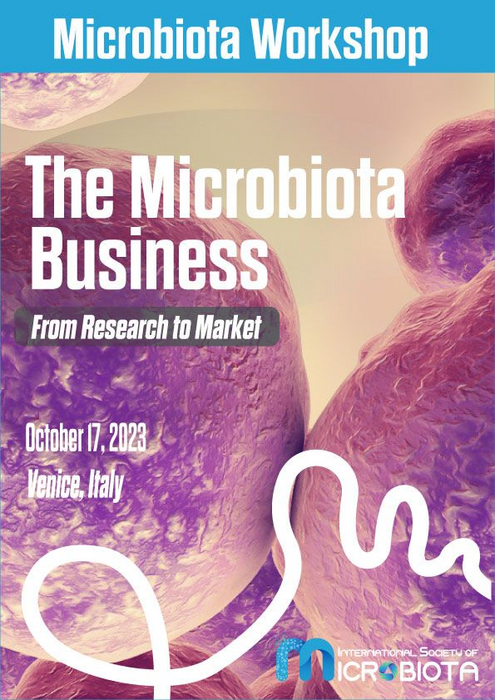 The 10th World Congress on Targeting Microbiota 2023 on October 17-19 in Venice will cover the latest updates in the microbiota field. It will introduce the future of microbiota medicine through the following sessions:
Microbiota & The Medicine of Tomorrow: Strategies and Barriers
Targeting Microbiota in Diseases: Preventative & Therapeutic Strategies
Aging, Longevity & Microbiota – Standpoint & Future Expectations
Environment, Lifestyle & Microbiota: A "One Health" Approach
ISM 2023 Innovations
October 17th will be dedicated to the ISM Workshop 2023: Microbiota Business: From Research to Market
This year's microbiota business workshop will elaborate the implementation of the microbiota research into business. It will explain about the microbiota analysis kit development and content, while highlighting its challenges and limitations. Further, probiotic strains selection and formulation process will also be covered.
The Microbiota Business Workshop will include 2 sessions. Time will also be dedicated to discuss with attendees the strategies to overcome the barriers in microbiome businesses, as well as all strategies to have a successful launch.
Sessions 1: How to develop microbiota analysis kit for humans and animals?
This session will discuss challenges and limitations of the in the microbiota analysis kit and possibly propose some recommendations or consensus statement.
Session 2: Formulation of probiotics strains for humans and animals
This session will cover the scientific background, probiotic strains selection process, dose determination, safety, labeling, claims and regulatory aspects.
5 Minutes - Pitch: Dedicated to Start-ups, Academics, Industries & Investors
After the end of the workshop, Targeting Microbiota 2023 conference on 18-19 October, will dedicate significant time to all actors and players in the microbiota field to share their latest projects and innovations.
The ISM will gather investors, scientists, and startups to network and exchange innovative ideas.
Targeting Microbiota 2023: Innovations Submission
The innovation submission is open. Don't hesitate to contact the International Society of Microbiota for more information.
---